Whatever else about Jimmy Haslam, he's going to make it a lot harder for people to gripe about politics coming up at websites about Cleveland, Browns and things. On his first full day as Browns owner, the top Republican fundraiser brought VP candidate and zombie-eyed granny-starver Paul Ryan to practice along with famous Browns fan and former Secretary of State, Condoleeza Rice, who served under George W. Bush.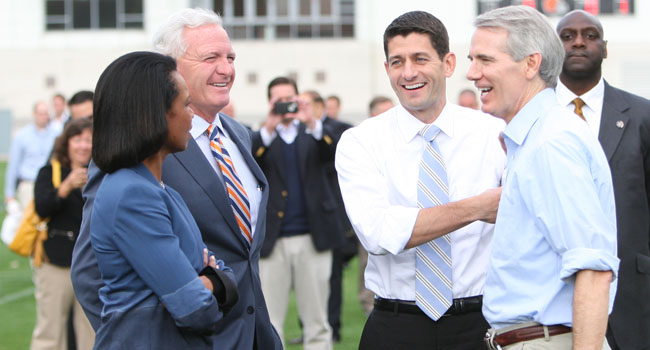 Also yesterday, Haslam took out a full page ad in the Plain Dealer in which he promised that his family will be "active participants in the communities of Cleveland and Northeast Ohio," "not just with the football team." And this is how he's going to do it. The political party that's identified our nation's most pressing threats as rich people not having enough money, poor people having too much health care, and the President is black, is now the official political party of the Cleveland Browns.
Special salute to Ryan for having told University of Texas grad Colt McCoy that he "enjoyed watching [McCoy] play at Oklahoma State," and especially for having asked Haslam if the Browns were "an expansion team." Next stop on Ryan's campaign tour, One World Trade Center. "Didn't there used to be a different building here?"
Of course the other big news in Berea yesterday was the introduction of new Browns President and CEO Joe Banner. Zac Jackson at Fox Sports Ohio points out that we've heard it all before here plenty, and of course there's no losing in a press conference like this, especially after the act that these guys are following. But this from Banner is really great:
"I know these fans have been through a lot of hopeful starts, and I don't want to sit up here and be the next promiser in their lives," [Banner] said. "We are just going to have to deliver.

"I know this: No one will work harder or have a clearer direction."
I don't want to sit up here and make you any promises, but what I do know is that no one else in the NFL will be more clearly directed than I'll be. I can't tell you much, but I can tell you that from here on out this franchise might as well be run by the hand of Providence itself.
Joe Banner, God's Favorite, continues:
"I don't imagine anyone else can have more — maybe somebody could tie — have a sense of the appreciation of the history of the fans of this city."
Promises are just that, but one thing that's just a fact is that it's unimaginable that anyone could have more appreciation of Cleveland fan's history than a rich kid from Boston who parlayed his childhood friendship with another rich kid from Boston into a career in NFL front offices. Maybe somebody could tie, but that's doubtful.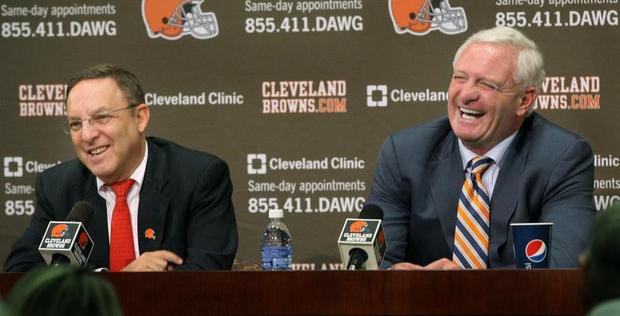 So all hail our new overlords, again. If anybody gets Cleveland, it's them, of course. Now about finding the Browns a football coach.