I.e., umbrella drinks.
As if Mike Holmgren's tenure in Cleveland could have ended any other way: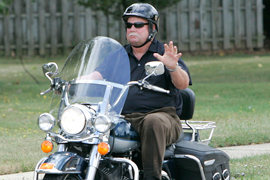 "Depending on where I am and the weather, I'm going to ride my motorcycle a lot. Perhaps go to the beach a little bit, go to Hawaii. … Like I said, I think Kathy and I are going to go someplace where it's warm, with those little drinks with the umbrellas in it and then kind of think about what the future is all about."
And that's how a "credible, serious leader" writes the final chapter of Mangenius Interrupted.
Well done, Mr. Holmgren. Well done, Mr. Lerner. Well done, Cleveland.
Given what these two made off with, it'll be a wonder if there's any city left by the time Jimmy Haslam is through. And it would be a shock if Haslam hasn't already been in touch with Dan Gilbert about ballot initiatives.
—————
Here's another final word on Holmgren's press conference from an incredibly bitter Tony Grossi;
And the New Yorker's endorsement of President Obama for re-election is a must read.
Which is all for this week other than the football picks in the Cheddar Bay open thread. Hope everyone's weekend gets off to a decent start and we'll be back on Sunday for Shurmurball.