"A week ago, I was on the Packers practice squad." — Colts defensive end Lawrence Guy
"They kept us off-balance. They caught us off-guard. We didn't make the plays we were supposed to make." — Frostee Rucker
"That's something you will have to ask Pat." — Trent Richardson
"It's safe to say it's a team loss. We go back to work tomorrow, like half the teams in the league." — Pat Shurmur
—————
Misery loves company and Pat Shurmur wants to remind you that 11 other NFL teams lost yesterday, too. But only one of those teams is 1-6, only one just tied a 36-year-old franchise record with its 11th straight road loss (the longest active road losing streak in the league), and only one could have an era so effectively summarized by a line like this from yesterday's AP game wrap:
"Punter Reggie Hodges dropped the ball on the extra point, putting the Browns in a 7-6 hole that they couldn't overcome."
Because when you're talking about special teams gaffes leading to insurmountable one-point second-quarter deficits, you can only be talking about Shurmurball.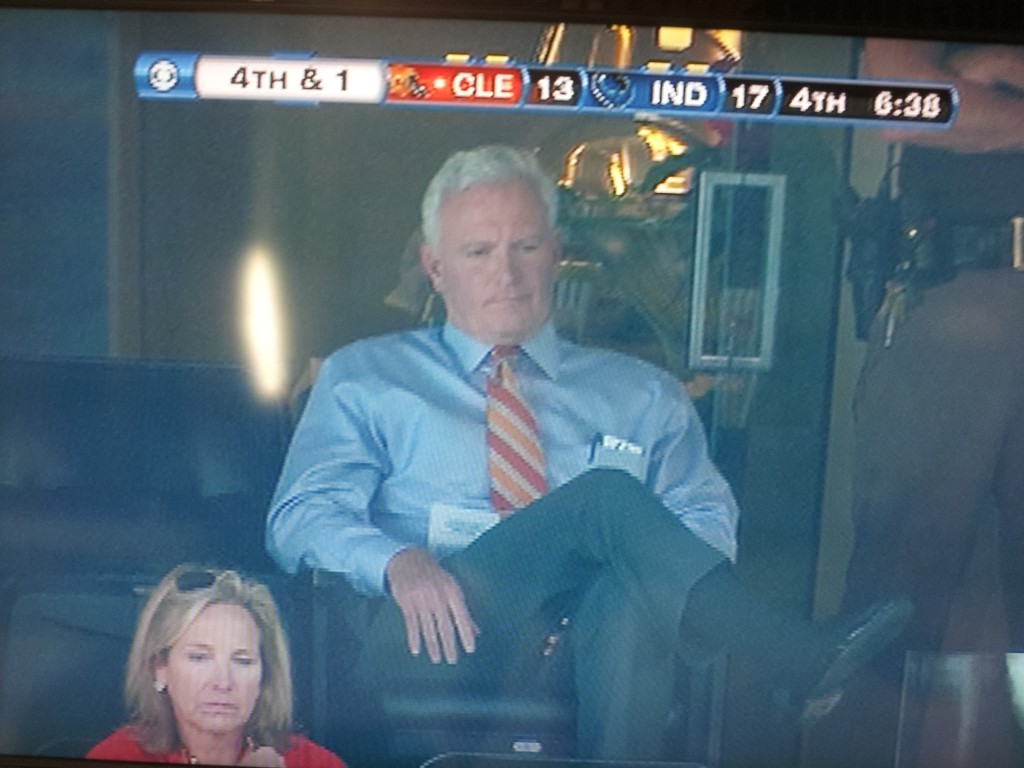 This is starting to get really boring, so let's back up a bit to note for starters that since 2010, when Eric Mangini's Browns were doing things like winning blowouts against Tom Brady's Patriots and Drew Brees's Saints and establishing a reputation as a team that nobody wanted to play, all of these things have happened:
A healthy D'Qwell Jackson has returned to the lineup to rejoin a veteran core of Joe Thomas, Ahtyba Rubin, Sheldon Brown and Ben Watson;
Young building blocks like Alex Mack, Mohammed Massaquoi, Joe Haden, T.J. Ward and Shaun Lauvao have matured for two to three seasons;
The Browns have added seven starters via the first and second rounds of the draft; four second-rounders and three first-rounders, including one picked third-overall who's widely believed to be the best running back to enter the league since Adrian Peterson.
At this point, no fewer than 13 Browns starters were picked in the first or second round, 7 of which Mangini didn't have at his disposal for even one day, and all of the above-noted roster growth has taken place in a locker room led by professionals like Josh Cribbs, Joe Thomas and Scott Fujita thanks to Mangini having cleaned up the mess that was dominated by Braylon Edwards, Kellen Winslow and Shaun Smith (each of whom barely registers on an NFL roster today if at all).*
Now, four years since Mangini set this overhaul under way, and two years after the Browns were doing things like crushing Tom Brady's Patriots and Drew Brees's Saints and establishing themselves as a team that nobody wanted to play, Shurmur's troops, with twice as much talent, do things like go to Indianapolis and get their mouths pounded by a Colts team that was playing defensive linemen that it signed off the street mid-week. A Colts team missing three starters on defense, that couldn't run the ball or stop the run (29th) going into yesterday, coming off a game against the Jets where they gave up 257 yards on 44 carries awhile mustering 41 yards on 17 rushes of their own, comes out against the Browns and rolls up 148 yards on 37 carries by their backup running backs while holding the Browns to 55 on just 17 attempts.
Shurmur said after the game that the Colts added an extra defender to stop the Browns rushing attack, so it's hard to tell whether yesterday's inability to score more than 13 points or hold the ball for more than 24 minutes was due to the predictability of the Browns offense or just a basic failure to execute run blocks. But we do know that any fourth grader should have expected the Colts defense to come in yesterday focused on stopping the run, and we also heard heard Frostee Rucker say that the Colts "kept [the Browns] off-balance" and "caught [them] off guard."
Of course they did.
These Browns don't lack talent, and they don't lack veteran leadership. What they're missing is brains. Knowing that at least one available coach would have this group competing for a playoff spot this year, it's hard not to wonder what they'd look like with even a replacement-level-interim coach (placement of hyphens here is deliberate), however wise it might be to stick out the season with Pat.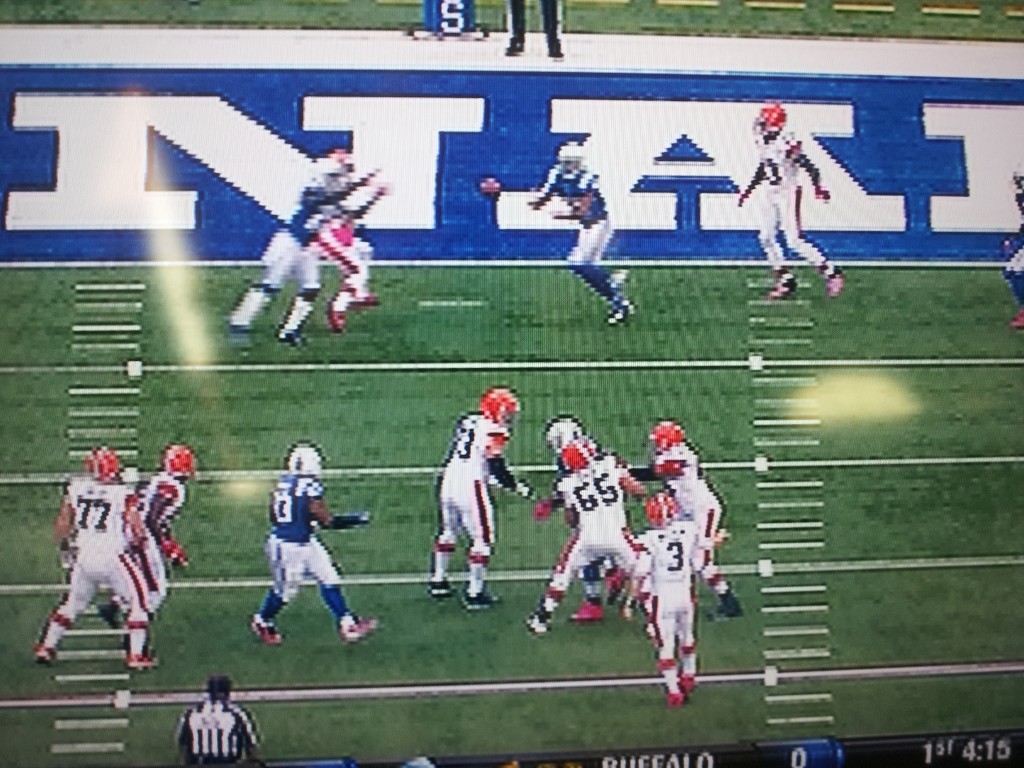 Anyway, coaching and all, it was the best performance of Brandon Weeden's young career, as hard as he tried to add to his league-leading interception total (now tied with Andy Dalton) with an atrocious first quarter throw that would have killed the Browns' first touchdown drive. Not coincidentally, Josh Gordon and Greg Little each had their own best games of their respective careers. Little caught everything that was thrown his way, including a brilliant touchdown reception on a ball that was on the outer limits of his reach, and Gordon made an excellent adjustment to grab Weeden's second touchdown pass. Both of these second-round picks are guys who are hard to guard, and Weeden mostly had plenty of time to find them yesterday (for the second time in three weeks, the quarterback wasn't sacked once).
At this point it's clear that Weeden has an elite NFL arm, and not just on the deep ball. Under pressure, he can close his eyes, step off his back foot and deliver a perfect strike on any given throw. That's what he did on the 4th-quarter pass that Gordon dropped yesterday for what would have been a game changing touchdown (more on that below), and while the Little touchdown required the receiver to make an excellent play, it was thrown under pressure to a place where only Little could get it. Still, Weeden missed plenty yesterday (including on the 4th-and-6 incompletion that iced the game for the Colts), and didn't shake his tendency to throw the kind of balls that turn into fatal interceptions.
What we might never see Weeden do is the kind of surgery that Andrew Luck** did to the Browns defense in the first half, going through his progressions and repeatedly finding receivers breaking into small windows all over the field. On the Colts' first drive of the second half, Luck was a victim of a touchdown drop by Donnie Avery who was breaking out of the shade into the sun much like Gordon on his fourth-quarter drop in the same place.*** And while the Browns defense stiffened up in the second half by finally figuring out that the Colts were going to just keep running it (with special thanks to a fourth-quarter fumble forced by Sheldon Brown), they also benefited from mistakes by rookie receiver T.Y. Hilton, who dropped a perfect third down pass late in the third quarter, and broke the wrong way on another earlier in the same quarter.
In any event, it can't be a coincidence that in the three games this season that the Browns have faced a quarterback known for his smarts (Luck's Colts, Ryan Fitzpatrick's Bills and Eli Manning's Giants), Dick Jauron's "Think Less, Play Faster" defense has been rendered completely helpless for long stretches of each of these match-ups.
Naturally everyone wants to talk about Shurmur's decision to punt, down by four points, on 4th-and-1 from the Colts' 41-yard line with six-and-a-half minutes left in the game, because the only way it could be explained would be if the Browns were actually trying to lose.
"Thank you very much," says the Indianapolis Star's Bob Kravitz of the decision by "Cleveland's spineless coach."
Oh, it was nothing.
And naturally the Plain Dealer wants to make one dropped pass the story of the game.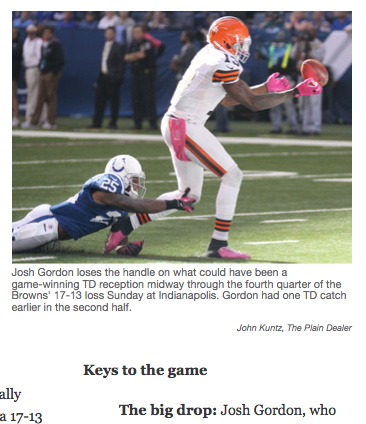 But anyone who watched last night's must win game for the Steelers in Cincinnati saw All-Pro receiver Mike Wallace drop four passes that hit him right between the numbers, along with Steelers running back Baron Batch dropping a wide open touchdown on a perfectly executed reverse pass. That all happened in one half, yet Somehow Pittsburgh won 24-17, and playing without Troy Polamalu, held the Bengals team that the Browns beat last week in their "Super Bowl" to a putrid 185 yards of total offense.
Next week another Super Bowl in Cleveland against the Chargers. At least the weather is supposed to be good, and whatever happens with Shurmur in the meantime, at least the season will be half over by the time it's through.
—————
*There's no worse nonsense expressed about the Browns these days than the popular idea that Tom Heckert overcame some kind of hurdle in "dismantling [Mangini's] aging roster." None of the veterans that Mangini brought to the Browns replaced anyone who was worth a hill of beans to any other team in the NFL, it cost the Browns nothing to replace those veterans when they left, and the plan all along was to replace them with draft picks and free agents in the first place.
**Pour one out for winning all four of those bumfights last season and the winning culture that's blossomed from those victories compared to the chance to have drafted Luck. Can't even lose right.
***The stark shade lines at Lucas Oil Stadium yesterday highlighted another among many reasons why the idea of a retractable roof in Cleveland is a terrible one.