@colesnotes is a Browns fan from Calgary and a good sport on Twitter who recently completed his lifelong goal of visiting Cleveland and attending a Browns game. In this case, it was the September 9 home opener against the Philadelphia Eagles. I had the pleasure of hosting Cole for his first Browns tailgate and am honoured to present his account of his trip, which follows, along with some photos that were taken that day. Enjoy.
—————
The following are six (6) quotes that tell the tale of a native Canadian's weekend on the shores of Lake Erie:
"Are you sure you aren't lost?" – Cab driver at Hopkins International Airport, to me.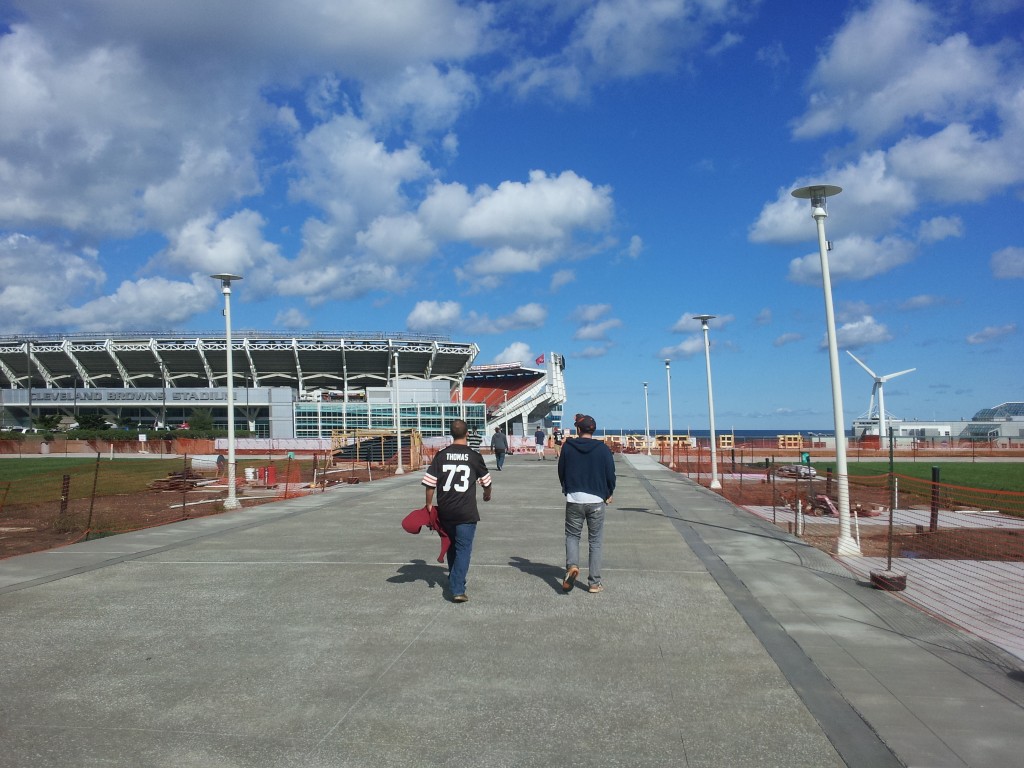 Following two weeks traveling the Eastern seaboard of the United States, I had only one item left to cross off on my bucket list: to see a game at Cleveland Browns Stadium. I had seen New York City, Philadelphia and Washington DC. I am the one man in Canada with Tim Couch AND Kelly Holcomb jerseys, and it was high time to visit the house that Chris Palmer built.
Growing up in Canada, you have two choices as an NFL sports fan. You can cheer for the closest team geographically to you (which, as I'm from Calgary, would be the Seattle Seahawks) or you can blaze your own trail. I chose the latter due to some combination of all the excitement over the "new Browns" circa '99, Tim Couch, and the Browns being on TV a lot in Canada. Plus, how can you not love the team without a logo?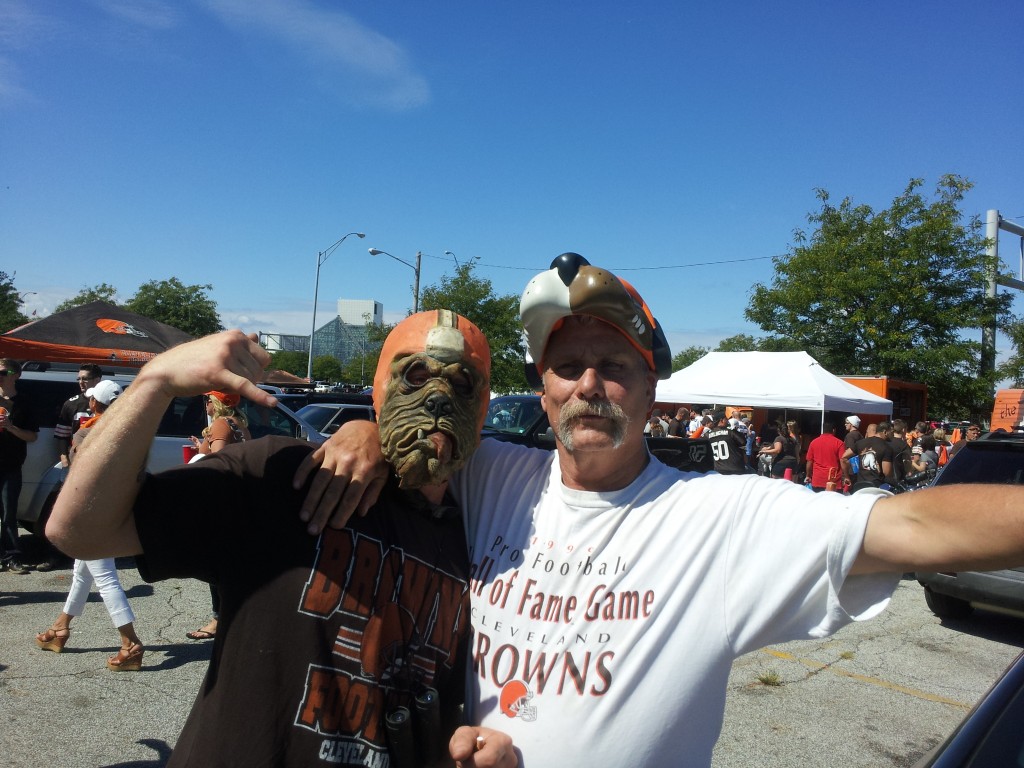 Of course, I have paid dearly for my choice. Anyway, a layover in Cleveland on my way home was the perfect opportunity to see finally the Browns in their natural habitat. Naturally, I jumped at the chance.
* * *
"I'll pick you up at your hotel at 9 a.m. Be ready." – @ClevelandFrowns to me.
Counting on the generosity of strangers, I sent Frownie a direct message a few months ago to ask for game day recommendations for opening weekend. His first response: "Shoot me an e-mail. We'll tailgate." A few weeks later I received the above text and we were shortly on our way.
* * *
"Yeah, so you've never been tailgating." –@ClevelandFrowns, in response to me saying that I'd tailgated once before at a CFL game.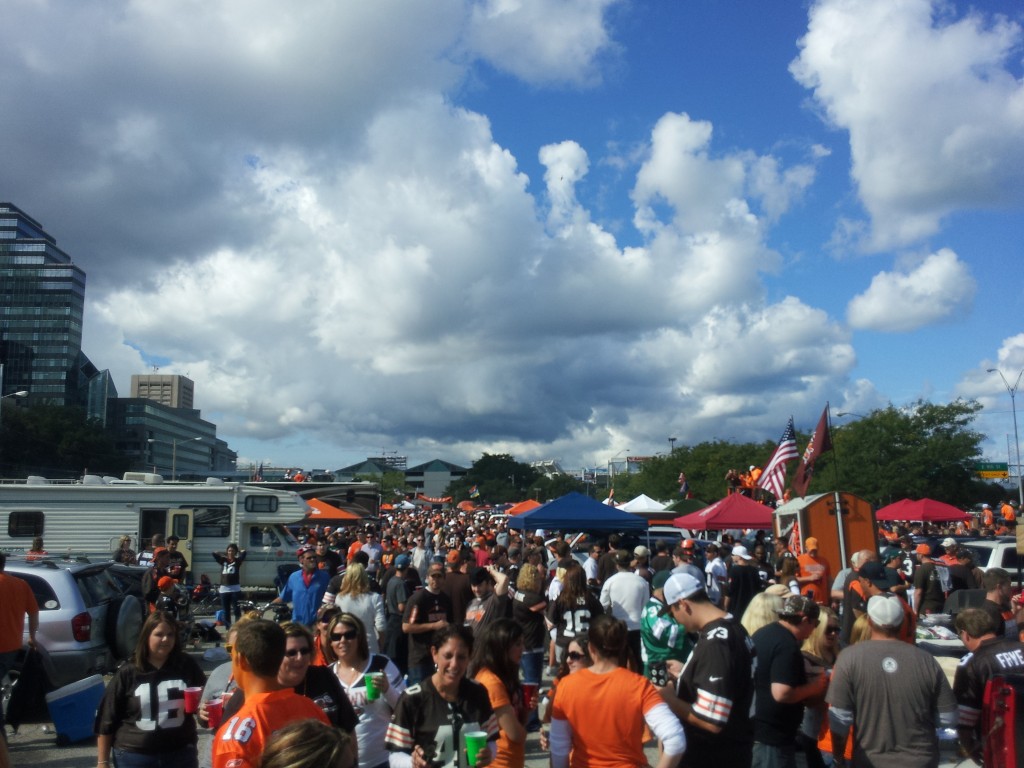 One thing I quickly learned about game day in Cleveland: it's all about the ritual.
I thought I knew what tailgating was before this weekend started, but I was thoroughly unprepared for what I saw. As I've described to my native Canadians, imagine a three-way cross between a music festival, Beer Olympics and the biggest frat party you've ever seen, with everyone wearing Colt McCoy jerseys. I was completely entranced.
Things I saw in or within 100 yards of the Muni Lot before the game: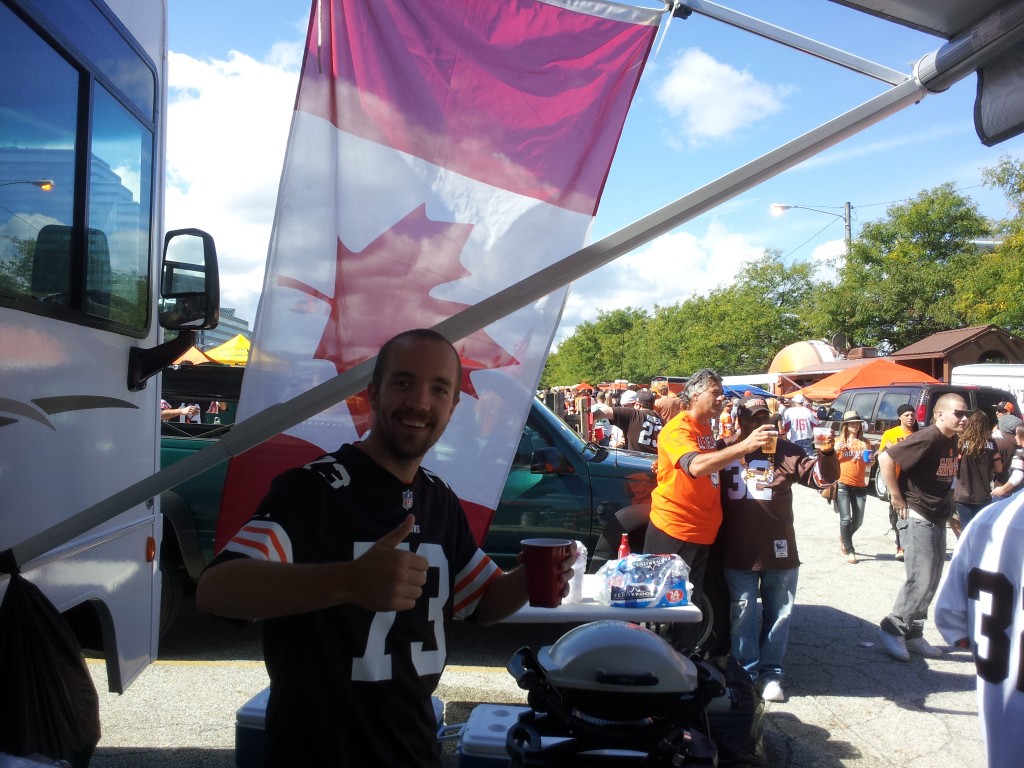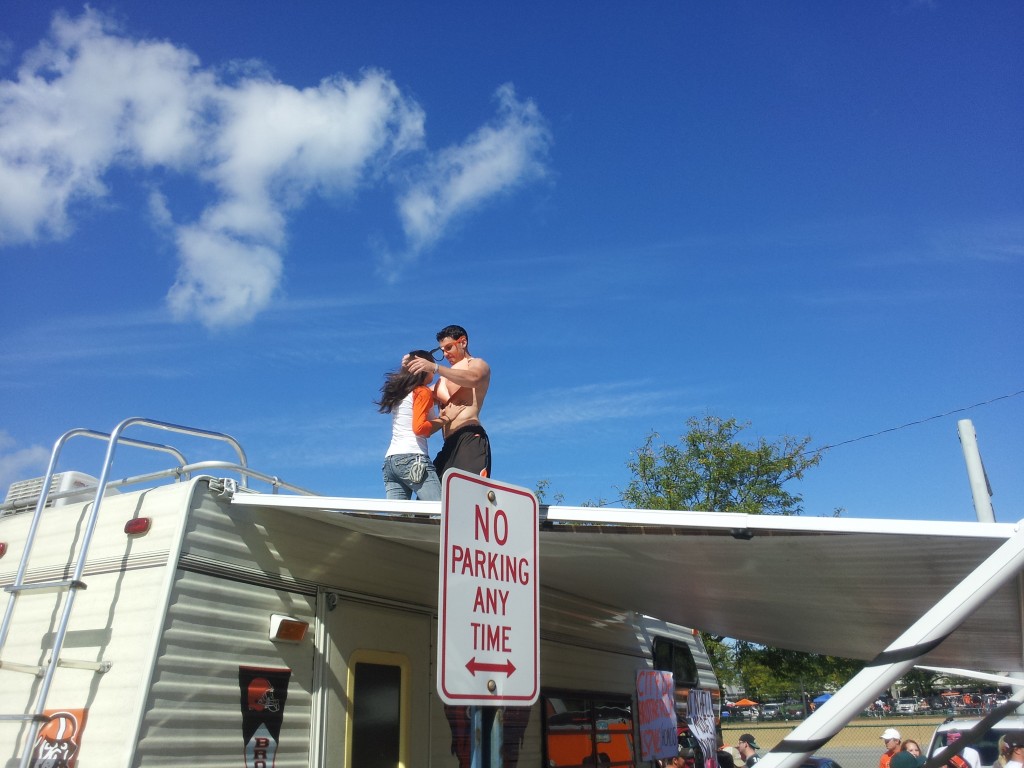 * * *
"All I want to see is one touchdown." – Me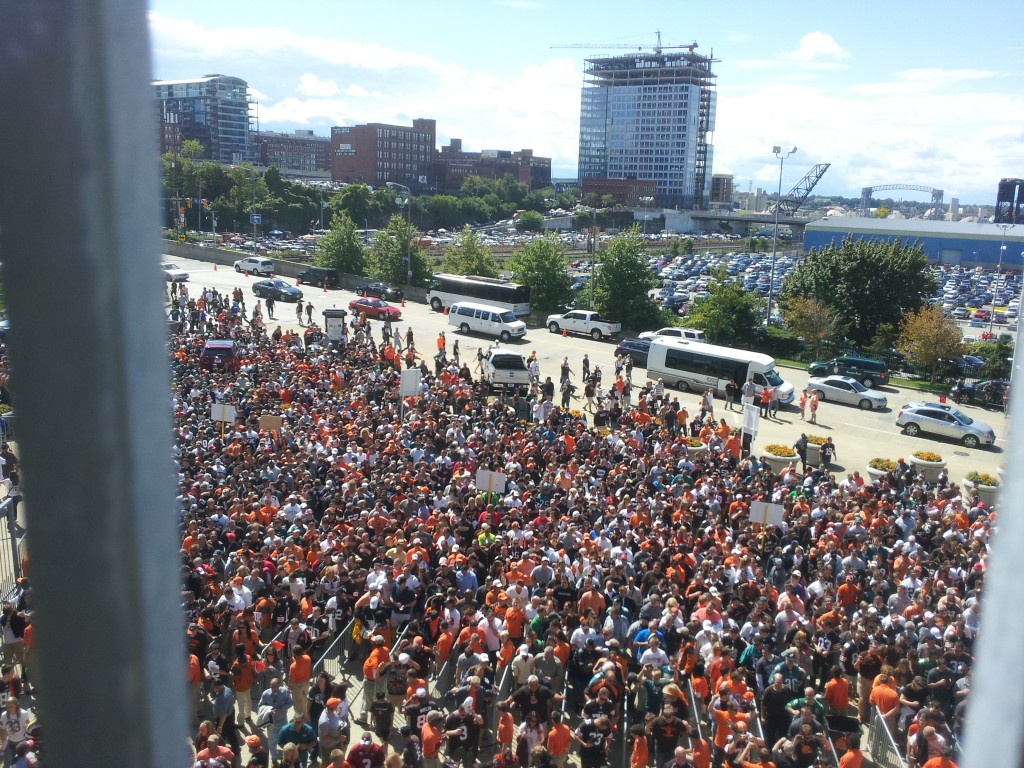 After losing my tailgating virginity, I stumbled into the stadium with the huddled masses – very much prepared for the slaughter that was about to happen. Given that this was my first pilgrimage to the stadium, I was determined to do it right, and picked up a ticket in Row 5 of the Dawg Pound. Suffice to say, it was indescribable – though a little subdued from the days of hurling bleachers onto the field (I'd brought a hand saw, just in case).
Thanks to D'Qwell Jackson, my one and only goal of seeing a touchdown was realized – no thanks to the living atrocity that is #Shurmurball.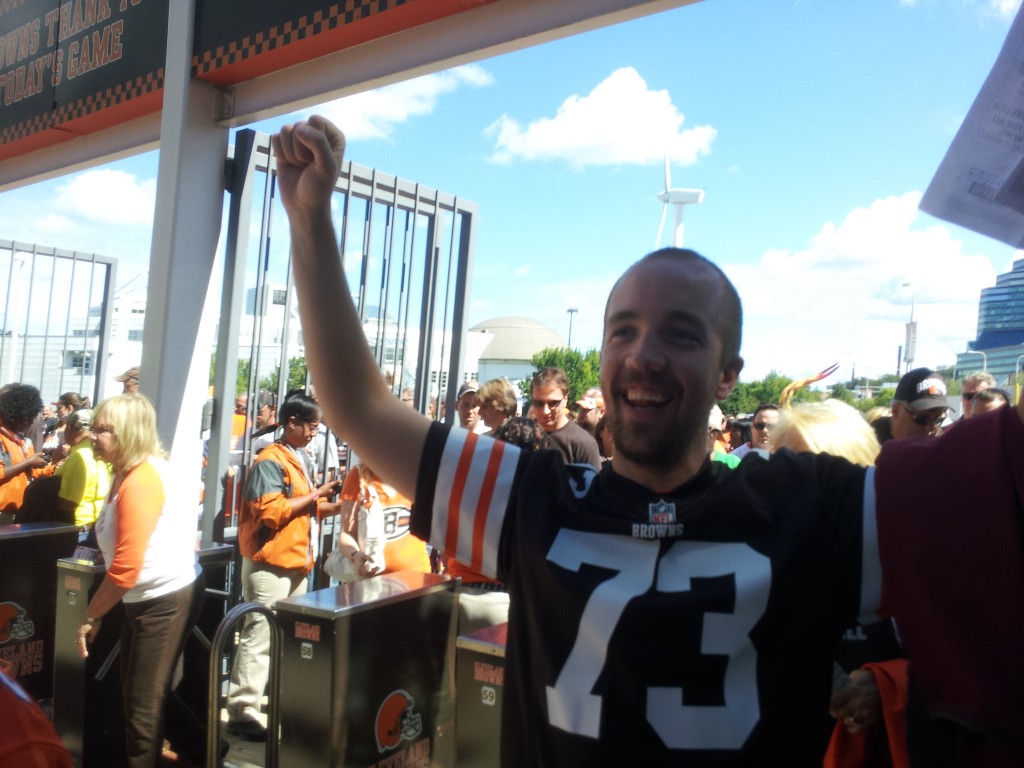 Things I will treasure from my Dawg Pound experience:
The collective reaction of everyone in the section when Brandon Weeden got stuck under the flag (more of a collective sigh than anything);
The nice people who sat next to me and asked me what it was like to have free health care (I should've started passing out prescription pills at halftime. GO CANADA!);
Jumping and cheering with like-minded(spirited) individuals at the prospect of a possible victory (ignorance is bliss);
The drunk obese woman behind me who started softly kissing my neck in the fourth quarter. #romance
* * *
"Never has a win felt so much like a loss." – Philly fan in the elevator at my hotel
Low expectations could never be more beautiful than they are on Browns game day.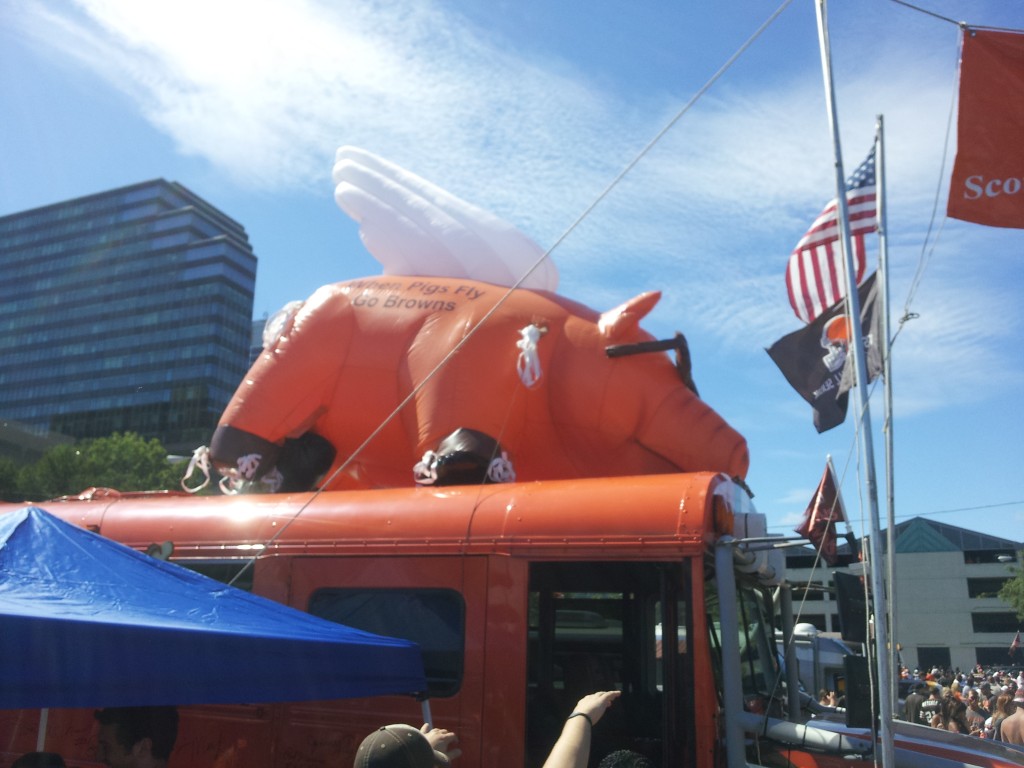 Rather than reflect on the rudderless direction of the franchise or the implications of a rookie "franchise QB" who was born during the first Reagan Administration, I chose to appreciate the day for what it was. Those Philly fans couldn't say the same. Sucks for them.
"Insanity: doing the same thing over and over again and expecting different results." – Albert Einstein
Thanks to @ClevelandFrowns and @KyleTalking for an epic weekend. I'll be back next year. Go Browns!