"[O]bviously we cannot play as a team. We appear to not be able to handle adversity or finish games. Individual and team confidence appears to be going south … a team going in the wrong direction fast." — Chargers GM A. J. Smith, a week before the Chargers lost to the Browns
"When will Norv Turner be fired? No more if. Can't be." — Kevin Acee, San Diego Union-Times
"I've always been a big fan of Norv Turner. I think he gets it. I think he does an outstanding job." — Pat Shurmur
"It was interesting, before the game I asked those guys, I said, 'Let's go for three hours and 15 minutes and just play this thing like a bunch of kids playing in the rain.' I think they did that." — Shurmur
—————
A badly managed NFL roster on the downswing came to the North Coast yesterday to face a badly managed NFL roster on the upswing, and naturally the team facing more pressure to win ended up losing 7-6 in one of the ugliest games that will be played in the league this season.
The Chargers came to town reeling with their preseason status as highly dubitable playoff contenders on life support after back-to-back losses in which they were outscored 56-7 in the second half. With San Diego GM A.J. Smith liable to go Full Savage at any moment, and head coach Norv Turner's perennial hot seat engulfed in roaring flames, it all serves as an especially timely reminder for Browns Nation. There's winning a bumfight here and there, and there's beating good teams consistently when they all come in gunning for you. Even a franchise that manages to load up a roster with as much Pro Bowl talent as any other team in the league on both sides of the ball, including a quarterback that can make all the throws and fill up the stat sheet so that he makes four Pro Bowls himself, still isn't guaranteed to make it to the Super Bowl or even out of the divisional round more than once in five playoff runs.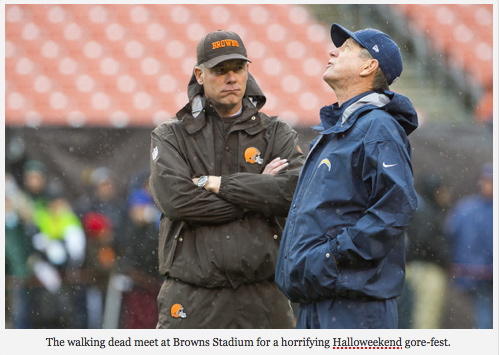 Of course, the Browns have a long way to go before they catch up with the staggering seventeen Pro-Bowlers and eleven multiple Pro-Bowlers who've played for the Chargers since 2005, but it's still something to think about. Especially after watching a young and hungry Browns offense loaded with seven healthy first-and-second round picks and one of the best offensive lines in the NFL, under the guidance of a full complement of West Coast Offense gurus, come out against a Chargers defense that had been dumpster babied by every decent offense it had faced, and score one touchdown before punting on every single possession for the rest of the game.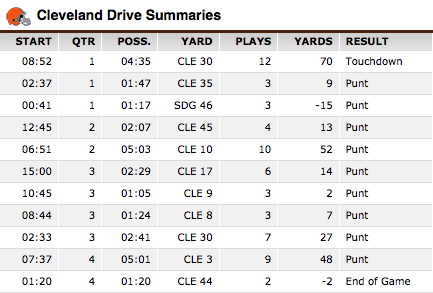 Right, the weather was bad. Which we're not hearing much about amidst all the excitement in Browns shilldom over the performance of the defense in holding the NFL's 29th ranked offense to a mere six points. Of special note is that not only did the Chargers make clear going into yesterday that their game plan would be to "run and run," but on every drive of the second half except for the final 2-minute drill, with the possible exception of one second-down screen pass, the Chargers called a running play on every single first and second down that they faced. It was pure genius.

Of course, it helped that Philip Rivers couldn't come within ten yards of his receivers for most of the day. Yet the Browns still needed a wide open Bobby Meachem to drop a sure touchdown pass that was laid in his breadbasket, and for San Diego safety Atari Bigby to do the same with a sure pick-six on one of countless Brandon Weeden throws that bounced off of linemen. But that's just how the Curse of Wahoo does its work to make sure the Browns don't end up with anyone especially useful next April.
Anyway, a win is a win, which all else equal is better than a loss. But we're talking about 2-6 on the way to 4-12, 5-11 tops, and excitable beat writers and talk show hosts should at least be able to understand that some wins are more encouraging than others.
Last season, three of the Browns' four wins came against teams that fired their head coach by the end of the season for what must be a league record for a four-win team. With Norv thusly dispatched, and the likes of Romeo Crennel, Jason Garrett, and Dennis Allen still on the slate, new heights are assuredly within reach for these young Browns.
—————
GAME NOTES:
–Trent Richardson battled and challenged for 122 yards and a touchdown on 24 carries (5.1 avg).
–Brandon Weeden struggled to complete just above a third of his passes to finish 11/27 for 129 yards, no touchdowns, no picks, a 55.9 rating and a 18.4 QBR. Weeden's 19.5 QBR remains the worst in the league by a mile, with Chargers QB Philip Rivers clocking in at third worst with a 36.8.
—The Chargers are 0-11 in their last 11 games in which they've taken the ball on their final drive with a chance to tie or take the lead.
–Shurmurball Play of the Day: 2nd-and-4 at the San Diego 40 after a recovered Chargers fumble and a 6-yard run off tackle by Richardson, a double-reverse from Josh Cribbs to Travis Benjamin that fooled no one on the San Diego defense and was fumbled for a loss of 20 yards. A "nightmare play" as described by Rich Gannon, calling the game for CBS.
–Game ball to whichever Browns players wouldn't let Shurmur give them a day off today. Smart.