Jimmy Haslam joined the locker room celebration of his 2-6 team's 7-6 win over the Chargers on Sunday and safety T.J. Ward came away much too impressed by the new Browns owner.
The Plain Dealer's Tom Reed reports that, "Ward is amazed the owner seems to know each player on a first-name basis," and Ward also commented on Haslam's reaction after Pat Shurmur tossed him a game ball after the head coach's post-game press conference:
"He seemed like a kid when he got that ball," [Ward said]. Think about all the money he has and all the things he's done. It's good to see something like that means so much to him."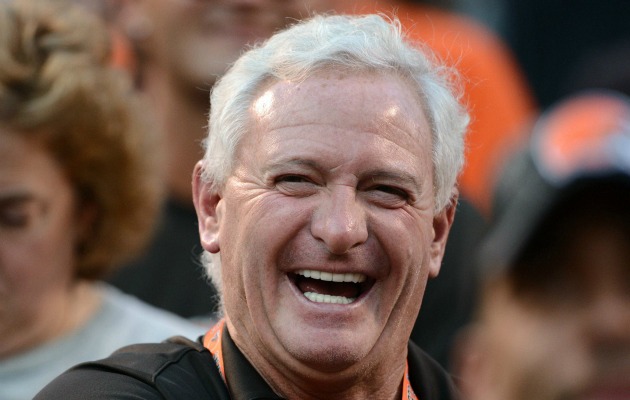 Come on, T.J., don't you know that football is fun? So is the celebrity and wholly subsidized eight-figure annuity that comes with owning an NFL football team. And of course Jimmy knows your name. He owns you now. It's understood that this might all seem strange after Randy Lerner, but you should know that it's Lerner who's the anomaly here.
So about "all the things Haslam has done." Isn't it just that he happened to be born to a father who decided to pass up a life of football coaching to get into the petroleum business just as the federal highway system exploded along with systems to exploit the scarce natural resource? By 1973, before Jimmy turned 20, his father already owned 50 gas stations with annual revenues of $30 million (about $150 million in today's dollars).
Of course, if your family owned 50 outlets for any kind of remotely viable business in 1973, let alone in an industry with such complex barriers to entry as the oil business, you'd have had to have screwed up pretty badly to not own at least 500 of them today. Not that your dad would have let you screw up that badly, of course. But all Jimmy did was help dad use monopoly gas profits to capitalize on economies of scale to buy more gas stations as the country grew (or sprawled, as it were). Unless the plan to sell junk food at these gas stations counts separately.
Anyway, he didn't cure any disease, he didn't come up with any especially useful idea, and he didn't even save a kitten from a tree.
The truth is of course that whatever problems Ward might have in pass coverage, what he's made of what he was born with is probably a million times more impressive than what Jimmy has. So big up yourself, baller. Jimmy's the one who should be amazed by you.
—————
*Just a guess.**
**RELATED: On his first full day as Browns owner, Haslam brings Paul Ryan and Condoleeza Rice to football practice.
—————
In other news, this hurricane is terrible and all the more reason to be thankful for the realest most resilient impervious irrepressible place there is. Hope everyone stays safe out there.