"[W]hen it does happen, don't come to me for extra tickets for a playoff game or something. You're either with us or you're not." — Mike Holmgren, 12/15/11
—————
OK.
Jimmy Haslam is in as Browns owner and uncontradicted reports are that Mike Holmgren will be out as Browns President by the end of the season, thus erasing one of the worst hires in Cleveland Browns and modern sports history. We've heard off-the-record reports that Holmgren has been AWOL in Berea since he first visited with Haslam there during training camp, which also explains why Browns spokesman Neil Gulkis "didn't know why Holmgren decided not to come" to today's NFL owners meeting approving the sale to Haslam despite having "originally planned to attend."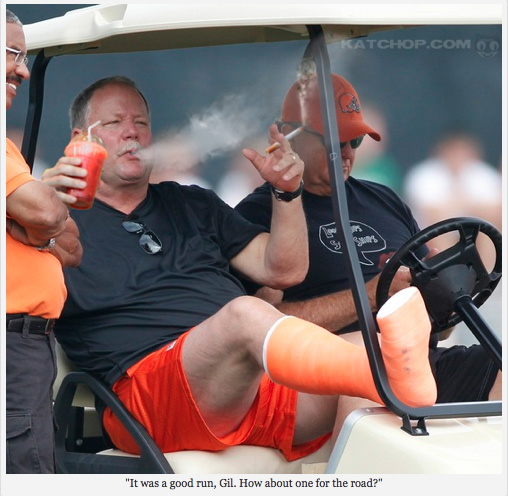 So it looks like all there's left to do is toast a mind-reeling legacy that includes:
For all that, he'll walk away with at least $24 million, and probably all $40 million of his deal assuming it was fully guaranteed. Hopefully Haslam made Lerner pay for it with a discount in the purchase price for the franchise, and hopefully nothing like Lerner's decision to solve a perceived problem by throwing money at the priciest brand name available will ever happen to the Cleveland Browns again.
Hard to blame Mike for taking the job (and Lerner's money) in the first place, of course, but good riddance.
—————
"Depending on where I am and the weather, I'm going to ride my motorcycle a lot. Perhaps go to the beach a little bit, go to Hawaii. … Like I said, I think Kathy and I are going to go someplace where it's warm, with those little drinks with the umbrellas in it and then kind of think about what the future is all about." — Mike Holmgren, 10/23/12