Welcome to the latest edition of Xs and Os with the Bros by Xs and Os editor @rodofdisaster. This feature represents a basic attempt to dive deeper into the game of football, learn something about the X's and O's that make it go, and better appreciate the games within the game. It's called Xs and Os with the Bros because you don't have to be a player, coach, or rocket surgeon to get something out of taking a closer look at a football play, so please enjoy the post and the discussion in the comments.
This week Rod takes a look at what went wrong on Brandon Weeden's back-breaking third quarter interception last Thursday in Baltimore.
—————
"If you're going to make a mistake, you're going to have to make it ahead of him out of bounds" -Mike Mayock
Situation: 3rd Quarter; 0:27 left. The Browns have just run a failed end-around to Travis Benjamin
Down & Distance: 3rd & 5 from the Ravens' 43
Score: Ravens 16, Browns 10
PRESNAP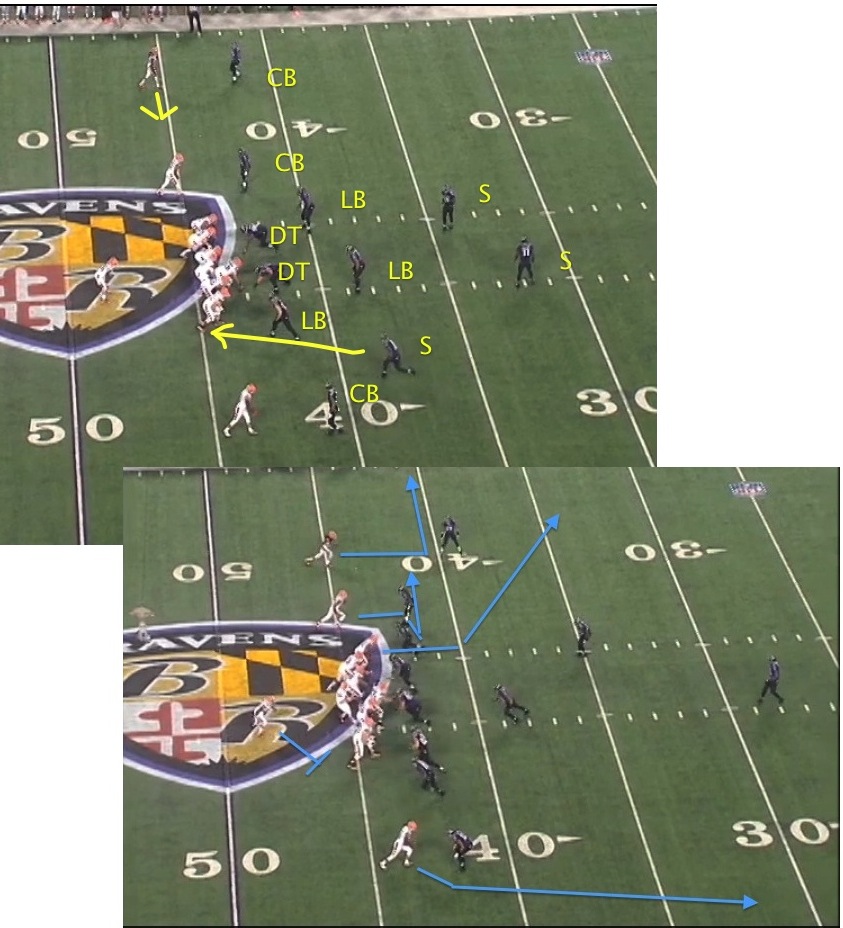 In the top panel, we see the All-22 view showing that the Browns have come out in 11 personnel (1 RB, 1TE and 3 WR). Since three eligible receivers (Benjamin at "Z" position, Norwood in slot and Watson at TE or "Y") are on the left, this is called "Trips" by most folks although some offenses keep that term for 3 WR specifically on the same side of the formation. Greg Little is the "X" at the bottom of the screen.
The Ravens have come out with six defensive backs (3 CB and 3 S), 3 LB and 2 DT. The first read is the safeties. There are two deep with one (Ihedigbo) buzzing to the line showing a blitz. Pollard (#31) has his back to us and is moving deep while Ed Reed is nonchalantly strolling toward the line. Either he or the LB in front of him are going to cover the TE. The rest of the DBs are lined up in man alignments within five yards of their receiver. The three WR in the top panel can expect press coverage. That coupled with the creeping safeties probably signifies that the defense will play one safety deep and man-to-man underneath ("man-free"). Since 10 defenders are not deep and five are lined up on receivers them you can expect at least a five man rush. A sixth may join if the RB stays in to block. This means pressure is coming.
The bottom panel shows us a couple of things. First, Benjamin has come in motion and has stopped at the numbers. If he had stayed outside then his possible pass routes would be either a "Go" or "9" route or an inside breaking route like a slant. By moving further inside, he's telling the defense he wants more room to operate thus opening up the outside breaking routes. Since Benjamin now has more options, Cary Williams moves off to give a little bit of a cushion since he knows he doesn't have safety help immediately available. He's aligning just outside the receiver (they call this "outside leverage") as he wants to funnel him inside should he go deep.
Second, the bottom panel shows the defense bringing the two down linemen, the three linebackers and one safety. That's a 6-man rush. Ogbonnaya is staying in to block. The blue arrows indicate the pass patterns that the receivers run. Benjamin is running a 5-yard out. Norwood is running a "whip" route. That's not a standard route on the route tree but he basically breaks in like he is running a slant and then he stops suddenly and reverses to run toward the sideline. Ben Watson releases to run a corner route. Greg Little is running a fade.
PROTECTION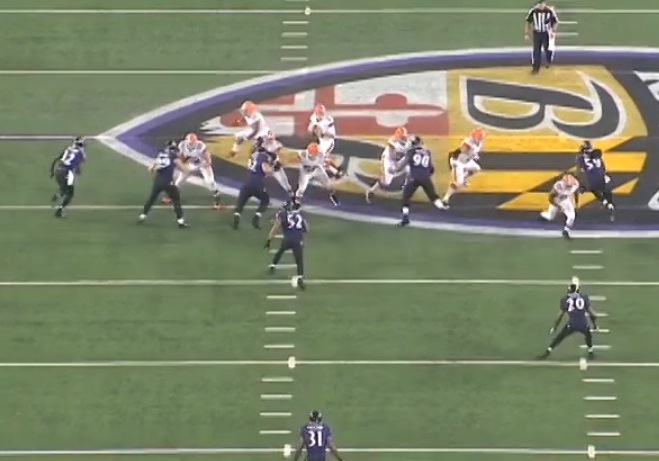 Here we see Weeden taking a 3-step drop. The Ravens are rushing six. The offensive line picks up the rushers nicely. Mack helps Lauvao and then picks up Lewis. Ogbonnaya makes the proper read going inside out and picking up Ihedigbo coming round the corner. Pollard drops back confirming 1 deep safety and Reed is picking up Watson. Weeden is looking left the whole way. For what it's worth, he was even looking left the whole time before the snap too. This pass protection is solid.
THE THROW AND BREAK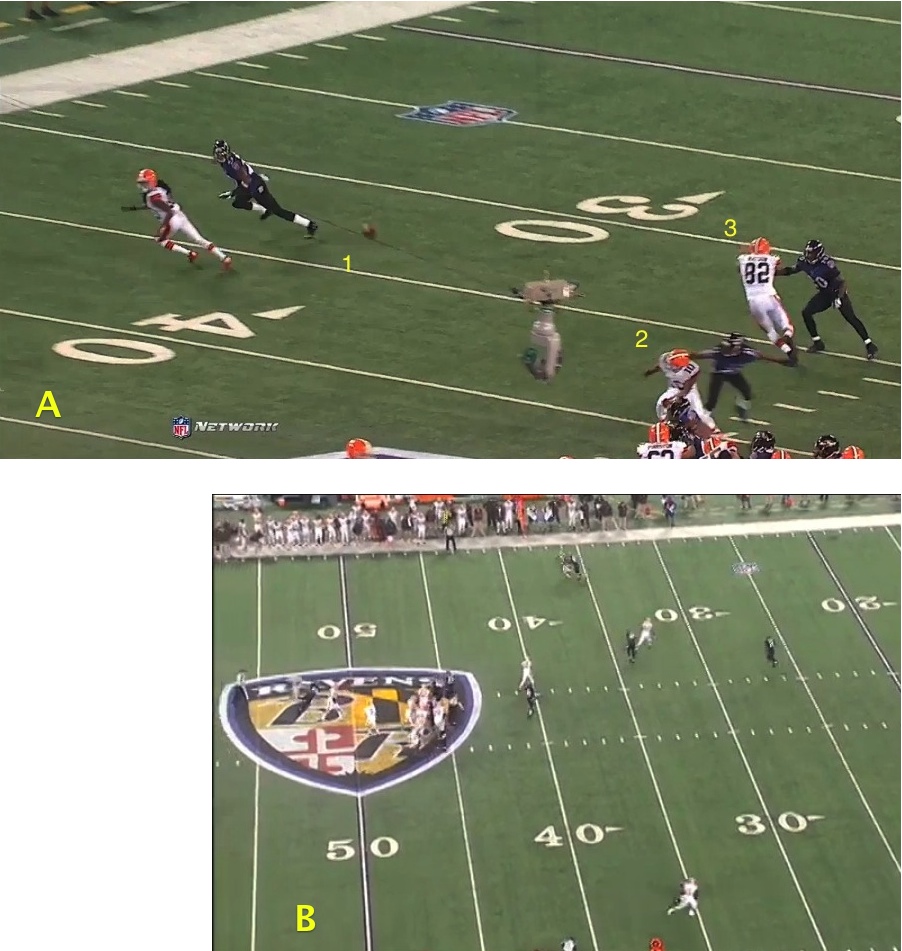 In Panel A, there are a few things worth noting:
1. The ball is on it's way before Benjamin is out of his break. The timing of the throw is perfect.
2. Jordan Norwood is getting facemasked (thanks real refs) as he fools the slot corner
3. Ben Watson is running the corner route and has a lot of green area in front of him while Ed Reed is still looking into the backfield.
The bottom panel is the All-22 view showing the same part of the play. Williams has this played all the way. Beside Watson being open, Little has one-on-one coverage at the bottom and no safety coming over whatsoever.
THE PICK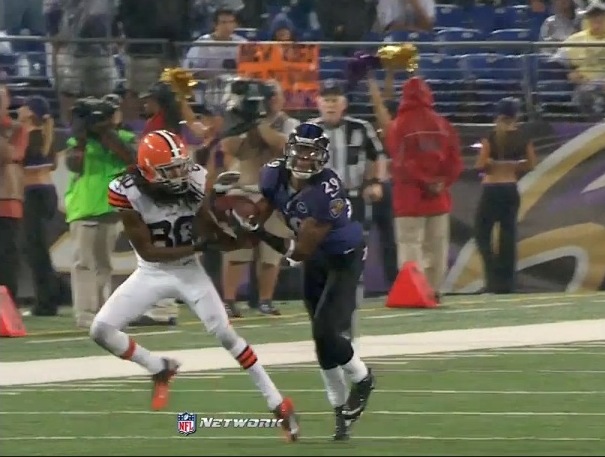 Here we see Williams stepping in and cutting off the throw to Benjamin as he begins his race "to the house." The ball is a little behind Benjamin whose weight is all flowing toward the sideline. He has to turn for the ball so has very little mechanical advantage to fight off the defender. As Mayock pointed out, it was far worse to miss short like this than it would have been to overthrow him. This isn't a timing issue as much as it's a ball placement issue. (It's also a predictability issue, but that's another story).
DISCUSSION

In scouting the Ravens, it's not hard to notice a few things. They're still very disciplined. They don't work to disguise as much as you'd think on defense ("here it is, beat us if you can") and they're very smart.
In the previous 2-plus quarters of football, the Ravens had come out on every 3rd down that was [about half of the third downs] longer than 2 yards with man-free coverage; same as they have here, which is historically a favorite coverage of theirs in this situation and used frequently in last year's matchup. It was predictable that you'd see the same similar coverage here. Of course, beating it is a little more complicated. (H/T)
First, the Browns telegraphed that Benjamin wanted to go outside. What on earth that short motion accomplished is beyond me. Williams played the first down marker and the outside breaking route. This cut the possibilities down significantly. Weeden did look at him the whole way and while we normally are hard on QBs for that, it was a 3-step drop so he was bound to look at him quickly. The telegraphing before the snap certainly could not have helped here, though.
The execution on this play is lacking, of course, but we still have to ask if Pat Shurmur is putting his players in the best position to succeed here. If you're intent on passing for the first down and we all know that your best runner is on the sideline then why not just put Weeden in the shotgun? That would give him a better angle on that throw. To that point, why would you ask this route of the smallest guy on the team? He doesn't have the body to shield a defender and he isn't tall enough to make the play on a higher pass. Wouldn't someone like Josh Gordon be more appropriate? If you're intent on a five yard out pattern then why not have the slot guy or the TE run it to give them more space to make a play?
Second, this pass pattern seems geared to beat zone coverage with the flooding of the left side. Sure, it can be used against man but I would have thought that at least two patterns would have crossed making the defenders possibly interfere with each other. While I could be missing ways in which this play design works off of other plays the Browns ran in this game, I can note that the play design here doesn't force any defender to really have to work through traffic and thus really lets the defense play somewhat passively and still come up with a stop.
Lastly, it seems to me that Watson is the better option on this play, or even Little one-on-one to the right, but Weeden never looks at anyone but Benjamin. A tough throw that ends up being catastrophic.
But again, in the end it's about taking the pieces you have and putting them into optimal schemes. Here, we see our best offensive skill player (Richardson) on the bench, and it's not that Ogbonnaya didn't do a good job on the block (he did a great job), it's that he wasn't at all a threat to the defense. What if Richardson had been in there, chipped on Ihedigbo and leaked out to the wide open right flat?
There are others who understand offensive football better than I do who felt that this team was practically unwatchable last Thursday night, and this play does speak to the general frustration of watching this offense in action (e.g., why would you pull a lineman from the right side of your offensive line on a running play allowing Haloti Ngata a free run into the backfield?).
As for Weeden's lack of execution here, we can mostly live with some mistakes being that he's a rookie but I'm starting to notice his decision making getting worse. Here's an example from earlier in the game.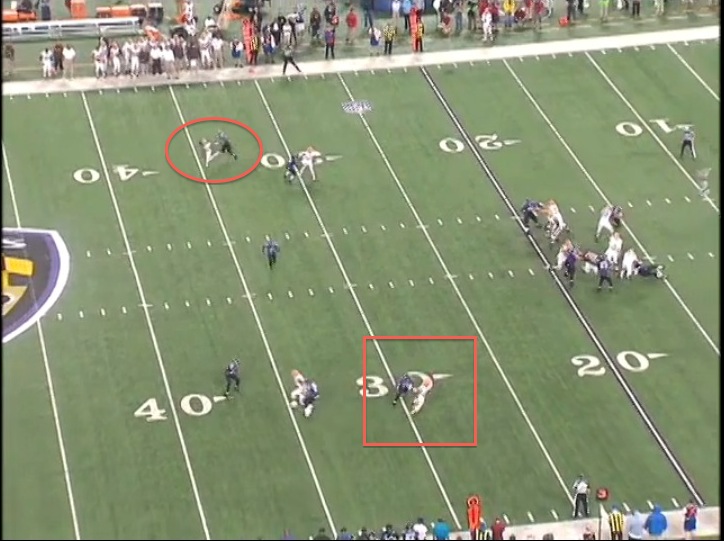 The square shows the receiver he threw it to. Two receivers in the same area with three defenders. Now, look at Benjamin streaking downfield (circle). Hopefully, this improves.
Another lacking concept for the Browns is the idea of using personnel groupings and formations to dictate coverage and matchups in your favor. Let's use the pick six play as an example. What if you lined up like this: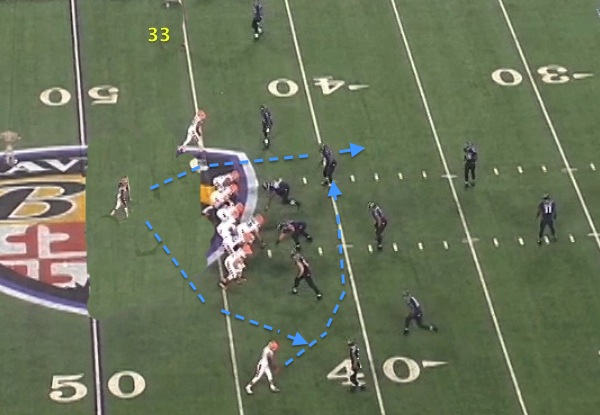 You see the same personnel here except I have moved Benjamin to the backfield and put a "33" where Trent Richardson would line up if the coach felt he was good enough to be in the game. The defense has to counter this. Either they move the CB inside to a LB spot and have the linebacker move out on an island or you're stuck with a really fast receiver on a slower LB. If they chose to flip the defenders I would then bring Little on a shallow cross and run Benjamin out to the right. The defender will get stuck in traffic and Benjamin is open. If they don't flip, I run him on an angle route or a seam route upfield on a linebacker. The slot receiver can run a deep route to clear the safety.
Of course it might not be that simple here but it's the kind of thinking that you can see here from the Packers. The Saints did it frequently with Darren Sproles last year. It's what well-coached teams do instead of watching a journeyman corner return his first interception ever for a game-changing TD.
—————
RELATED: Here's Herm Edwards on how a well-coached team rolled up 580 yards of offense against the same Buffalo Bills defense that held the Browns' offense to 240 yards in their own house just one week before:
Even though the Patriots had only seven points at halftime, the score didn't represent reality. New England piled up 222 yards of offense in the first half, but because Buffalo held the Patriots to 1-of-6 on third downs, drives stalled and the Bills were able to hang on for dear life. The Bills' defense was able to make plays and get off the field, but that was it.

The problem was that the Patriots already had found the Bills' weakness — spread Buffalo out and get it into nickel with an up-tempo offense, and you gain a big edge. New England used three WRs, a tight end and a back, or two WRs, two TEs and a back, and forced the Bills into nickel early and often. The Patriots flexed Rob Gronkowski out in a wing formation, which allowed New England to see the Bills' coverage, and took one more man outside the tackle box. If Buffalo walked out a linebacker to cover Gronkowski, it could defend the run better, but it was forced to use a LB to cover Gronkowski down the field. If Buffalo used a corner, the Patriots motioned Gronkowski into the backfield and hit a run inside. Gronkowski took on a LB at the second level, the Patriots pulled the backside guard to the front side to set the edge and outleveraged Buffalo's defensive ends. The frontside guard matched up with another Buffalo linebacker, and New England did a terrific job of not allowing Gronkowski's backside defender to get over the top.

This created an alley and often left Buffalo's nickelback, Justin Rogers, or one of its safeties one-on-one to make a tackle. It's not good when your safeties have 19 combined tackles.
Read the whole thing.
—————
The full "Xs and Os with the Bros" archive is available here.