Welcome to the latest edition of Xs and Os with the Bros by Xs and Os editor @rodofdisaster. This feature represents a basic attempt to look deeper into the game of football, learn something about the X's and O's that make it go, and better appreciate the games within the game. It's called Xs and Os with the Bros because you don't have to be a player, coach, or rocket surgeon to get something out of taking a closer look at a football play, so please enjoy the post and the discussion in the comments.
—————
This week, the Browns lost a winnable game to the Indianapolis Colts by a final of 17-13. I would argue that neither team was especially dominant, and that the game was generally well-played and competitive. As much as some might want to point to Josh Gordon's dropped pass in the end zone as the reason the Browns lost the game, the truth is that such a claim could apply equally to any number of plays that weren't properly executed or playcalls that were simply ridiculous.
Instead of following the usual format of analyzing one play, this week I'll focus on a set of plays that help illustrate why Andrew Luck was the first player chosen in the 2012 draft and the most highly touted quarterback to enter the league at least since Peyton Manning. This isn't to take away from Brandon Weeden because I think he played well. And it's not to suggest that the Browns' defense played terribly, because I don't think it did.
The point here is to focus on how a quarterback wins games for his team. Most of us know the buzzwords used to suggest that a QB is making the right decisions (e.g., "following his reads", "going through his progressions"), but what does that look like on a football field?
I. THE READS
Play #1: 1st quarter; 15:00. 1st & 10, Colts 20
Offense: 11 personnel and offensive tackle eligible on left
Defense: Base 4-3 with 1 deep safety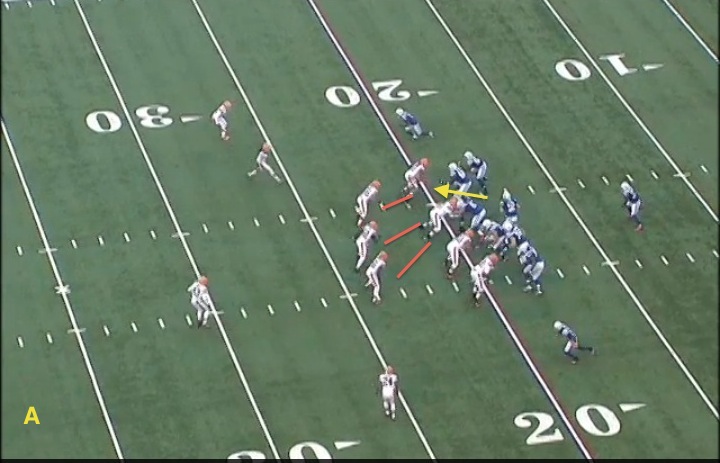 In panel A, we see that the safeties, Young and Ward, have switched with the TE having gone in motion to the right (Ward dropped back as he was in the box and Young came down to cover on the other side of the line). This is going to be a play-action pass. The Browns LBs are sucked in on the run fake. Haden and Brown are playing off-man coverage.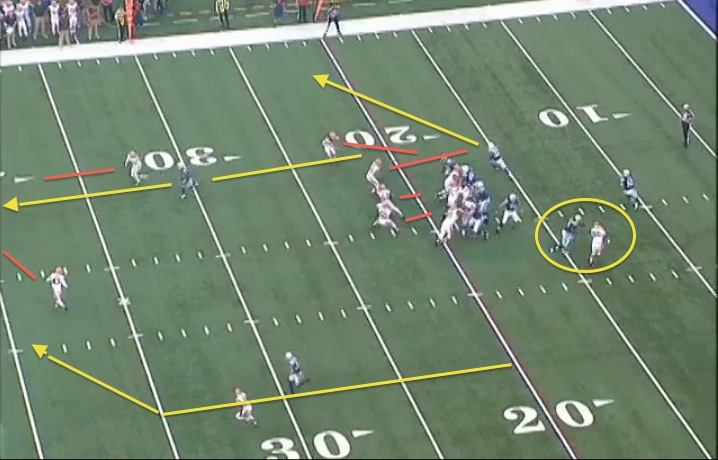 In panel B, we see the receiver on top is running a 9-route down the seam. Luck is looking at him all the way and Ward is reading Luck's eyes. The RB is releasing to the flat and Maiava has him. Young has the tight end and he's blocking. The extra tackle who reported eligible is circled and he's blocking the defensive end. Reggie Wayne is at the bottom of your screen and Brown is to his outside. There is nothing keeping him from running straight into that area that Ward is vacating. Seeing his deep receiver on the right doubled, he looks to Wayne as his second option. That goes for a 30 yard completion.
Play # 2: 1st quarter; 8:47 left, 2nd & 11 on Browns 25
Offense: 11 personnel, 2×3 empty backfield.
Defense: 41 Dime, man free coverage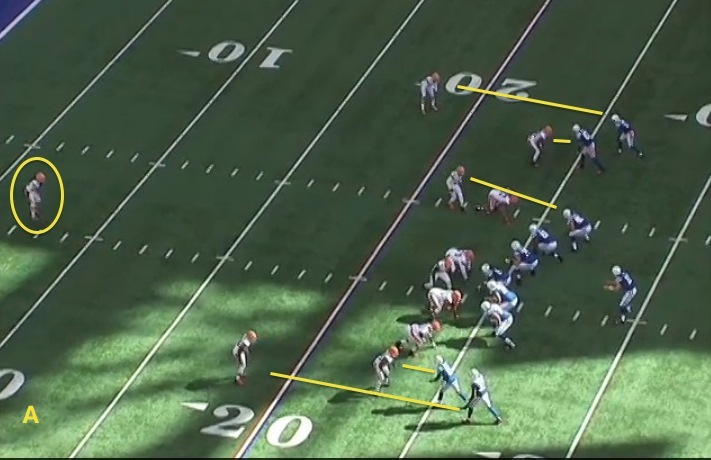 In panel A, we see that the Browns are showing blitz and a clear man-coverage look against an empty set.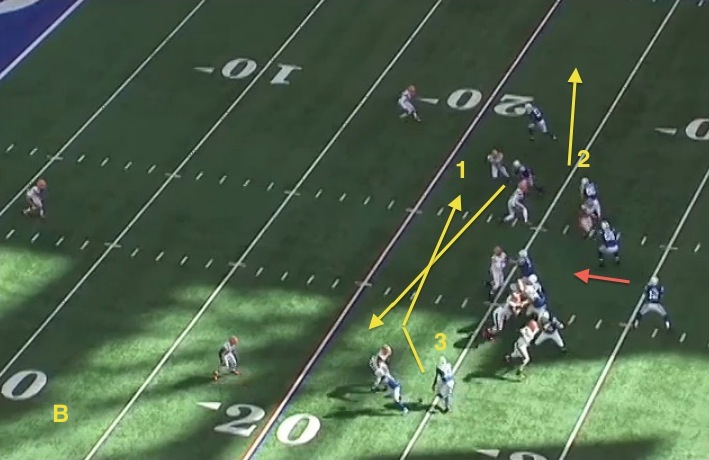 In panel B, we see Luck looking straight. You can tell from his head movements, his progression went as numbered:
1. the slot receiver was in traffic, so he went to…
2. the TE to the flat; Ward made a nice recovery, so…
3. he saw Ballard cross with Wayne and both defenders take each other out leaving Wayne open. This was definitely his 3rd option and resulted in a 19-yard gain to the 6-yard line.
Play #3: 2nd quarter; 11:57 left, 3rd & 10 on Colts' 45
Offense: 11 personnel, trips, bunch right shotgun
Defense: 42 Nickel; Cover-2 zone look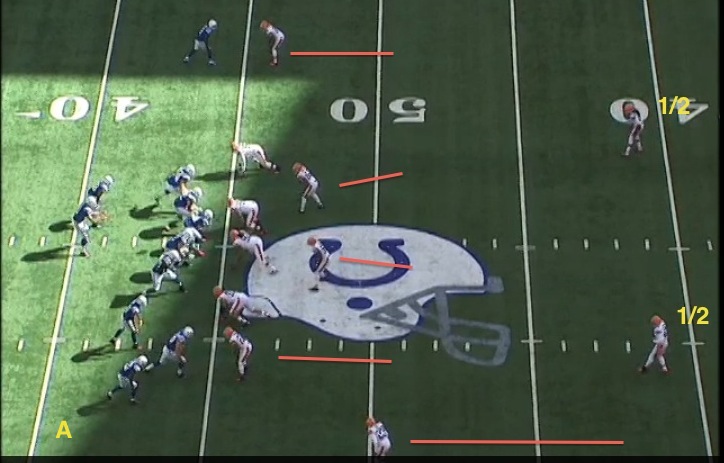 In panel A, we see the Browns align and show zone against the bunch formation.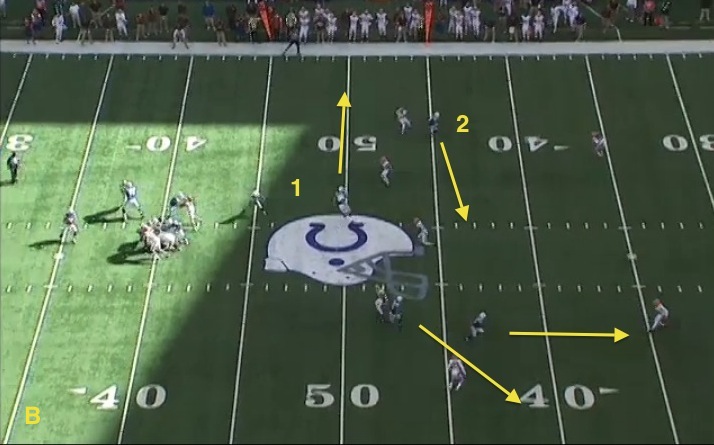 In panel B, we see that Luck's first read is the TE coming across the shallow zone. The underneath defenders are playing him. Luck sees Avery (#2) come across behind the linebackers and fires a laser in between three defenders for 16 yards and a first down. Luck is only reading half the field on this play but he's made the best decision here.
Play #4: 2nd quarter; 9:10 left; 3rd & 5 on Browns' 18
Offense: 11 personnel, 2×3 empty backfield
Defense: 42 Nickel; Cover-2 zone (not obvious on pre-snap)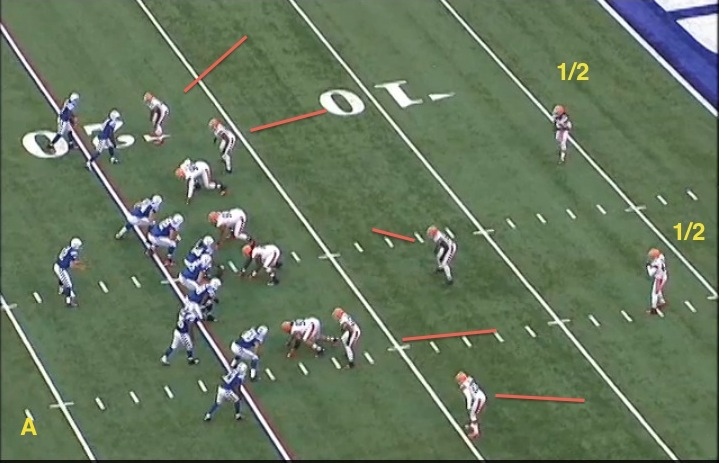 Panel A shows the presnap alignment. The Browns are trying to show a 2-man look.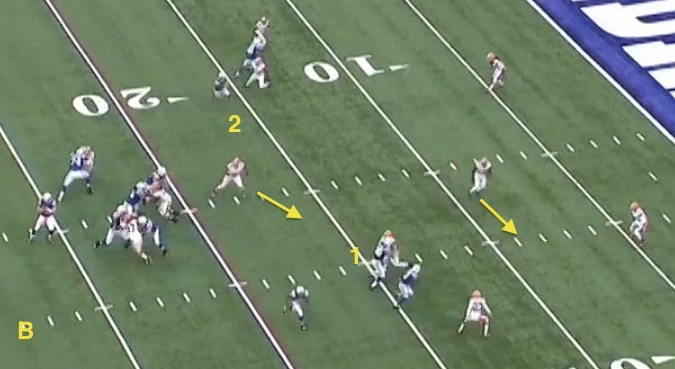 Panel B shows Luck looking right to the TE (#1) who is jammed by Skrine. His vision is pulling the defenders over that way (arrows). Notice that the defender who is at #2 is NOT a linebacker but rather Billy Winn who's dropped into coverage. The Browns are only rushing three. Wayne is cutting across on a shallow cross (#2).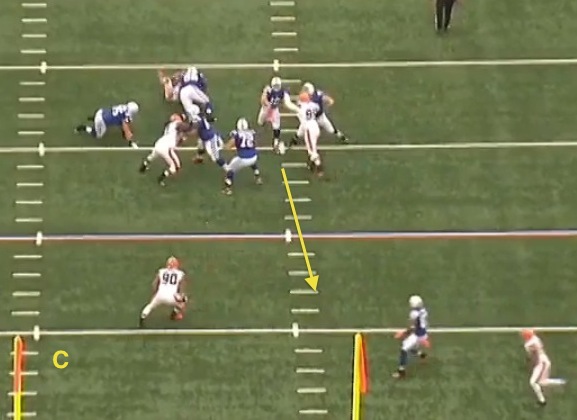 Panel C shows that Luck as pulled Winn over enough to now turn back and fire a strike to Wayne for yet another first down.
II. MOVING DEFENDERS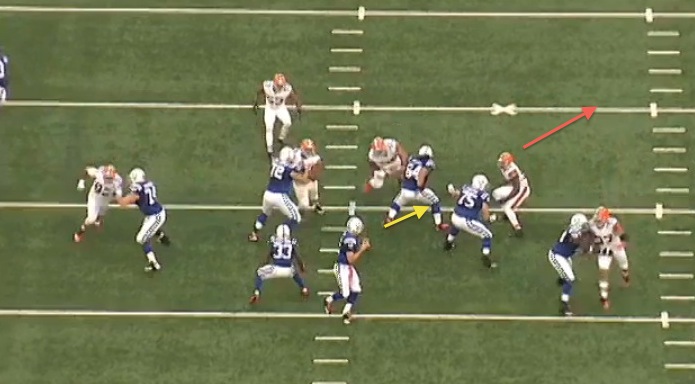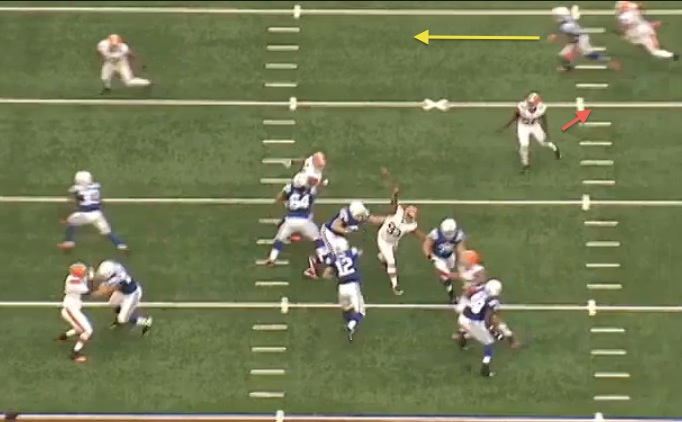 This play further illustrates some of what we've seen above in how Luck uses his yes to move defenders. Here he looks right to move D'Qwell Jackson and open an area to throw to for the completion. Every top level QB in the NFL has this skill and uses it well.
III. MAKING ADJUSTMENTS
Play: 3rd quarter; 9:38 left; 1st & 10 from Colts' 43
Offense: 11 personnel, 2×2 L
Defense: 42 Nickel;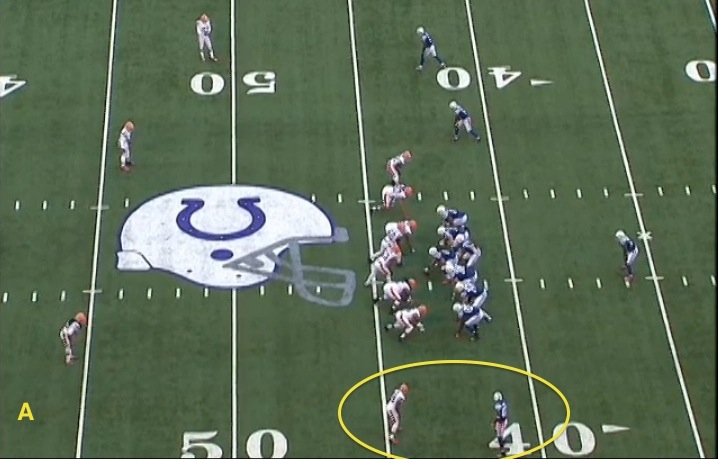 Panel A shows the Browns ready to pounce on a run play. There's a defender in every gap on the offensive line. Not shown is the hand signal Luck gives to Wayne when Wayne motions to the bottom of your screen.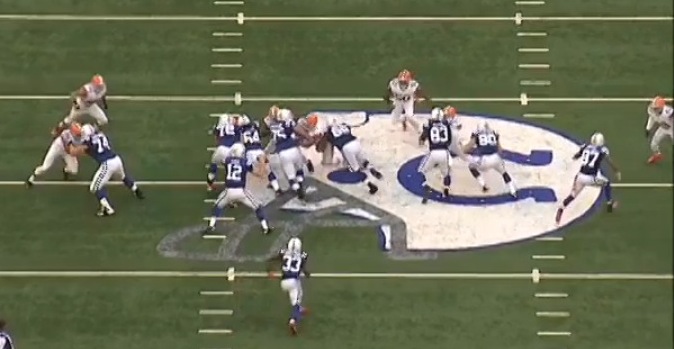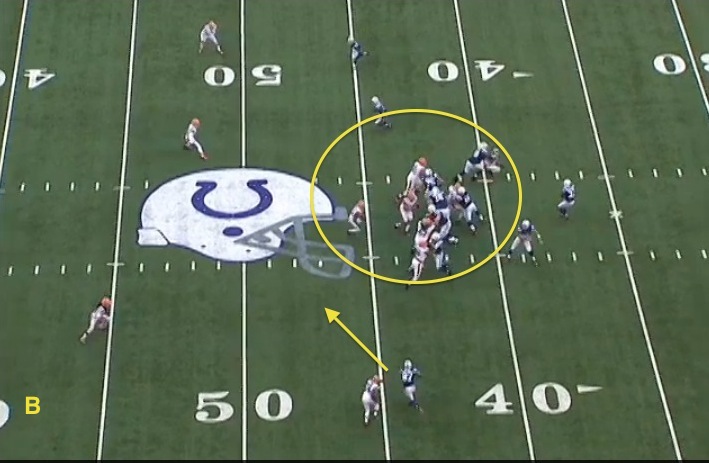 The next two panels show the Colts offensive line and running back all running the originally called play, a run. Wayne on the other hand has soft coverage from Sheldon Brown, recognized by Luck, who called an audible resulting in a slant for an easy 7 yard pick-up.
So easy that they did it again on the very next play.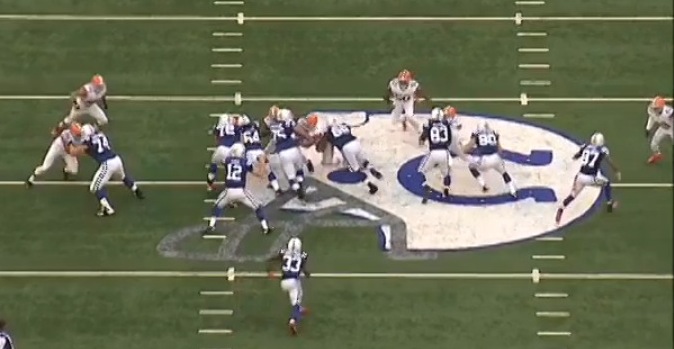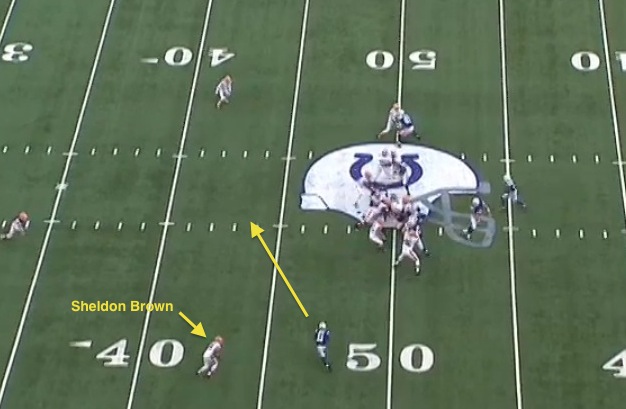 This time it's Donnie Avery for a six-yard gain and a first down.
DISCUSSION:
Oliver Luck (a St. Ignatius alum) was drafted out of West Virginia by the Houston Oilers in the 2nd round of the 1982 draft. His career was spent mostly backing up Warren Moon, but nevertheless he always had a reputation as a smart guy, and went on to earn a J.D. from the University of Texas at Austin in 1987.
My grandmother always said that fig trees don't make apples, and it's not too hard to see what Andrew Luck does that makes him so special. Though what an analysis like the above can't show is the more micro adjustments a quarterback makes because he knows the tendencies of individual players on the opposing defense (such as a certain safety's over-aggressiveness in response to play action) as well as the awareness of his own teammates and the adjustments that they're likely to make in real split-second time once the ball is snapped. Which isn't to minimize Luck's athleticism, which resulted in two rushing TDs against the Browns. And which isn't to say that the kid is perfect. His deep throws were frequently off-target last Sunday and teams like the Jets have shown that he isn't quite invulnerable to the bad game.
It's also not to say that the Browns' own rookie QB signal-caller is a failure. If you watch Brandon Weeden closely, you'll see that he makes good decisions relatively consistently. What he hasn't shown is an ability to consistently read the whole field and adjust to defenses in the manner that Luck did consistently on Sunday (it's the art that Peyton Manning has taken to an unprecedent level — in this way Luck is following right in his predecessor's footsteps). Part of that is likely due to the fact that Luck's coaching staff grants him more latitude to do this (such as when he punished the Browns for giving him that same slant option two plays in a row). Weeden definitely has more "arm talent" than Luck and as much as any quarterback in the league. If he could combine that with something approximating Luck's field vision, the Browns offense could turn into something extremely dangerous to opposing defenses.
—————
The complete "Xs and Os with the Bros" archive is available here.