Welcome to the latest edition of X's and O's with the Bros by X's and O's editor @rodofdisaster. This feature represents a basic attempt to look deeper into the game of football, learn something about the X's and O's that make it go, and better appreciate the games within the game. It's called "X's and O's with the Bros: because you don't have to be a player, coach, or rocket surgeon to get something out of taking a closer look at a football play, so please enjoy the post and the discussion in the comments.
This week Rod focuses on Brandon Weeden's recent trouble with batted balls at the line of scrimmage.
—————
Situation: 3rd Quarter, 12:59 left
Down/Distance: 1st & 10 on Browns' 31
Score: 7-3 Browns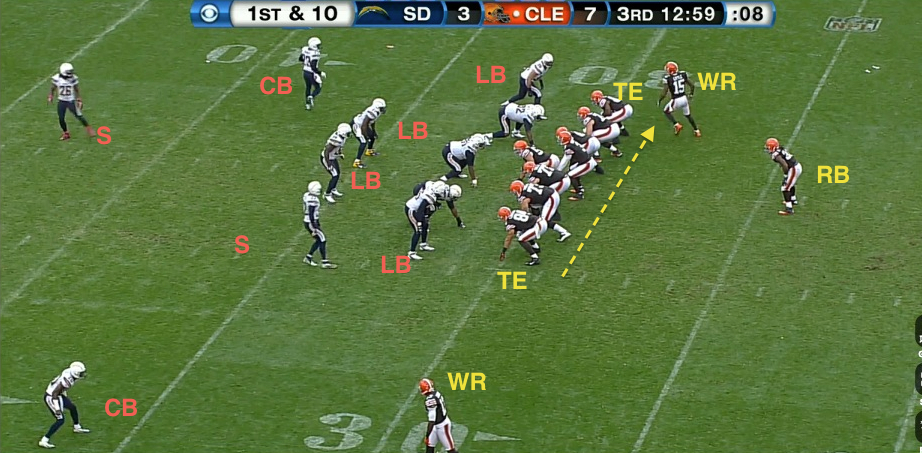 The Browns come out in '12' personnel with 1 back, 2 TE and 2 WR. The formation is an "Ace" with twins (two WR to the left). The "Z" receiver (Little) motions across the formation to balance it. The Chargers are in a base 3-4 front with the safety down in the box. There is one deep safety. This usually indicates man-free coverage or 3-deep zone. The corners are playing soft so there should be some room to maneuver.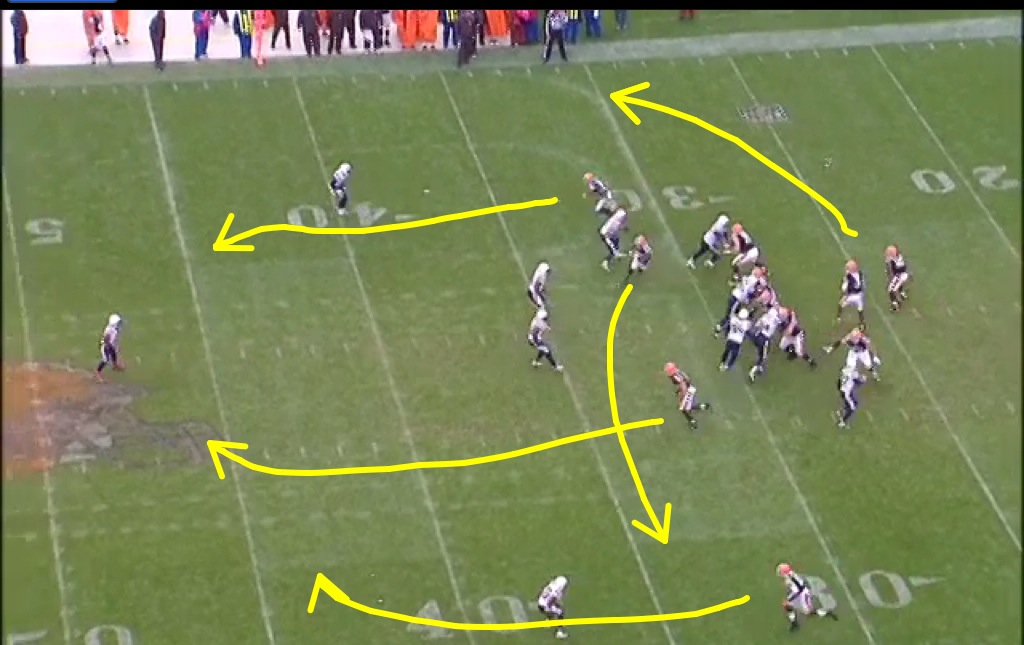 Here we see the play develop with three vertical routes to push the coverage deep. The defense looks to be in zone coverage (at least that's what the linebackers seem to be playing). As the play develops, the defense will have three deep and three under with five rushing. It's a five-step drop. This depth of drop typically will be paired with intermediate routes and crossing routes.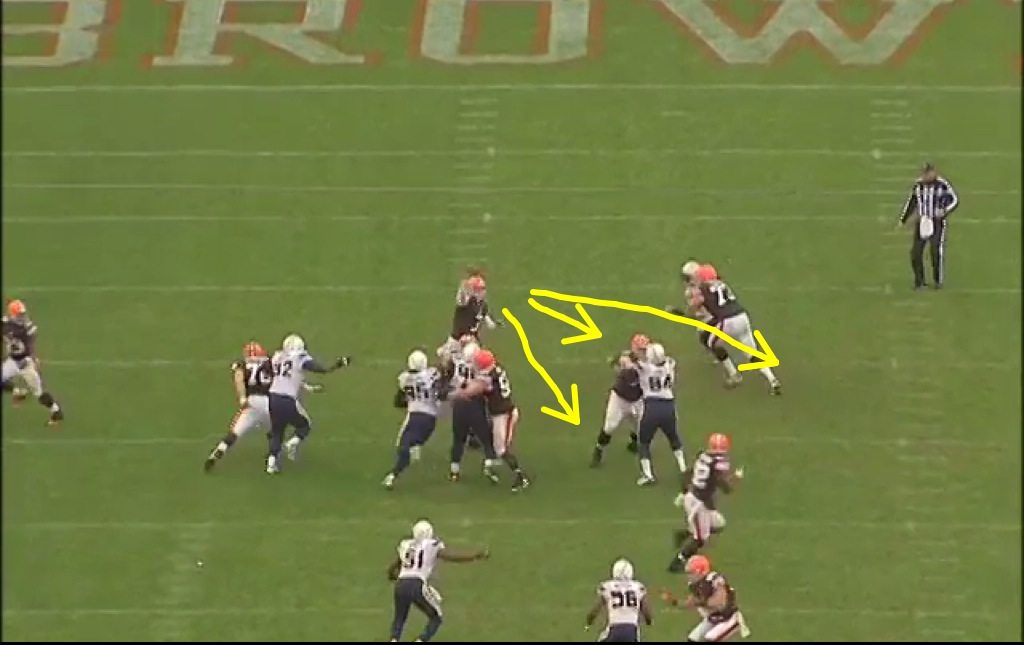 Watson breaks open across the middle and Weeden wants to get him the ball. As you can see, there's going to be a lot of space in front of him to run after the catch. The defensive lineman (Liuget) is engaged with Greco, the left guard. Note that the pair is upright and Weeden has three options. He could throw to Watson in the first window (left most arrow) or the second window (right arrow). Lastly, he could try to throw over Greco (middle arrow) which is what he did resulting in a batted pass which fell incomplete.
DISCUSSION
Batted passes are becoming an increasing concern for the Browns. In the last four weeks, Weeden has had eight batted passes bringing his season total to 12 which is only two fewer than the 6'1" Colt McCoy had all of last year.
A look at other QBs in the NFL shows the following batted pass numbers:
Aaron Rodgers 3
Peyton Manning 4
Tom Brady 3
Alex Smith 4
Matt Ryan 3
Robert Griffin III 3
Matt Schaub 4
Ben Roethlisberger 4
One might predict that Drew Brees, at 6'0," would throw the 8 batted passes that he has but that wouldn't explain why the 5'11" Russell Wilson has only thrown four.
The PD's Tom Reed tackled this issue about this a week and a half ago in a piece where he notes that:
[Pat] Shurmur believes batted passes are a shared responsibility among linemen, the quarterback and coaches. It's making the right calls, throwing balls in proper lanes and finding ways to discourage defensive linemen from jumping or sticking up their hands.
Most people will agree that bad play design could result in a batted pass but I don't see how that would be the case here. The receiver was open at the right time and there were two windows to throw through. Which leaves two factors: the line blocking and the quarterback.
As discussed in Reed's piece, you will sometimes see offensive linemen cut block on quick passes with three step drops as we see here (arrows):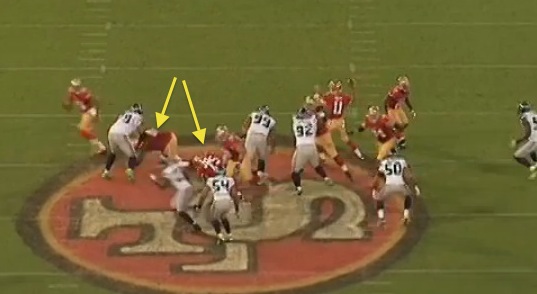 There's a fine line between going low and being dirty and some offensive line coaches won't teach this but the point is to get the defensive pass rusher's hands down. Pass rushers are now taught to react to the 3-step drop by easing up, reading the quarterback's eyes and timing a jump to bat the ball. Texans' sensation J.J. Watt is making a name for himself doing just that. Linemen need to have a plan. Going low and getting the lineman's hands (or body) down is one strategy. Another is to punish him for getting his hands up. He can't protect his torso and his center of gravity has just been raised. That's an invitation to a punch to the chest and a pancake block. A third strategy is to give him an inside or outside move to set up a window for the QB. On a 5-step drop, it's a little hard to expect Greco to cut anybody. I think he does his job here although getting the lineman's hands down would have been nice. Here's an example of a three step drop where Mitchell Schwartz doesn't get his opponent's hands down. This too resulted in an incompletion and this time a near interception by a defensive lineman (much like a Tony Romo pass that was intercepted and returned for a touchdown by Giants end Jason Pierre Paul last Sunday afternoon).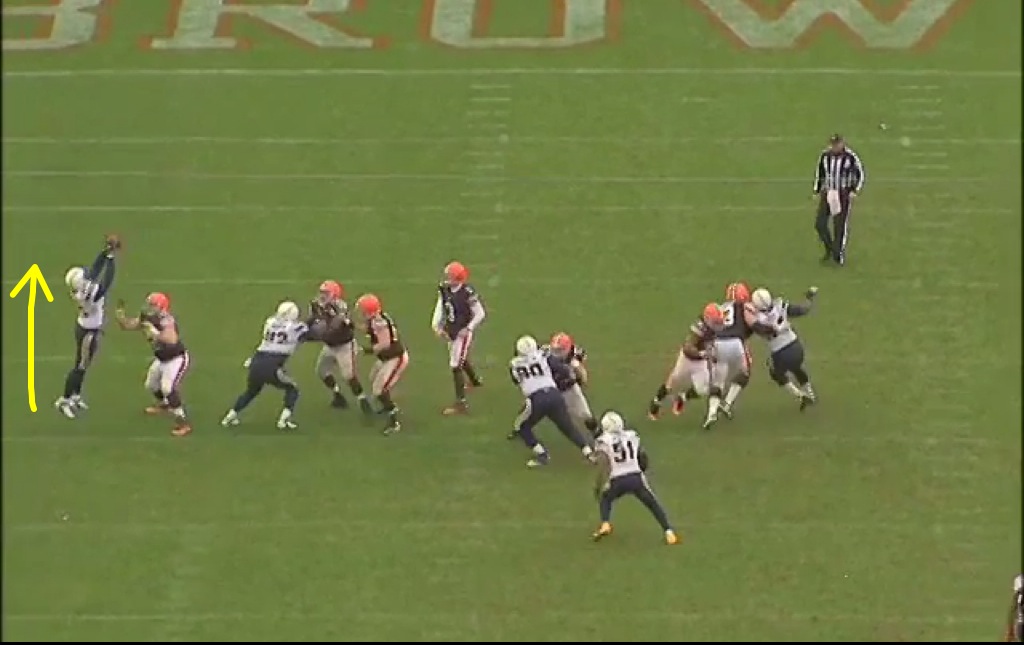 The quarterback is the last piece to this equation. He has to understand his passing windows as well as timing his throw for the receiver running through defended zones. Ultimately, I think the batted ball we see here is really on Weeden. A pass through either window on either side of Greco gets the ball to a wide open Ben Watson.
Of course batted passes at best will stall an offense, and at worst lead to disaster like what almost happened twice last week against the Chargers. Brandon Weeden needs to tidy this bit of quarterbacking up as the yards are there for the taking.
—————
The complete "Xs and Os with the Bros" archive is available here.