Welcome to the latest edition of Xs and Os with the Bros by Xs and Os editor @rodofdisaster. This feature represents a basic attempt to look deeper into the game of football, learn something about the X's and O's that make it go, and better appreciate the games within the game. It's called Xs and Os with the Bros because you don't have to be a player, coach, or rocket surgeon to get something out of taking a closer look at a football play, so please enjoy the post and the discussion in the comments.
This week Rod focuses on the recurring nightmare that is the Browns run defense and takes a look at how the league's 22nd ranked rushing attack rolled for 243 yards and 7.1 yards per carry last Sunday in New York.

—————
Time: 4th Quarter, 8:32 left
Score: 34-20 Giants
Situation: 2nd & 8 on NY 22
PRE-SNAP: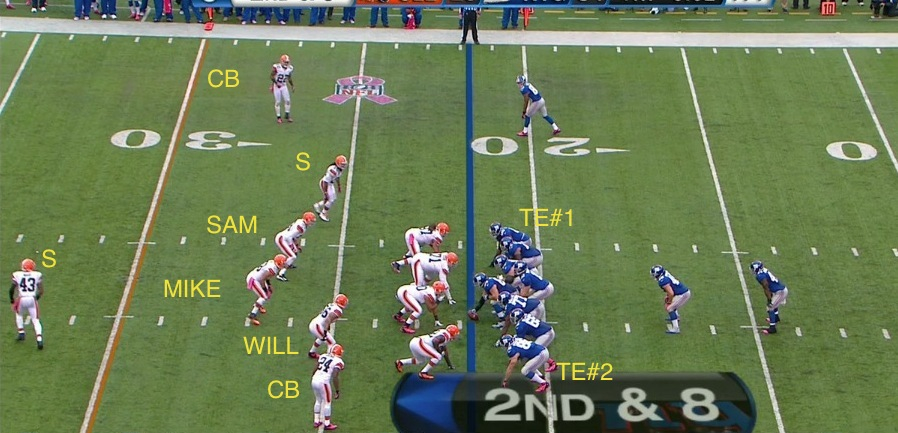 The Giants are in "22" personnel with 2 RB and 2 TE. This is called "Tank" personnel. It's an I-formation with the receiver to the right or field side. The Browns are in Base 43 personnel with 4DL, 3 LB and 4DBs.
We see Usama Young coming down toward the line (S at the top of the screen) creating an ostensibly run-stuffing 8-man box, or 9 if you count Sheldon Brown (CB, #24 at bottom). T.J. Ward is bailing to the deep middle pre-snap giving this the appearance of man-free coverage (1 deep safety, man-to-man underneath).
Back on the Giants side of the ball, if we divide the field in half and look to the right of the center, you have two linemen and the TE#1 (Bennett). there are 2 defensive linemen and a SAM backer there and the FB would give the Giants an advantage on this side. Young comes into the box to even the odds. To the left of the center, we see two linemen and a second TE (Pascoe), with four defenders on that side of the field. By adding the second tight end, the Giants created a second strong-side, forcing weak-side backer (typically smaller body-types than strong-siders) Maiava into a disadvantaged matchup. Add in the FB in this direction and the number of blockers matches the number of defenders in whatever direction the play goes.
THE BLOCKS: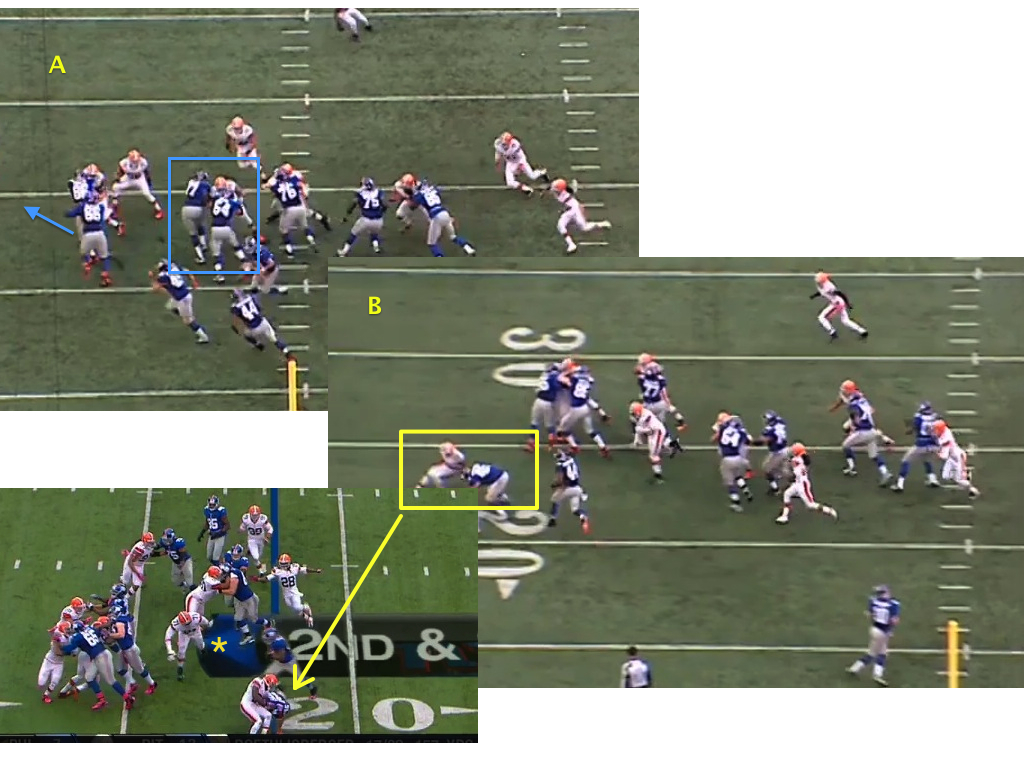 In panel A, we see the developing run to the left. The blue arrow shows the LT pulling outside to lead. The TE has Frostee Rucker blocked. The blue rectangle shows the LG and C engaging in a "combo" block on the defensive tackle (Winn). The LG will disengage and move the next level to take on the Mike backer (Fort) successfully as seen in panel B. The RG is one on one with the weakside defensive tackle (Rubin) and the backside TE is blocking Sheard.
The yellow rectangle shows Hynoski taking out a half-hearted attempt by Sheldon Brown who has offered him his shoulder instead of squaring up and fighting off the block. He's simply consuming the block. Panel C shows Hynoski in all his glory having created a crease. Panel C also shows us that, to his credit, Rubin (asterisk) has gotten off of Snee's block and has hustled down the line to try and fill that open gap and tackle the ball carrier. He dives but can't get him.
THE SAFETY NET:
Here we see Bradshaw get burst downfield on the strength of great blocking. The LT Beatty is pushing Maiava downfield and releases as the play gets past. Ward is pursuing in panel A with an angle. The subsequent panels show him getting slapped away easily, and failing to make the tackle. At this point, Bradshaw cuts back inside to Ward's help. This finishes off a 28 yard gain capping Bradshaw's best day as a professional running back (200 yards on 30 carries).
DISCUSSION:
"If you can't roll with the big dogs, stay on the porch." -Chris Doleman, NFL Hall of Fame Defensive Tackle
I was physically present at Sunday's game (with pateslvrblk and @jimkanicki) knowing that I'd have more opportunity to see things I would include in this week's edition of X's and O's. Unfortunately, as much as I would have loved to have focused on the outstanding effort of the offensive line (Over 5 yards per carry and no sacks against the Giants?!) or the fact that Trent Richardson seems to be more comfortable in passing situations or that Chris Ogbonnaya has been a steady contributor, I'm too haunted by plays like this one to spend time getting into anything else. That's in addition to the blown red zone coverages by three different corners on three different Victor Cruz touchdowns, and the continued failure of Pat Shurmur to meaningfully use any play action to help his passing game. It isn't that the Browns simply allowed a first down or 28 yards on this play. It's that they consistently failed to exhibit gap integrity or use proper tackling technique.
First, the gap integrity, which has been a problem all season.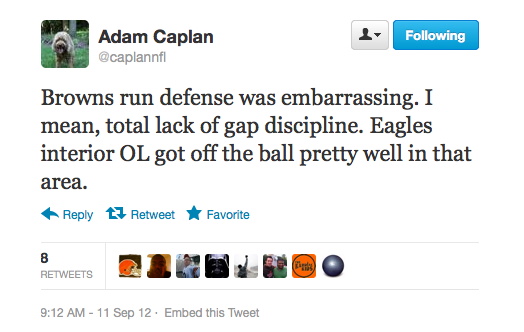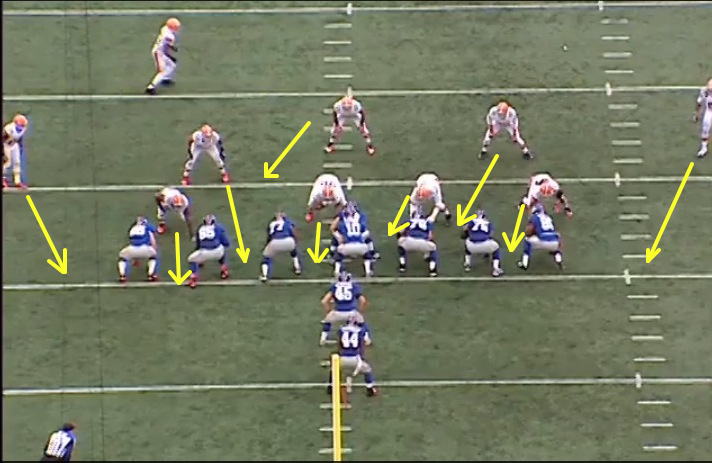 Directly above is the pre-snap from the all-22 coaches' film. I've drawn an arrow demonstrating every player's gap responsibility. I didn't assign one to the Mike and I will explain why below. Any fundamentally sound defensive play will be executed with what is called "gap integrity" meaning that every gap from "A" which is next to the center on outward is accounted for by a defensive player. These are the players' "run fits" or where they "fit" into the holes. Looking at the play as it unfolds this gap integrity breaks down. What I have labeled as Maiava's gap is where the huge hole ends up, yet, he doesn't fill it. One of two things has happened here:
a) It was Maiava's gap and he hesitated or tried to move to the next gap over getting swallowed by Beatty, or;
b) Maiava was responsible for the gap outside of Rucker and this was actually a gap that Fort was responsible for. Note: We can assume D'Qwell Jackson would have done better here.
I don't know exactly what Jauron assigned them, but this is where the play initially breaks down. The left side of the Giants' blocking scheme caves in that side of the defensive front and the defenders are already many yards in reverse.
Add in the fact that Hynoski is a great blocker and there is a wide chasm for Bradshaw to run through. We could single out Brown for a half-hearted attempt here but the bigger flaw is not his heart; It's his technique. He's offering a shoulder to the blocker instead of squaring himself and allowing himself to use a balanced stance that he could generate power with to fight off the block and perhaps even shed the blocker to make the play. You hope that Marecic was watching this.
Ward's effort here was equally half-hearted. He was easily fended off as he had no center of gravity below him, wasn't squared up to the runner and he was ineffective. At least he turned the runner back inside to his help.
This play also demonstrates a lack of tackling skill and while this is an epidemic in the NFL these days, any 10 year old Pop Warner player is taught to tackle with bent knees and hips and their shoulders square with their head up. They wrap up and drive with their legs. Now, let's see how the paid professionals do it.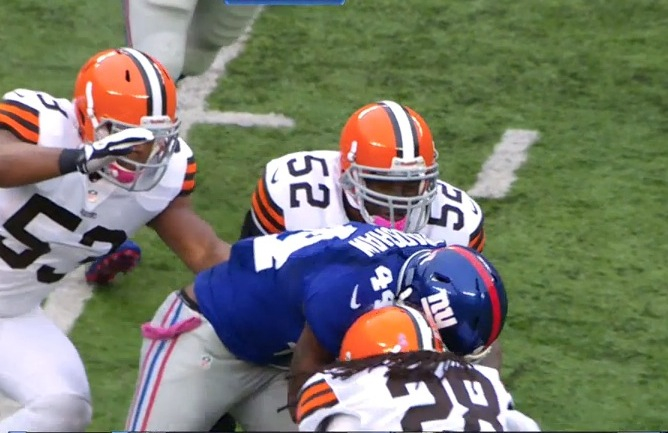 Here we see Usama Young trying to tackle Ahmad Bradshaw in the first quarter. If you could see this in motion, he leads with his helmet and you can literally see the force of the hit compressing his neck. The effect on the Browns inability to win is secondary; Mr. Young needs to learn how to hit with his head up ("See what you hit") before he's in a wheelchair and eating through a tube.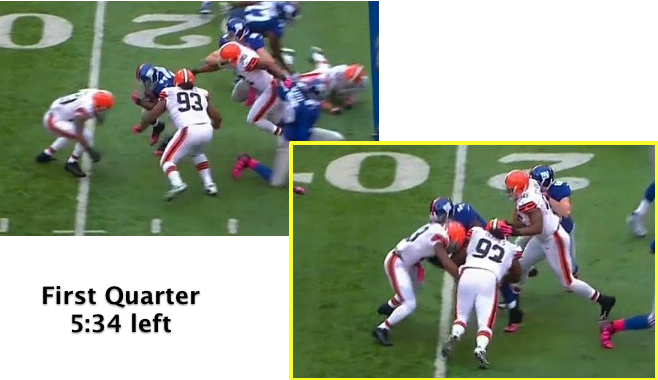 Here we see TJ Ward in the first quarter coming in with his head down. He doesn't end up making this tackle and clearly isn't wrapping up.

Here we see TJ at 8:27 of the second quarter trying to make a tackle on a running play. He's leading with his shoulder which wouldn't be so bad if he'd actually wrap up (It shouldn't matter that he has a cast on his hand. If he can't play he shouldn't be in the lineup). TJ misses again, resulting in an extra gain on the play.
I was hoping to spend some time going over the fact that rookie linebackers Craig Robertson and Fort were targeted mercilessly once D'Qwell Jackson left the game, or how Shurmur was remarkable in his mismanagement of time outs and 2-minute situations. We could have easily spent quality bandwidth to discuss the fact that Greg Little was a non-factor on a day when the Browns were missing both Massaquoi and Cribbs; or dissecting the fact that the ill-fated first interception had no open receiver or semblance of an intelligently designed pass pattern. We could have discussed the Browns remarkable predictability when lining up the halfback in an offset position.
It would have been nice to talk about the underappreciated Jordan Norwood who caught everything that came his way; Or taken a look at whether the safety really failed to cover on Josh Gordon's first touchdown like Dan Dierdorf said, or if the Giants were playing a Tampa-2 where the linebacker would get no help there. We could have asked why Montario Hardesty was dressed for the game at all, or talked at length about the fact that Weeden seemingly isn't allowed to audible even when he has a size or speed mismatch on the outside and the call is a Richardson dive into the line.
Alas, we will discuss none of these things, because first things first, and for most of the day T.J. Ward and his teammates on the Browns defense didn't execute basic fundamental techniques as well as second-graders, let alone second-rounders. 0-5, even against a relatively tough slate of opponents, is bad enough, but if these basics don't get fixed soon things are really going to unravel as the season wears on.
—————
The full "Xs and Os with the Bros" archive is available here.