"We don't have a team of Pro Bowlers and we don't have a Hall of Fame coaching staff, but we have a team." — Josh Cribbs
"We're not getting it done late. I don't know why." — Brandon Weeden.
"The Cowboys scored when they had to and we didn't."— Ben watson
"It was personal, man, you know." — Lawrence Vickers
"[Mike Holmgren] is a heck of a man. … We have a top friendship." — Jerry Jones
—————
The best piece of journalism published on this week's Browns/Cowboys match-up was published before the game, by Tom Reed in the Plain Dealer: "Joe Banner, Jimmy Haslam get an up-close look at the NFL's dominant marketing team: The Dallas Cowboys."
"Jimmy Haslam and Joe Banner were invited behind the curtain in the NFL's Land of Oz [Dallas] this weekend to witness how a franchise with one playoff win in the past 16 years is virtually without peer when it comes to making money," Reed starts.
"With open notebooks and minds, Haslam and Banner welcomed the opportunity to meet with Cowboys executives Saturday in advance of the Cleveland-Dallas game. … A year ago, a season which saw the Cowboys finish 8-8, they generated $550 million in total revenue, according to Forbes, thanks to their futuristic stadium and sponsorships from Ford, Bank of America, Pepsi, Dr Pepper and Miller Brewing. Regardless of what their on-field records suggest, there are no losing seasons for owner Jerry Jones and his club. . . .

"We want to maximize our understanding of what a lot of people who are doing really well around the league are doing," [said Banner.] "And we don't want to be shy about stealing some ideas."
Yes Mr. Banner please don't be shy about stealing ideas from Jerry Jones because god knows the Cleveland Browns haven't been good enough at leveraging the brand name of one of the NFL's most beloved franchises despite a straight decade of unimaginably horrific football. As much as it's a wonder that Browns fans haven't burned the Stadium to the ground yet, let alone that the place sells out every game, the first thing Haslam and Banner need to do is learn more from the world's grand champions of squeezing every last dime from fans of a bad football team. Because when you can do that, who needs to worry about winning games? There's no such thing as a losing season for the Cowboys, and there's no reason for anyone to be shy about that in Big D.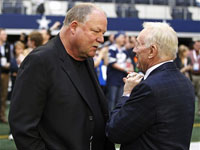 Which of course also goes a long way to explain why Jerry Jones and Mike Holmgren get along so well.
"Apart from being an outstanding coach, he's a heck of a man," Jones said of Holmgren, who attended yesterday's game. "He's got a lot of character, and I can't tell you how much I respect him. When you're in close like that and spend a lot of time with somebody, familiarity can breed contempt, as the old thing says. It's just the opposite with him. Every time I've ever been around him he's gone up in my eyes. … We have a top friendship."
Familiarity might breed contempt in another situation, but when you're one of the tiny handful of people on the planet who gets to roll around in such an enormous pigpen of cash from fans of bad football it gets hard to relate to anyone else. So call it a top friendship, and a top show that the lame duck Browns President put on with the Cowboys owner before the game. Because what else would you do a week after you denied rumors that your agent planted about your interest in returning to coaching only if the Cowboys job came open, because you "would never do that to anybody" like Dallas head coach Jason Garrett who's "trying to work and []fighting like crazy for [his] job"?
Naturally, you would make a scene about traveling to a road game for the first time all season with the franchise that just gave you your walking papers, and spend "quite a while" on the field before the game gladhanding the owner of the team whose head coaching job you're rumored to be interested in, right in front of that team's current head coach who's "trying to work and []fighting like crazy for [his] job."
Which might explain the Browns' ability to jump out to a 13-0 halftime lead as well as anything else, with Garrett having every reason to be preoccupied with life's bigger questions after the Jones/Holmgren display. But the Browns lost anyway, despite dominating the game along both lines of scrimmage.
Both teams were significantly hampered by injuries yesterday, with the Browns missing Joe Haden and Dimitri Patterson badly in the secondary, and the Cowboys offensive line a mess. All three centers on the Dallas roster were out with injuries, so guard Mackenzy Bernadeau played his first NFL game at the position with backup Derrick Dockery inserted at guard.
But after falling behind, the Cowboys adjusted at halftime, "to faster-developing pass plays to beat the pressure and going more to a three-wide shotgun set to tire out the Browns' pass rushers." And despite superb pass protection against Dallas's pass rush (I can't remember a Browns quarterback ever having a more comfortable pocket week in and week out), and excellent play from the receivers, the Browns attack couldn't keep up in a furious overtime finish. Brandon Weeden turned in another wildly inconsistent performance, there were some big calls that could have gone both ways on both sides, and there was another clock management mess in the fourth quarter that didn't end up mattering in the end.
And in the end, the Browns are 2-8, with twelve straight road losses. Pat Shurmur is now 0-2 as a head coach coming off a bye week, and hasn't beaten a team with a winning record in 26 games and counting. The Steelers come to town next week, and Joe Banner and Jimmy Haslam have books full of notes from Jerry Jones.