"This was just a hurting team against a healthy team." — LaMarr Woodley
"I told our rookies, 'You're now 1-0 vs. the Steelers.'" — Pat Shurmur
"I'm surprised it was that close given the turnover situation." — Mike Tomlin
"It's killing me to watch." — Ben Roethlisberger
—————
If yesterday's 20-14 win over the Steelers proved anything, it's that win or lose, it's impossible to watch the 2012 Cleveland Browns play 60 minutes of football without feeling at least 20 I.Q. points dumber for the effort. But still, we can enjoy the the strange opiatic hint to this week's dull hum because, look at the comments at the Post-Gazette sports page, and hey, lady, why don't you have a seat?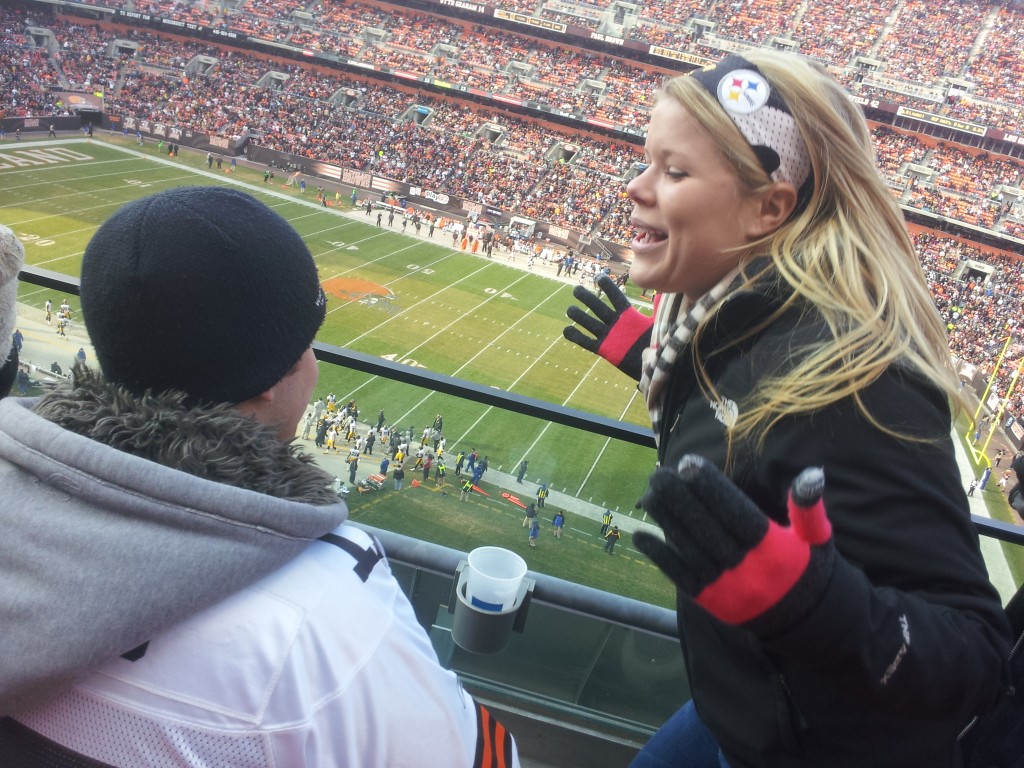 Pat McManamon of Fox Sports Ohio says the Steelers "played lazy" and failed to "treat[] the Browns as if they were a real NFL team," which might count as exceedingly reckless behavior on the part of a team starting Charlie Batch at quarterback, let alone Charlie Batch without his number one receiver playing behind an offensive line that was missing three (technically four) starters by the end of the game. Though, in fairness to Pittsburgh, the Browns were the team coached by Pat Shurmur and quarterbacked by Brandon Weeden, and the Steelers probably weren't counting on coughing the ball up eight times (seven, really).
But credit where it's due:
The Browns' front seven: Not afraid of Charlie Batch, backup offensive linemen, or falling on loose footballs;
The Trent Richardson draw for the Browns second touchdown was a good call and great execution.
As for whether the Browns would have been able to score on a drive that started inside their own 40-yard line, we're only left to guess (No). But as funny as it was to see Pittsburgh give the ball to their running backs on their first seven plays like a 7-3 lead was going to be plenty, the stat of the day for conspiracy theorists and Brandon Weeden fans is as follows:
Despite throwing a touchdown and only one interception to Batch's zero TDs and three picks, Weeden finished with a 13.1 Total QBR (the stat that accounts for things like missed throws to wide open receivers and balls that are thrown off of the opposing team's hands) to Batch's 20.8, which counts as the lowest rating by any NFL quarterback in a win this season, and strongly suggests that the Browns would have won by even more than six if Batch had been taking the snaps for them.
…
…
After eleven games, Weeden's QBR on the season is 21.8, which is miles worse than every other starting rookie quarterback and more than sixteen points worse than the 30th ranked QB, Kevin Kolb, which is really something considering that 16 QBR points is also the difference that separates Kolb from Joe Flacco.
On the other side of the ball, we could feel even better about the performance of the defense if it came against a team that could claim even a mediocre ability to move the ball through the air, since pretty much every team like that has had its way with the unit this year when it mattered. But, as much as a bad day in Oakland next Sunday could change this, it's hard not to think that they're not a player or two away from being something potentially consistently above-average. So we'll stay tuned for that, as well as for the chance we get to see what Chips McCoy can do with this offense.
Anyway, banged-up or not, the Pittsburgh Steelers needed a win in Cleveland yesterday and they didn't get it. Get these Browns a legitimate coach and a quarterback, and not only might we not need lobotomies after wins, but we might also be able to cling to a spark of hope that seven Steelers turnovers could be anything other than the Curse of Wahoo messing with our draft positioning again and/or the bare minimum level of cosmically mandated retribution for people who wave yellow towels at Browns Stadium.
Things very well might be looking at least a little bit up. For now.
—————
And the win over the Steelers wasn't even the best Browns news of the day, because not only was yesterday Mike Holmgren's last as a Cleveland Brown, but it looks like Holmgren's "abrupt and sooner-than-expected departure" was for an especially good reason. Per McManamon:
"Prior to last Sunday's game and after the rumors had broke, Holmgren and [Dallas Cowboys owner] Jones shared very warm greetings.

"Those greetings and that scene did not impress new owner Jimmy Haslam, and may have led to Holmgren's abrupt and sooner-than-expected departure, according to those close to the team."
Chalk up a big one for Flying J.