Is what we're in for this Sunday with the Cleveland Browns in Dallas, and there's no telling what the extra week to prepare will bring. Though if last year's post-bye-week matchup is any indication, the Cowboys will score two special teams touchdowns (including one on a Pop Warner-type fake field goal), the Browns will fall behind by three scores, but Tony Romo will be injured on Dallas's third drive to be replaced by Kyle Orton (who is no Kyle Boller) and the Browns will take advantage on their way to rolling up 260+ yards of total offense and close in for the backdoor cover on a garbage time touchdown with one minute left to play.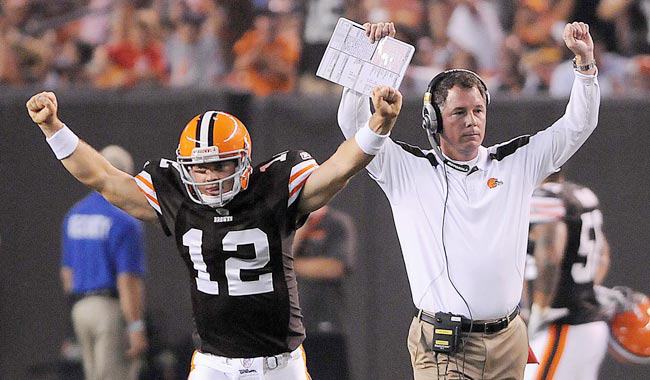 There's a quote of the 2012 Browns Bye Week and it's from Brandon Weeden:
"Lost in all of this [losing and bad quarterback play] is that I'm a rookie. I'm still playing teams for the first time, I'm still seeing things for the first time. I'm making a lot of mistakes for the first time. I'm trying not to repeat them, but I'm not a nine or 10-year veteran. But I've got to play better. I know that. I'm not a moron."
And in news from around the league, New York Jets owner Woody Johnson is feeling frustrated again.
"I didn't sign up for a 3-6 season," Johnson said at Jets practice this week. "We haven't had one of these in a while."
Of course, it's at best an open question as to what Woody actually signed the Jets up for. But he definitely didn't sign any contract to be born into the Johnson & Johnson fortune, so to the extent that his football team's problems really aren't in significant part a natural consequence of his own management decisions, he should be able to to take solace in the fact that not all of the unbargained-for things have gone so badly for him.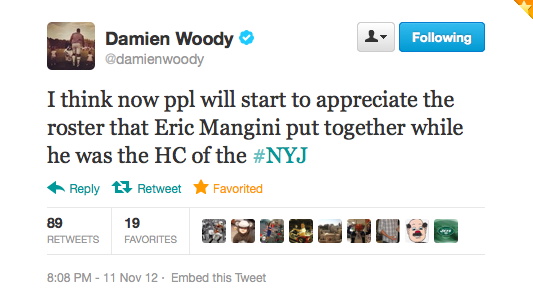 Alright, this is your open thread for the weekend and through Shurmurball Sunday. Hope everyone has a great one.