How do we know Joe Banner knows football? Because he hired Andy Reid as head coach of the Philadelphia Eagles. This is according to Banner himself, in an interview with the PD's Mary Kay Cabot:
Cabot: Speaking of football guys, you're perceived as more of a business/salary-cap guy than a football guy. Is that accurate?

Banner: I think that definition has properly evolved over the last five or 10 years. There's a lot of examples of smart, hardworking guys running successful teams that are not thought of as football guys. You can't hire an Andy Reid without knowing something about football.
Banner talks a lot about Reid in the interview, including about how he fits a mold of successful NFL head coaches that are " incredibly strong leaders," who "hired great staffs … managed them well and were all very detail-oriented."
But one relevant name that doesn't come up in all this talk about how great Andy Reid is is Donovan McNabb's, so it's worth another reminder that having a six-time Pro Bowl quarterback who was as impressive an athlete to ever play the position helps a lot. And also that Reid has won zero playoff games without McNabb, and that Reid's fellow Bob LaMonte clients Pat Shurmur and Brad Childress would have never landed NFL head coaching gigs if not for McNabb's success. Banner probably wouldn't have been hired by Jimmy Haslam if not for the same.
Maybe McNabb wouldn't have had as successful a career as he did had he not been surrounded by this brain trust, but if we're talking about Joe Banner's resume (or about assessing what's gone so horribly wrong in Philly), the quarterback's name is worth at least a mention.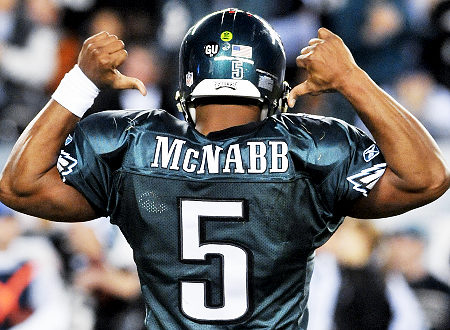 And of course we wouldn't be talking about any of this had the Browns not passed on McNabb in the '99 Draft in favor of Tim Couch, so in this way Banner is coming full circle.
—————
Also notable in Cabot's interview of Banner is that the new Browns President dismissed Jason LaCanfora's report that Mike Lombardi is a serious candidate for a Browns front office position as "wild speculation," and candidly elaborates that, "in this case it's unfounded … a shot in the dark."
And here comes LaCanfora with another one (also linked above re: Philly), this time about Mike Holmgren and the Cowboys.
Some sources who know Holmgren well believe Dallas is the one potential opening that would truly interest him, given the competitiveness of the roster, the skill players present and his long relationship with Cowboys owner Jerry Jones. Holmgren and Jones worked closely together for more than a decade on the NFL's Competition Committee. If the perfect scenario does not arise, sources close to Holmgren expect him to retire.
Unless there's an NFL owner who's just going to give his franchise to Holmgren, a scenario won't be any more perfect for him than it was in Cleveland, so we can probably put this one to bed.
Salute to the veterans.
————–
RELATED: Great Moments in Cleveland Internet History: Cleveland Frowns on Mike Holmgren in December 2009, and Cleveland Frowns on Mike Holmgren and Bob LaMonte in December 2010.