Welcome to the latest edition of X's and O's with the Bros by X's and O's editor @rodofdisaster. This feature represents a basic attempt to look deeper into the game of football, learn something about the X's and O's that make it go, and better appreciate the games within the game. It's called "X's and O's with the Bros: because you don't have to be a player, coach, or rocket surgeon to get something out of taking a closer look at a football play, so please enjoy the post and the discussion in the comments.
This week Rod focuses on a number of problems with Brandon Weeden's play last Sunday in a loss to the Ravens.
—————
Suffice to say at the season's half-way point that fans of the Colts, Redskins, Seahawks, Dolphins or Browns expect their respective rookie signal-callers to be better today than nine weeks ago, whether or not it's become obvious that their team will be set at quarterback for the foreseeable future. Unfortunately for Browns fans, they have more to worry about than any of the rest of these groups on this front, especially after last Sunday. Brandon Weeden has impressed at times this season, but in a winnable game against the Ravens there were a number of plays that show that there's still a lot of work to be done if #3 is ever going to lead the Browns to the top of the NFL.
Play#1
1st Quarter, 15:00
1st and 10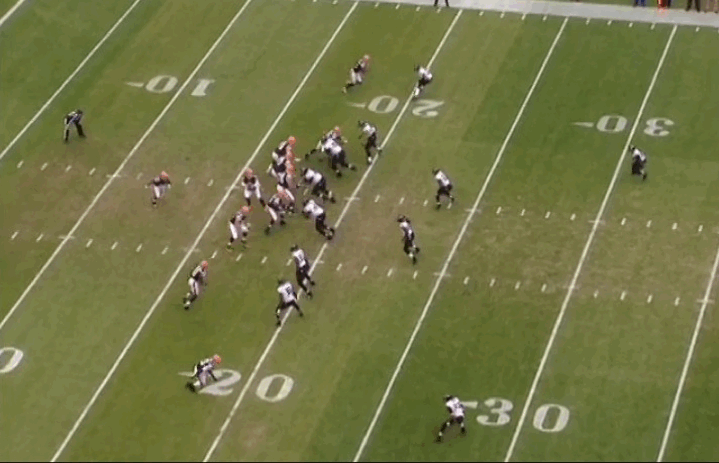 Here we see the first play from scrimmage. This was man-free coverage and Weeden chooses Little on the "Fade" or 9-route. While somewhat predictable, I understand Shurmur trying to come out aggressively on this one. But there are three problems with Weeden's choice here:
1) Williams has good coverage on Little.
2) Other than a brief look to the check-down, Weeden is completely locked in on Little.
3) Notice Watson is past his defender down the seam and Gordon has one-on-one at the bottom of the screen. While he might have considered Watson and we just can't tell, he never even looks in Gordon's direction here.
While the option of Watson or Gordon might be debatable, the fact that he's seemed to lock on to Little is probably not.
Play #2
1st Quarter, 8:28
1st and 10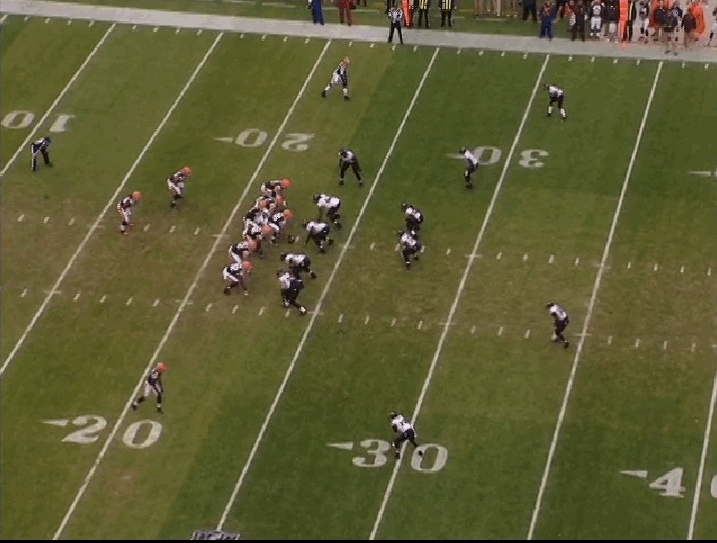 In this play against what initially looks like Cover-4 but is actually Cover-3 zone, we see Weeden systematically read: the TE crossing, the WR comeback and then the dumpoff to the RB on the right. I'm not going to suggest that there's anything wrong with the progression here but again, he's reading only half of the field making it easy for safeties to cheat. And look at the WR at the top of your screen (Gordon), open on a post. You might recall that this is the play that Kruger tried to jump for a pick six after Weeden held the ball for an eternity. He held it for 3.5 seconds, which is simply far too long.
Play #3
2nd Quarter, 14:03
1st & 10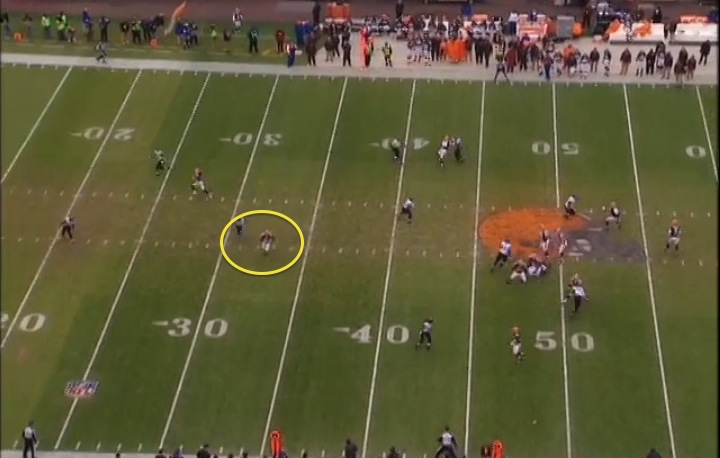 On this play, Weeden held the ball in the pocket for 4.8 seconds before scrambling. His eyes were downfield the whole time. There was an illegal formation penalty here but that doesn't explain the failure see the tight end (circled) running into wide open space downfield. Weeden certainly wasn't under any pressure when the receiver broke open.
Play #4
2nd Quarter, 10:12
2nd & 9 (from Baltimore 16)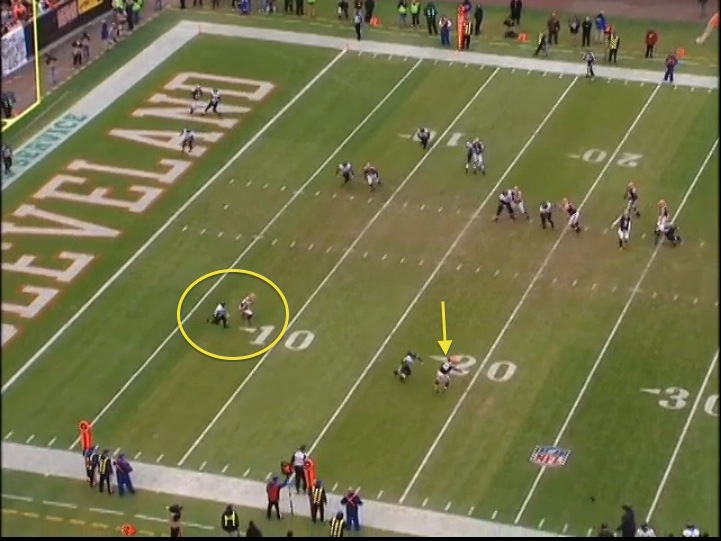 Here we see a play where Weeden couldn't pull the trigger to Gordon on the shallow cross. He holds the ball for 3.7 seconds before settling on the back to the left flat and throwing an uncatchable, incomplete pass. Notice that Cameron has position on his defender down inside the 10? Weeden never looked at him. That's pretty clear on the All-22.
Play #5
2nd Quarter, 0:24 left
1st & 10, Baltimore 41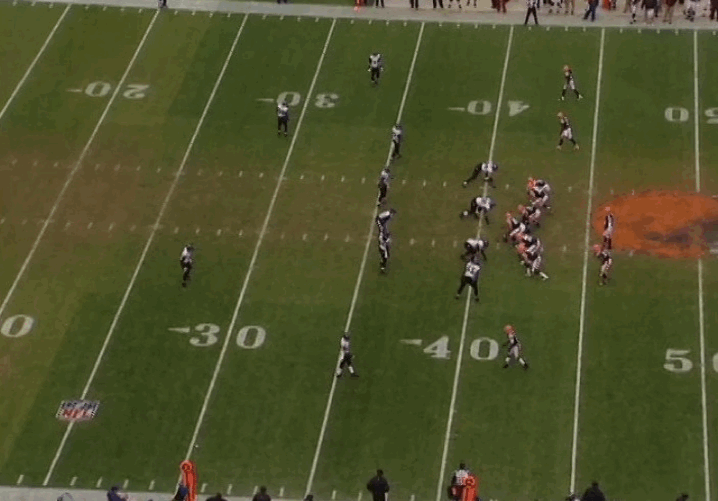 Here we see the Browns at the end of the half throwing a six yard "whip route" to Little for a first down, but notice the three receivers breaking open at the next level. Watson is open down the middle. The defense is covering quarter-quarter-half deep. Gordon comes open on a corner route at the bottom that goes for a TD if Weeden hits him, but the quarterback never looks at anyone but Little. This play ended with 17 seconds remaining. Even a slightly longer play down inside the five would allow you roughly 12 seconds if you use your time out. A quick pass to the end zone and you've either got a TD or a stopped clock for a chip shot field goal.
Play #6
3rd Quarter, 13:21
2nd & 3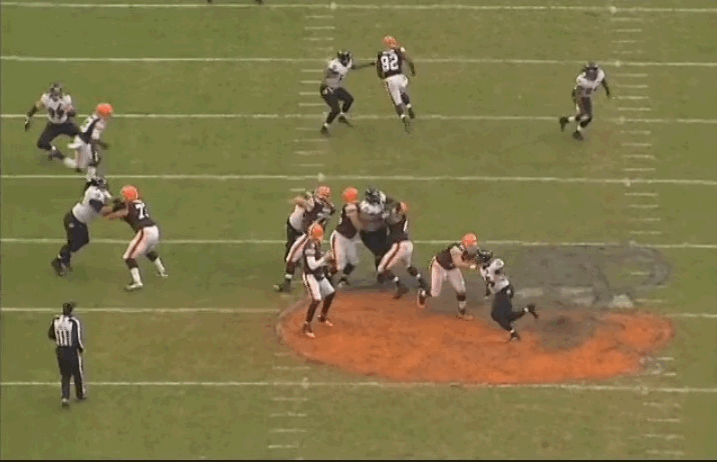 Most of you will recognize this throw as the one that was nearly intercepted intended for Cameron. It immediately precedes the one that WAS intercepted intended for Cameron. It's hard to see on the game film but on this throw, a few things happen:
1) First, this is just a horrible throw. Weeden's upper body comes through the throwing motion faster than his lower body, and he steps with his foot to the left of his target line. The upper body falls away to his left while he's trying to drive the ball to the right. He loses a little bit of zip and the ball drops like an off-speed pitch.
2) He stares at Cameron the whole way. Ed Reed comes from the opposite half of the field (totally ignoring another Browns receiver in the process) to make a play on this particular route based on Weeden's eyes.
Almost a disaster. 100% on Weeden. I don't know that Alex Smith (to the right of Cameron) would have been any more open than Cameron himself but he was pretty demonstrative after the play.
Play #7
3rd Quarter, 6:05
1st & 10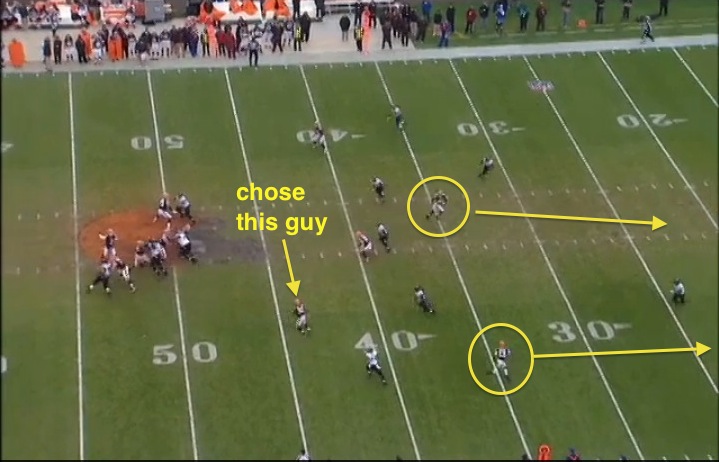 Here we see yet another zone coverage by the Ravens. It's quarter-quarter-half again. Weeden never looks deep. Instead he goes from a covered Cameron right to a dump off to TRich that falls incomplete on a penalty against the Ravens. With the weak safety rotating over to Gordon (bottom of the photo), Watson is wide open and in the clear.
Play #8
3rd Quarter: 4:43
3rd and 4; Browns threatening the red zone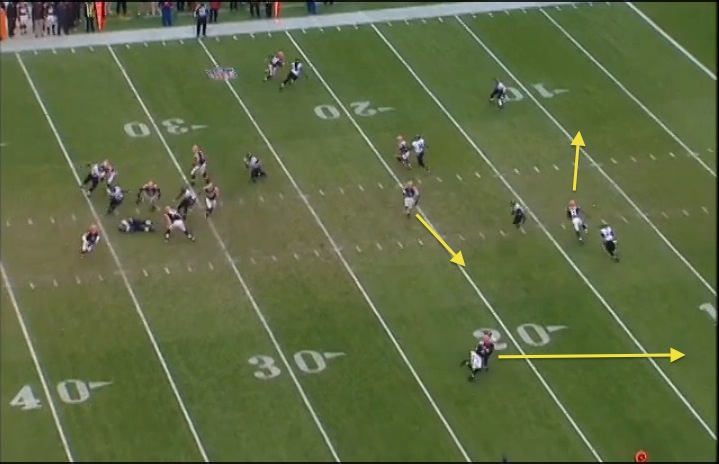 Here Weeden is under pressure and flushed from the pocket, but at this point he has time and space to set and throw, probably most effectively to Little breaking open in the deep middle (though it would have helped if the receiver would have adjusted his route straight upfield here. There's also Watson is crossing, and Gordon at the bottom of the screen with a step on his man who would have had no help on a deep throw toward the sideline. Weeden ends up tucking and running here instead.
Play #9
3rd Quarter; 3:30
2nd & 9 (red zone)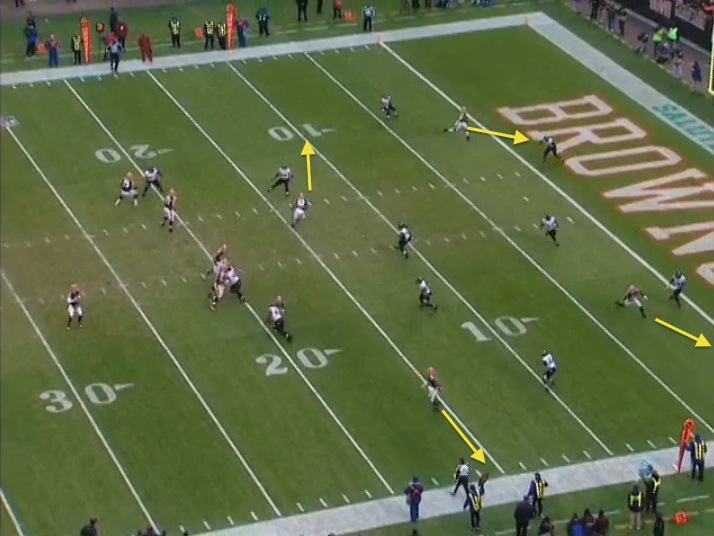 This play resulted in a minimal gain to Alex Smith on the sideline. There's not much else here other than Cribbs with position on his man to the corner, but at this point it was already too late to make this throw. What's remarkable about this play is that Weeden has held on to the ball so long that the receivers have run their routes to completion. Not the worst result but clearly indecisive.
Play #10
4th Quarter; 4:26
1st & 10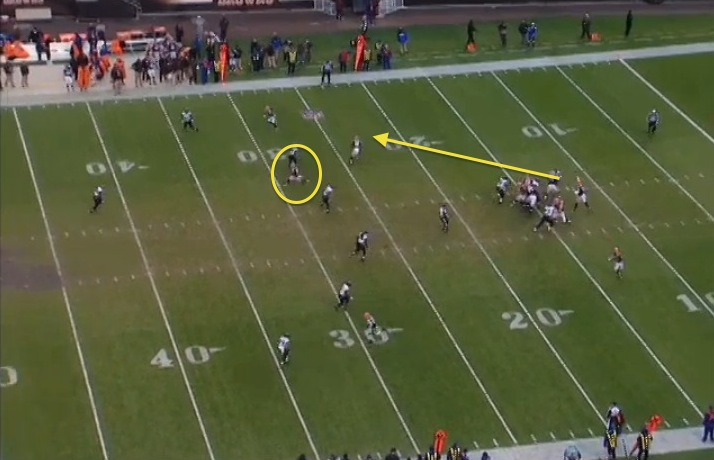 Here Weeden looks only to the right flat and throws a 6-yard pass to Massaquoi with Little breaking wide open into the deep middle.
DISCUSSION
As much I admire Andrew Luck for his ability as a rookie to see the field, manipulate defenders, and deliver the football, I understand that Brandon Weeden doesn't have to be Andrew Luck. But he has to be a lot better than this.
When Mike Holmgren came on board, he was lauded as a "Quarterback Guru." He worked with Montana, Young, Favre and Hasselbeck, but he also worked with Brock Huard, Josh Booty and Jeff Kelly. Pat Shurmur was touted for his work with Sam Bradford (inasmuch as it all took place in one season), and Brad Childress is credited with developing Donovan McNabb. Yet, with this overflowing bounty of quarterback expertise, the Browns head into the bye at 2-7 and with a quarterback who actually looks less comfortable than when he started. Is Brandon Weeden in danger of becoming the next Trent Edwards, aka "Captain Checkdown"? It's hard to question the rookie quarterback's desire to bring the Browns back to relevance, but at this point of the season he's showing an alarming lack of consistency in his ability to see the field, deliver the ball on time, and keep consistent mechanics, especially given the excellent pass protection he's been getting.
While I still want to see Weeden taking the snaps for the Browns, I would like to see more evidence of learning and coaching to validate the continued suffering of the fans. While the rookie has had some very poor outings this year, including, of course, last Sunday, the totality of 2-7 can't be put on his shoulders given the lack of a consistent running game and woeful game management. We also have to wonder how much better things would be if the coaching staff would give Weeden more freedom to audible.
The Browns head into the bye week with a new boss in town and evaluation criteria now in the hands of a new owner and a new CEO. What makes this a lot different than 2009 is that this roster has had four seasons of consistent improvement since then.  It's clear that a lot of these guys can play. Hopefully it was an anomaly, but last Sunday leaves me feeling as pessimistic as I've been since Week 1 about Brandon Weeden being one of them.
—————
The complete "Xs and Os with the Bros" archive is available here.