"Week in and week out, it's the same — can't stop the run, can't stop the pass. Right now I guess we're just a bad defense. We can't really hide it. At this point, the numbers don't allow it. We're just bad right now." — Raiders cornerback Michael Huff
"There's nowhere to go but up, unfortunately." — Carson Palmer
"Brandon Weeden wore a T-shirt with the phrase 'Killing Time' emblazoned on the front in neon green during his postgame press conference late Sunday afternoon. Little did he know when he packed for the trip that his wardrobe choice would sum up a coming-of-age touchdown drive at the end of the Browns' 20-17 victory over Oakland." — Mary Kay Cabot
"We came out here, had the three-hour time difference, the weather, and we were able to get it done. … He [God] was with us today." — Brandon Weeden
—————
The last time the Browns won a game on the road was last September, and like yesterday's in Oakland over the Raiders, that win came against the worst team in the league, then the Indianapolis Colts. The last time the Browns won two games in a row before yesterday's win was also last September, a week after that win in Indy, when the Browns beat the Miami Dolphins by one point thanks to a last minute 80-yard touchdown drive led by Colt McCoy. That 2011 Dolphins team finished 6-10, but would beat yesterday's Raiders team by 30 if they played.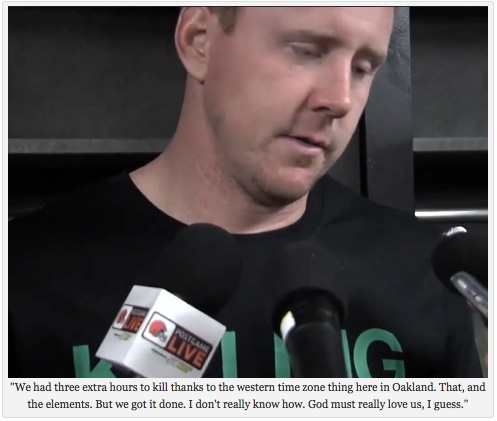 Whether the genuflecting was as intense after last year's two-game win streak, or whether anyone called Colt's come-from-behind touchdown drive against a better defense a "coming of age" moment for the then-25-year-old quarterback, there's no reason at all that yesterday's win in Oakland should mean any more for the future prospects of certain current Browns employees than last year's win over Miami meant for Colt's.
And it surely won't. So feel free to ignore bought-and-paid-for sermons about how thrilled you should be that the Browns didn't make you suffer yet another unimaginably horrible collapse against an unimaginably horrendous football team that they should have beaten by 30. And feel especially free to ignore the idea that it was anything other than a no-brainer for Pat Shurmur to call a few pass plays and go for a short 4th-and-1 in opposing territory to keep the ball away from Carson Palmer — who'd shredded the Browns defense on each of his last two drives — on a game-sealing drive against a defense that came in as the worst in the league by points allowed, had given up an average of 42 points in its last four games, had lost three members of its already depleted defensive backfield to concussions by the third quarter, and was starting a rookie fourth-rounder and a street free agent at linebacker.
Anyway, Sheldon Brown made a good play on a bad Palmer throw in the Browns end zone, which saved us from a flood of acrimony about how the Browns had used all of their timeouts with five minutes left to play in a one-score game, or about how Brandon Weeden was lucky he "only" threw two interceptions instead of four against one of the worst defenses in league history, so we can all be thankful for that.
As well as for Brady Quinn, who gets the last word this morning.