Since the Cleveland Indians signed free agent Nick Swisher to what's effectively a 5-year $70 million contract last week, I'd been trying to figure out what's more depressing: Is it that the largest free agent contract in franchise history has gone to a 32-year-old corner outfielder on the downswing of his career, who's only made an All Star team once, and has a .169 batting average and .283 on base percentage with 8 RBI in 181 career postseason plate appearances? Or is it that MLB's wretched economics have so battered Cleveland baseball fans that many of them have met this news with enthusiasm, even unbridled enthusiasm, including cheers of "Merry Swishmas," and worse?
But then I read this column at Cleveland.com by Mike Brandyberry, titled "Nick Swisher fits perfectly in Cleveland," and now I'm sure that the answer is "both," and that the problem is worse than I thought.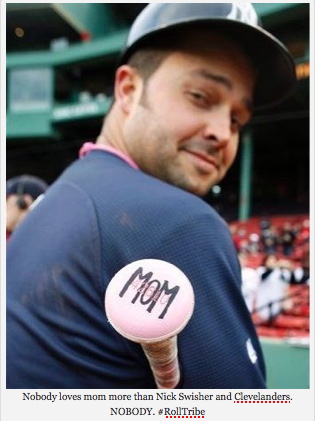 Look:
"Since Nick Swisher agreed to his four-year, $56 million contract on Sunday, baseball analysts and fans have wondered, "Why would he want to go to Cleveland?"
Four years, $56 million. Actually, 5 years, $70 million. That's $14 million a year for five years, almost entirely guaranteed upon execution of the contract. Not only is that a metric shit-ton of cash, it's more than five times what the Yankees offered him. New York, for whom Swisher had played for the least 4 seasons, was only willing to sign Swisher for one year, at $13.3 million for one year. And there's no report anywhere that so much as suggests there was another Major League Baseball club that would have given Swisher — who "reportedly had been hoping for a $100 million deal" — anywhere close to as much money as the Indians did over so many years. It's clear enough that "Cleveland was the only serious suitor for Swisher," who's said to have "preferred to play for a large market team like the Yankees, Angels, or Dodgers, but none had a spot for him in their budget this winter."
So why would Nick Swisher want to go to Cleveland? For $70 million dollars that he couldn't get anywhere else. Mystery solved. Where's my Couch bottle?
But there's more.
"Swisher seems like the perfect fit for Cleveland. He's hit more than 20 home runs in eight consecutive seasons and becomes the replacement to Shin-Soo Choo in right field for the next four seasons. Swisher just turned 32 years old a month ago and will be only 35 when his contract with the Tribe expires, 36 if the fifth-year option vests."
Swisher replaces Shin-Soo Choo, who's two years younger than Swisher and a better baseball player by most every measure, which is why the Indians couldn't afford to keep Choo. In this way, Swisher does seem like the perfect fit for Cleveland.
"But why would the trendy, husband of an actress, glamour boy who has been a part of the New York scene for the last four years want to come to Cleveland? New York stars don't leave the Yankees for the Indians for more money very often, like ever. In any regard, it is bizarre at least."
New York "stars" don't leave the Yankees for the Indians for more money very often, or, like ever, because the Indians don't very often, or, like ever, at least until this Swisher deal, actually offer free agents more money than the Yankees do. It is in fact extremely bizarre that the Indians decided to offer this particular free agent more than five times as much money as the Yankees did, but the fact that Swisher accepted that money once it was offered to him is probably actually one of the least bizarre things that's ever happened on earth.
But we do have a trendy glamour boy now. #RollTribe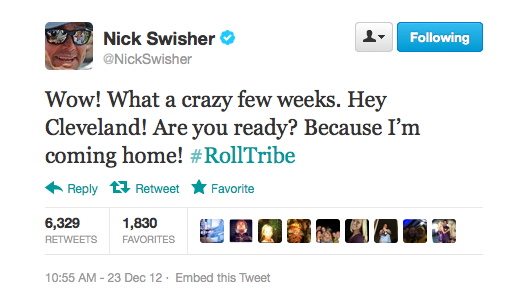 "Maybe Cleveland fits Swisher perfectly."
What trendy glamour boy wouldn't Cleveland fit perfectly?
"The switch-hitting slugger heads to Cleveland as one of the biggest free agents to ever sign in any sport in this town. And while Kerry Wood (2009) and Larry Hughes (2009) each came to the Lakefront for supporting roles, not since Jamal Lewis (2007) or Jeff Garcia (2004) has a player come to town and been expected to be a leader of any team and greatly impact their record."
Jamal Lewis. Jeff Garcia. And instead of diving straight for the nearest methadone clinic, we're celebrating Swishmas.
"It's almost certainly the biggest free agent signing for the Tribe since they inked Roberto Alomar in 1999. To be fair, while Alomar was a star, he joined a team full of stars and leaders—including his brother Sandy—and did not have the pressure to be the team leader, just a run producer on an already high-powered offense."
This is a good point. The last time the Tribe made such a splash in free agency, they did it to sign Roberto Alomar, a nine-time All Star and legit first-ballot Hall of Famer, one of the best to ever play his position, when he was younger than Swisher is today. When this happened, Alomar wasn't expected to be one of the most important bats in the lineup or leaders in the clubhouse. He was just another on a team full of stars and leaders. But to be fair, this was in an era when nobody would have ever imagined MLB's economics becoming as skewed as they are today.
"Swisher joins a team of young players with very little postseason experience and only Asdrubal Cabrera having played in a playoff game in Cleveland. No longer is he one part of the high-powered Yankee offense destined for the playoffs."
If a team with very little postseason experience needs anything, it's a guy who's firmly established himself as one of the worst postseason performers in baseball history. And with Swisher no longer afforded the protection of the high-powered Yankees lineup, there's no telling how much worse he'll get.
"He, along with Manager Terry Francona, become the face of the franchise before ever taking the field."
The face of the franchise: A 32-year-old historic postseason flop who's made one All Star team and who nobody else wanted to sign. My Couch bottle. Where is it?
"And while his New York swagger will be needed to instill confidence inside the Indians' locker room, he has a whole lot more Cleveland attitude than we realize."
"New York swagger." Yahoo's Dave Brown notes that, "Swisher's notorious personality (everyone gets a high-five all the time!) … can be fun for a while but also grating over the long haul." According to Brown, "[Swisher's] teammates in New York were said to be over him."
But about that "Cleveland attitude":
In [the 2002] draft, Swisher was [A's GM Billy] Beane's top choice of any player in the draft. The Athletics drafted Swisher with the 16th overall pick, but would have taken him first if they had the top pick. The New York Mets passed on Swisher with the 15th pick, electing to go with Scott Kazmir—their sixth favorite selection in the draft. Swisher headed to Oakland with the confidence of a first round pick, yet the chip on his shoulder of knowing he was passed over and doubted by many. You don't have to look far for that combination in Clevelanders.
Whether or not Major League Baseball's draft is such a crapshoot that teams shouldn't expect first round picks to make more than one All Star team or hit over the Mendoza Line in more than 100 postseason plate appearances, we should still hold fast to the idea that having a chip on one's shoulder for being at best slightly overrated is not actually a common trait among Clevelanders.
In 2005, when Swisher's grandmother Betty died after a battle with cancer, he had her initials tattooed over his heart and grew his hair out for more than a year. In May 2007, he flew his father across the country to make the emotional haircut on the field in Oakland before donating his locks to make wigs for women who were battling cancer and going through chemotherapy.

He once dyed his goatee pink in Oakland on Mother's Day to bring awareness to breast cancer and blue on Father's Day for prostate cancer awareness.
Likes tattoos and hair dye. Dislikes cancer. Does it get more Cleveland than this?
Swisher also never forgot where he came from. He donated $500,000 to Ohio State to help renovate its baseball stadium and install new field turf. His donation was honored when the field was dedicated on Nov. 3, 2011, as Nick Swisher Field at Bill Davis Stadium.
By the time Swisher's contract with the Indians is up, he'll have made at least $85 million dollars playing baseball, and probably more than $100 million. $500,000 is half of one percent of that. But one thing we know about Clevelanders is that if you caught one of them with a loose $20 in his pocket, and could make a convincing case that you could really use five cents from that $20, the average Clevelander would probably come up off of that nickel. And you wouldn't even have to name a baseball stadium after him for it. #HappyinCLE
"Never forget where you came from," could be the Cleveland motto.
Could be! One day. But it has a long way to go before it passes "Long Live Wahoo!" in the Cleveland motto rankings.
However, what might be most Cleveland-like of Swisher was his choice to sign a five-year, $26.75 million contract with Oakland in May 2007. He was content to stay in Oakland and compete, despite a small team payroll and even smaller attendance and fan support. Cleveland is much like Oakland; fans support their baseball team when it wins—not so much when its doesn't. Times are tough, good jobs aren't easy to find.
What might be most Cleveland-like about Swisher is that he wanted to live and work in California.
Swisher didn't choose to go to Oakland when he was drafted in 2002, but he did commit to them long term.

He didn't choose to be traded to the Chicago White Sox just seven months after signing his long-term contract, nor did he choose to be traded to the New York Yankees in November 2008.
Either that or that he wanted to live and work in a certain place, but couldn't find someone to give him a job there.
"He was great for us. We'll miss him, but I'm happy for him. I think Cleveland got a bargain," Yankees General Manager Brian Cashman said this week to the New York Daily News' Mark Feinsand.

Cashman most likely knows something about Swisher that Clevelanders don't.
Right. The five-time World champion GM who would only offer Swisher less than one-fifth what the Indians will pay him likely knows something about Swisher that Clevelanders don't. GLUG, GLUG, GLUG, GLUG, GLUG …
Cashman must know Swisher has the willingness to lead, along with the chip-on-your-shoulder attitude, long-term dedication and love for family that most Clevelanders have. However, as much as Swisher might fit in Cleveland, he also has a trait most Clevelanders do not that might make him even more endearing.

He chose to come to Cleveland.
For $70 million dollars.
To hell with Major League Baseball, and to the garbage with the Cleveland.com sports page. See you Sunday for the final chapter of Shurmurball. Hope everyone's weekend gets off to a decent start in the meantime.