"To me, [Pat Shurmur] was trying to hold back tears [in his post-game speech]. He put everything into it, and we were trying to do something that hadn't been done since 1988. With everything else that's looming over his head, it's tough. He's in a tough spot. The players appreciate it. We'll run through a brick wall for him; it's just too bad we couldn't get a win for him." — D'Qwell Jackson
"Listen, I get this. We have not won enough football games and I know that's the way this things works, but in our situation I see improvement and I'll leave it at that." — Pat Shurmur
"The Plain Dealer has confirmed that Shurmur has been fired by the Browns after two years as head coach. General Manager Tom Heckert also was fired today." — Mary Kay Cabot
"I don't know what here is." — Phil Dawson
—————
However much run-through-a-brick-wall-type will there was in the Cleveland Browns locker room, it wasn't enough to save Pat Shurmur's or Tom Heckert's job, and it wasn't enough to keep the Browns from losing by two touchdowns to a creaky vacation-bound Steelers team playing out the string. As refreshing as it was to see 25-year-old second-year quarterback Thad Lewis, in his NFL debut, register a Total QBR nearly five-times better than what 29-year-old Brandon Weeden turned in against the same Pittsburgh defense five weeks ago in his eleventh career start, the real story today of course is Shurmur's and Heckert's dismissal.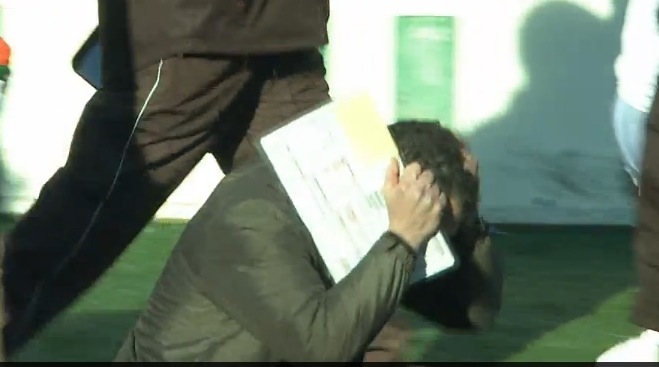 So, let's start with Shurmur's statement that, "in our situation I see improvement," which if not disingenuous is just meaningless as it applies to the head coach, because no team in the NFL that adds a total of seven (7) first and second-round draft picks to its roster over two seasons like the Browns did in 2011 and 2012 won't show at least some improvement. The progressive NFL draft system, of course, the main reason why it's possible for any other team in the league except somehow the Cleveland Browns to make the playoffs one season after being terrible. And it's not just that the Browns added all those high draft picks, along with some useful hits on lower round picks, it's that they added that talent to a healthy veteran core of Joe Thomas, D'Qwell Jackson, Ahtyba Rubin, Sheldon Brown and Ben Watson, along with other young but maturing (and also mostly highly drafted) building blocks like Joe Haden, Alex Mack, Montario Hardesty, T.J. Ward, Mohammed Massaquoi, and Shaun Lauvao.
Yes, the Browns have one of the youngest rosters in the league, and six of the twelve 2012 playoff teams (including two of the most likely Super Bowl champs) do too. Remember, "Anybody can gut a roster and replace it with rookies and first-year players. Really, anybody can do that."
So the more relevant point here is that if we're talking about any improvement at all, we're talking about the absolute minimum.
Brace yourself for this list of 7 of the 9 quarterbacks that Pat Shurmur beat in thirty-two games as head coach of the Browns:
Kerry Collins (2011 Colts 39-year-old model)
Chad Henne
Charlie Whitehurst (!!!)
Blaine Gabbert
Charlie Batch
Carson Palmer (2012 Raiders Derp model)
Brady Quinn (Brady Quinn)
Shurmur's other two wins came against Philip Rivers, by one point, in Norv Turner's worst and final season as head coach of the Chargers, and against Andy Dalton, when the Browns caught the Bengals in the middle of their four game mid-season skid. That was a decent win, and the signature win of Shurmurball, in which the Browns went three-and-out seven times, which was good for the most three-and-outs by the franchise in ten years, and the most by any team in the league to that point in the season. After that game, Browns players said they felt like they won the Super Bowl.
Anyway, really, look at that list of quarterbacks. Nine wins. Those nine wins. In two seasons. Along with "multiple missteps and mistakes in game-management and short-yardage situations, [in which it was clear that Shurmur] let previous failures cloud future decisions." Which is all we got a full four seasons after Eric Mangini did so much dirty work to clean up a disaster of a locker room left by Phil Savage, a full two seasons after Mangini's Browns were doing things like game-planning dominating wins against some of the league's best teams (and first-ballot Hall of Fame quarterbacks like Tom Brady and Drew Brees) and establishing themselves as one of the league's toughest outs despite a grade-D roster and less than zero NFL-level talent at quarterback, and a full three since Dawg Pound Mike and his enablers in the local and national press brought us Mike Holmgren and the era of the Quarterback Gurus in Cleveland.
As far as any kind of identifiable culture left by the Holmgren era in Cleveland, some optimists are fond of pointing to the play of the defense. "These kids hit hard. They play hard," folks say. But every time they faced a quarterback or coaching staff with a spot of a reputation for reading defensive schemes (see 2012 games against the Manning Brothers, Andrew Luck, Robert Griffin III and the Shanahans, even Jason Garrett and Tony Romo playing literally without an offensive line), Dick Jauron's "Think Less, Play Faster" defense was shredded.
As for the rest, the best anyone can really say about Shurmurball is that sometimes the receivers were open.
Sometimes the receivers were open and most of the time Brandon Weeden missed them badly, because 2012 was the year of the rookie quarterback everywhere but in Cleveland, home of the Quarterback Gurus. The Browns' first-year signal caller wasn't just exponentially outplayed by his much younger rookie counterparts despite some of the best pass protection in the league and a talented set of highly drafted playmakers to work with, but he actually turned in one of the worst seasons by any quarterback in recent NFL history as measured by the most advanced metrics ever designed to evaluate the position.
Leaving aside that every franchise passed on Russell Wilson and Kirk Cousins about 100 times, the Browns had as much cover as a club could have possibly had to "Suck for (Andrew) Luck," the son of a St. Ignatius grad, and the best prospect to enter the league in more than a decade; And worse, of course, they had more ammo than anyone to land Griffin in a trade — Griffin himself even expected that he'd wind up with the Browns, despite reports that "the Browns coaching staff [was] confused about what to do with RG3" — yet Cleveland missed out on the rookie MVP candidate due to Holmgren's and Heckert's failure to follow basic instructions that were set forth by the Rams.
Let this sink in for a moment here, as hard as it is to do. There's no bigger running joke in sports than the Cleveland Browns quarterback position. And of course, more than ever, the quarterback position is the most important in the professional game. 2012 was a year in which two generational talents entered the NFL with nothing approximating their talents on the horizon. And these two generational talents didn't sneak up on anybody — last January every third grade American football fan knew Luck and Griffin would be stars. And every third-grader also knew that the Cleveland Browns were in as good a position as any franchise to land one of them. Yet now of course, both Luck and Griffin will lead the Colts and the Redskins into winnable playoff games next week as well as righteously unbridled optimism for the foreseeable future no matter what happens in those playoff games, despite each franchise being just one year off of respectively miserable seasons.
Meanwhile in Cleveland, every Browns fan with at least six brain cells is wondering who the Browns will bring in to compete with last year's first round draft pick to play the position next season.
Yes, there are insane people who'll tell you they're glad the Browns didn't "mortgage the future" like the Redskins did to get RG3 (because the future isn't bright for Griffin, no), or do the little bit extra it would have taken to have landed Luck, and it's easy to see why those might be comforting ideas to some. But a better idea, especially now that they're all gone, is that these guys weren't going to get it right no matter what they did, just like Raskolnikov was never going to get away with it.
The way the Holmgren regime came in, and what it did when it got here: The attempt on Eric Mangini's career by hanging him out for one season before axing him for doing as well as anyone possibly could have in that year; Stealing so much of Randy Lerner's and Browns fan's money, funneling it through Uncle Bob. Shurmur and Heckert had to know somewhere inside that they were playing with fenced property.
Good men placed in a bad situation, probably. Probably all of them. Had they been more cognizant or honest about what that bad situation was and how much they personally benefited from it, they might all still be here today. But they weren't, so into the Cleveland leadership vacuum with them, too, along with more piles and piles of cash.
"[The Browns] will pay Holmgren, Heckert and Shurmur for the next two years. The latest firings will cost … an estimated $24 million." On top of an estimated $40+ million the three have already made off with.
Happy New Year.
—————
RELATED: Mangenius Interrupted: An Institutional Failure in Five Acts
Where to for playoff tickets now? Mike Holmgren out as Browns President