For the first time in his 14 seasons in the NFL, Browns kicker Phil Dawson — the man with the best field goal percentage in NFL history among kickers with at least 300 field goals (.842) — has been named a Pro Bowler. Through 15 games this season, Dawson has made 28-of-29 field goal attempts (with the only miss coming on a block), good for a .966 percentage that's tops in the AFC. He's also tied for best in the conference with 6-of-6 makes on attempts longer than 50 yards.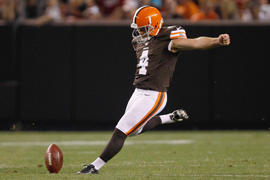 It's an especially nice moment, generally, because if there's anyone who can say he's done all he could amidst the hellborne dumpster flames that have engulfed the Cleveland Browns organization for the better part of the last two decades, it's Phil, who, for the better part of his career in Cleveland has served as a one-man North Coast Offense. Though it's a bittersweet moment for Browns fans, knowing that Dawson has outpriced himself in Cleveland and almost certainly will be playing for another team next season. Also sad, of course, that a kicker is about as much as this franchise has had to be proud of since the 90s. Which recalls Dawson's own words upon breaking the franchise record for field goals made in a season back in 2008:
"[T]hat white speck on top of chicken poop [is] still chicken poop.'"
An alternative spin on the "rose in the cement" idea that won't soon be forgotten. And of course another reason to love Dawson and wish him well wherever he ends up next season and beyond. Salute.
—————
Here's a nice story from the Beacon Journal's Nate Ulrich on Dawson's family's reaction to his Pro Bowl selection, and if you missed it yesterday.
Which is all for today except an announcement that, in honour of Phil, the Realest Cleveland Brown there is, this post will also serve as the final regular season Reality Football open thread, to which everyone will want to stay tuned. Back tomorrow, hopefully, to talk Tribe and catch up on anything else important. Hope everyone is enjoying the holidays.