"[Our] record sucks. Everybody is disappointed. We can't keep coming in here and talking to y'all and saying 'this is what they did.' They just beat us." — Joe Haden
"That's kind of an offensive lineman's worst nightmare. You get behind and you abandon the run game and it becomes a blitz fest out there." — John Greco
"A couple times I just threw the ball in the dirt to let those guys rest. We were throwing the ball down the field and those guys were tired." — Colt McCoy
"Shurmur's use of the timeouts to retain one final possession in the closing minutes was a hot topic among players. They were visibly upset on the field and in the locker room." — Tony Grossi
"I was just trying to not get knocked out." — Colt McCoy
"I see all the negativity on twitter after I gave my life to this sh*t. So 2 all u who are against me F*ck all y'all. I'm still gonna do me!" — Josh Cribbs
—————
December in Berea: A tradition unlike any other.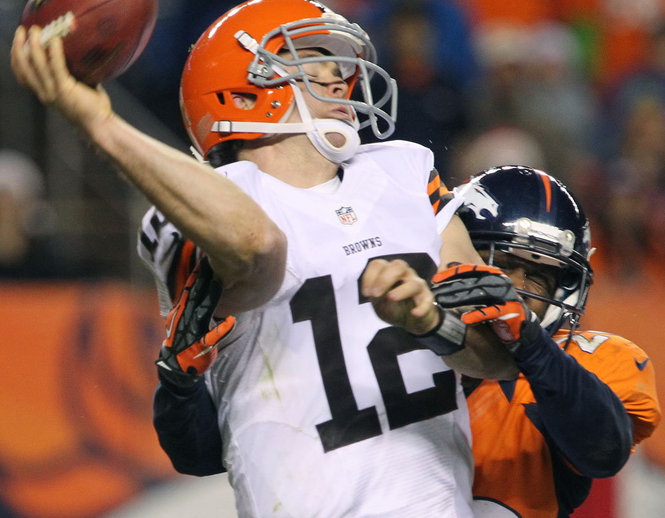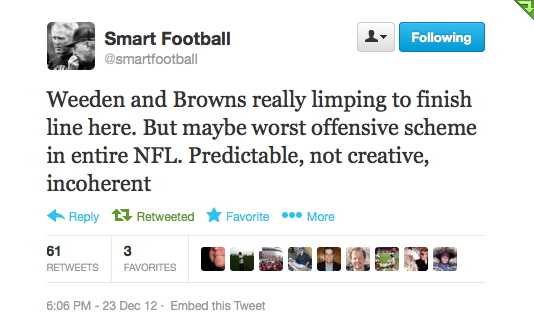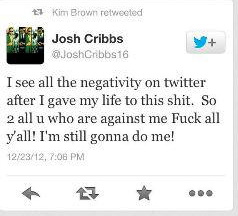 And this time, along with the latest round of F-bombs unleashed at fans and the otherwise thorough organizational meltdown, we get the extra special flavor of a Cleveland Browns quarterback who, presumably after having had some time to think about this, actually said that he purposely threw the ball in the dirt more than once, on real regular season NFL plays, because he wanted to give his teammates rest, which they needed because they were too tired from running the plays called by the coaching staff.
Even after "I'm really just a rookie," and "It was a lot of fun out there," and all the confusion over where to go for playoff tickets, all the "Ask Pats," the unironic references to umbrella drinks, and everything else, you never would have been able to make the one up about the quarterback who said he threw the ball in the dirt on purpose because his teammates were too tired. A room full of Hollywood's best wouldn't have if they were given a month to write the ending that the Mike Holmgren Era, Shurmurball, and LaMonte Industries most deserved in Cleveland.
Quarterback gurus.
So at least we got that. And at least we have each other, and only 122 days until the 2013 NFL draft. Happy Holidays to everyone. To all the times we were good to somebody, and all the times somebody was good to us.