No matter what happens to the Browns in Pittsburgh today, Pat Shurmur and Tom Heckert will almost certainly be fired within 24 hours of the game ending, with the only question left in how long it takes for the organization to make the announcement. This will be the final nail in the coffin of the most illegitimate regime in Cleveland Browns history, and nobody shouldn't be thankful for that.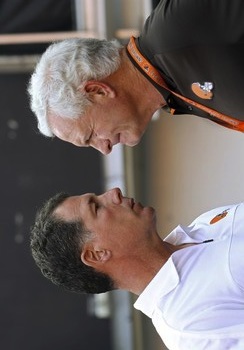 Still, of course, we have no real idea what's coming next, so brace yourselves for things like Mike Lombardi, articles about how the Browns should make an extremely Luck-y 60-year-old career coordinator their next head coach, ones about how they should retain Dick Jauron, the genius architect of the league's eighth-worst defense, and worse.
In the meantime, here's your Thad Lewis field guide courtesy of Samer Kalaf at Deadspin, and here's another good read on Phil Dawson, this one by Zac Jackson.
Salute to Phil as well as Josh Cribbs once more, and enjoy the final Shurmurball open thread for all time.