"If I die tomorrow, I can say I started a game in the NFL and we won." — Kirk Cousins
"Coach Shanahan put (Cousins) in a great spot. … They tailored what he does well." — Brandon Weeden
"When we thought it was going to be a run it was a pass. When we thought it was going to be a pass it was a run. They did a good job throwing us off." — Joe Haden
"They had a great disguise." — Jabaal Sheard
"I thought it would be a good day for our running game. It was shocking. But the game is bigger than me. Coach has to do what he does." — Trent Richardson
"One player said to me that he thinks a complete overhaul is a done deal." — Tony Grossi
—————
So the 2012 Browns are all but certain to finish with a 5-11 record, and any doubts as to Pat Shurmur's future as head coach in Cleveland have been all but erased. If you're not the type that's too easily excitable by things like wins over two of the very worst teams in the league, or needing every one of seven turnovers to squeak by a Charlie Batch-led Steelers group that was missing four Pro Bowlers and three-fifths of its starting offensive line, you aren't especially surprised or disappointed by this. Or at least not any more surprised and disappointed than you were after a horrible loss to the Ravens sent the Browns into the bye week at 2-7.
Though it's still some spectacle to see a 7-6 Redskins team come to Cleveland as 4-point underdogs, with the worst-ranked pass defense in the league, starting a rookie quarterback, Kirk Cousins, a fourth-round pick making his first career start in place of phenom Robert Griffin III, and nevertheless completely dominate the Browns on both sides of the ball.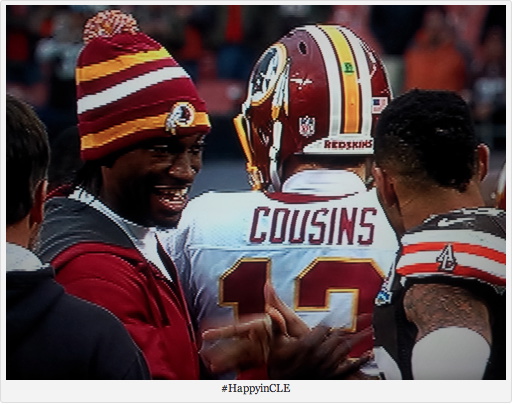 RG3's injury offered the Browns coaching staff a golden opportunity to help make a case for itself — however thin — by equalling a modern franchise-record winning streak against another severely impaired opponent. But after the game, the players were tripping over themselves to throw the play-callers under the bus, lending credence to what Brandon Weeden's cousin was overheard saying about the coaching staff's future being a foregone conclusion in the locker room.
Going into yesterday's game, the Browns had been relatively lucky this season in avoiding quarterbacks and coaches with reputations for effectively reading defenses and designing offensive game plans. Not so much with Mike and Kyle Shanahan, who used, again, a rookie fourth-round quarterback making his first NFL start, to make Dick Jauron's Think Less Play Faster defense look like it had never seen play action before. Now Peyton Manning and Ben Roethlisberger have a fresh blueprint just in time for Seasons Beatings.
Though of course Brandon Weeden did his defense no favors. The Browns' own rookie quarterback was absolutely horrendous, putting on his most florid display yet of the characteristic indecisiveness that's caused critics to question his viability as an NFL starter.* Mike Martz — 12-year NFL head coach and offensive coordinator, and designer of the The Greatest Show on Turf in St. Louis — was the color commentator for Fox's broadcast of yesterday's game, and offered cutting criticism of Weeden throughout.
"Weeden is just not confident against tight man," Martz observed early on. "And that's what the Redskins do."
"He's waiting for guys to run free and it's not going to happen," Martz later added. "You've got to throw the ball and let your receiver make a play."
Martz also pointed out numerous examples of Weeden staring down his primary target, and on the Browns' only legitimate scoring drive of the day at the end of the first half, he credited the Browns coaching staff for adjusting routes in response to the Redskins defense such that Weeden's receivers did in fact "run free" for some easy completions. But the efficacy of those adjustments was short lived, thanks in part to two interceptions, each entirely on Weeden, along with a series of incompletions and ineffective checkdowns on three-play and five-play drives on the Browns' first four of the second half. The Browns quarterback had four passes batted at the line of scrimmage yesterday to add to his league leading total of 21.
The type of man coverage that Washington plays isn't frequently used in the NFL, but after yesterday that's likely to change for teams facing Brandon Weeden. The Browns quarterback was so bad yesterday that even Terry Pluto said he "seriously considered switching to Colt McCoy."** If opposing defenses do pick up on what the Redskins did, Pluto will be much farther from being the only one. And if Weeden is going to be next year's opening day starter, next summer surely won't be the third Browns training camp in a row without a legitimate competition for the job.
Here's your obligatory link to the current 2013 draft order. Scouts Inc.'s list of top draft picks is here.
—————
OTHER GAME NOTES:
Some papers refuse to even print the name of Washington's NFL team. The Plain Dealer on the other hand does this (artwork by Chris Morris):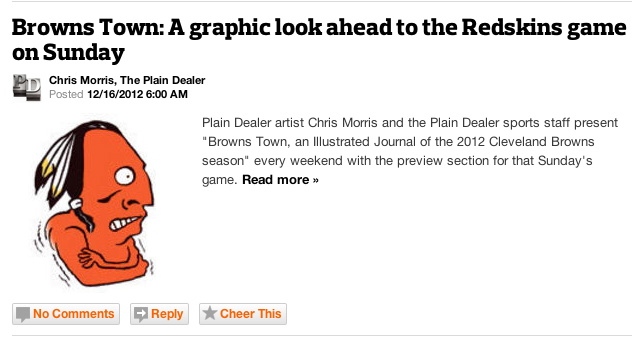 Though it wasn't all so bad for Cleveland yesterday thanks to St. Joe's and John Carroll alum London Fletcher who added to his Hall of Fame resume with an interception, a QBR pressure and 7 tackles, one for a loss: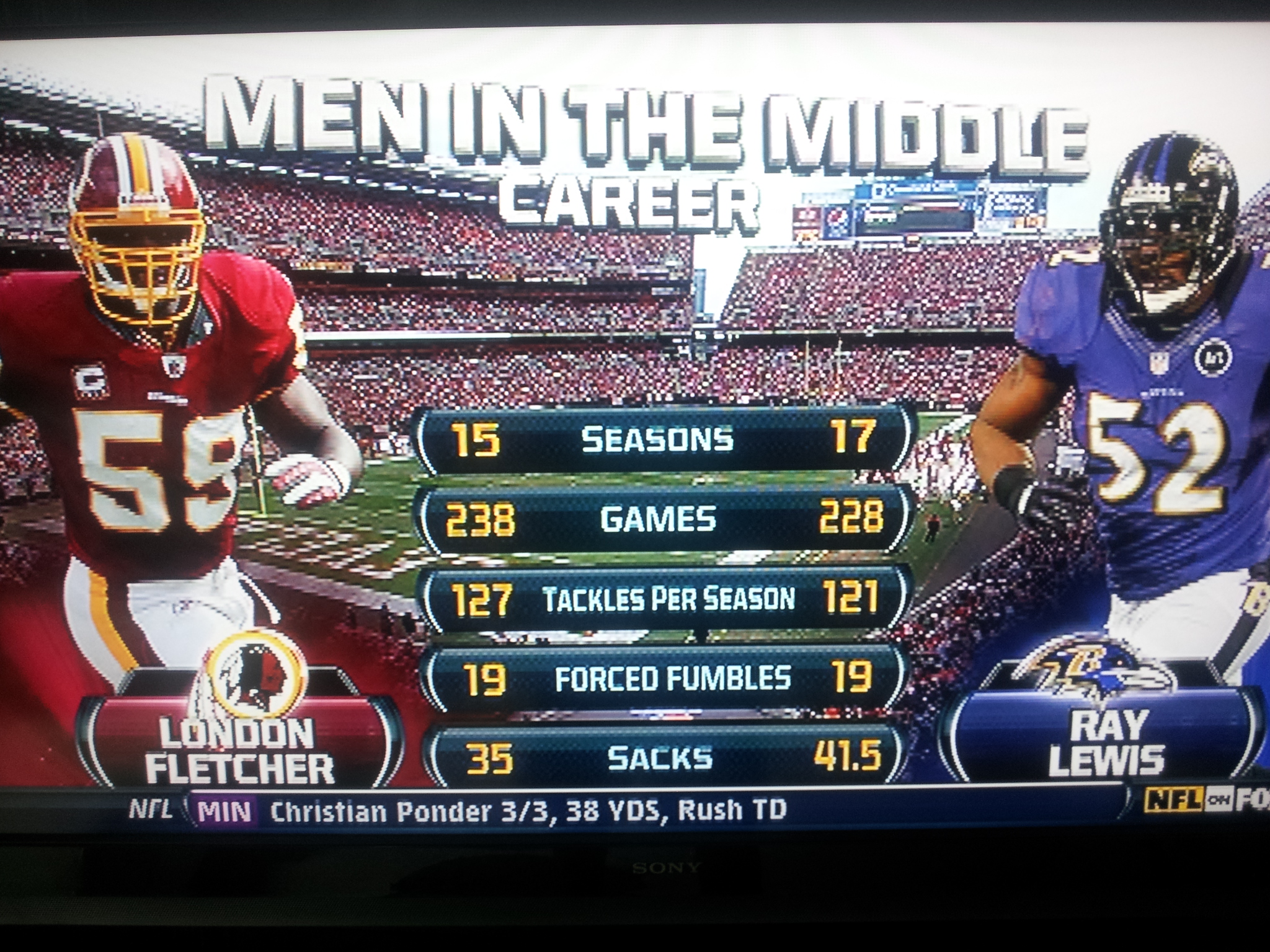 There was also this.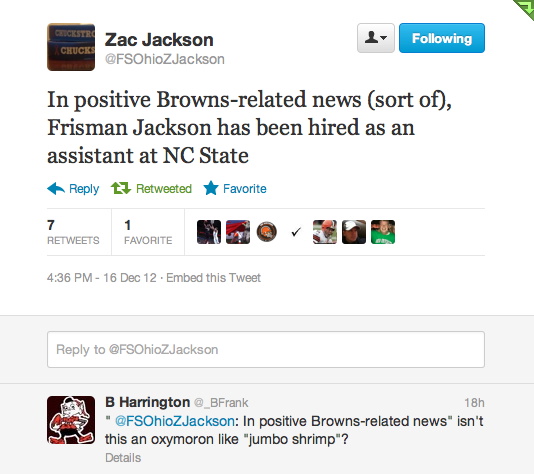 Finally, salute to Phil Dawson and Josh Cribbs. Some way to go out that was.
OK, back to the draft boards and happy Monday.
—————
*Weeden registered a Total QBR of 26.9 on the day yesterday, a number augmented by a 69-yard touchdown pass to Travis Benjamin made after the Browns fell down by 17 in the fourth quarter. Weeden's Total QBR on the season is now 26.1, worse than every quarterback measured except for Cardinals' seventh-round pick John Skelton, and literally multiples worse than every rookie QB that's played for a reason other than that his team's regular starter was lost to injury. Though Nick Foles has a QBR that's almost twice as good as Weeden's, not to mention Cousins after yesterday.
Weeden also ranks dead last among the 38 QBs who've taken at least 25% of their teams stats this season by ProFootballFocus's advanced metric (subscriber only), and fares only slightly better with Football Outsiders' DYAR and DVOA.
**#TerryP4HCCB