Welcome to the latest edition of X's and O's with the Bros by X's and O's editor @rodofdisaster. This feature represents a basic attempt to look deeper into the game of football, learn something about the X's and O's that make it go, and better appreciate the games within the game. It's called "X's and O's with the Bros" because you don't have to be a player, coach, or rocket surgeon to get something out of taking a closer look at a football play, so please enjoy the post and the discussion in the comments.
This week, we're in the Weeds again. Here's Rod.

————-
Situation: 3rd Quarter; 1:15 left
Score: Redskins 24, Browns 14
Down & Distance: 1st & 10 on Redskins' 43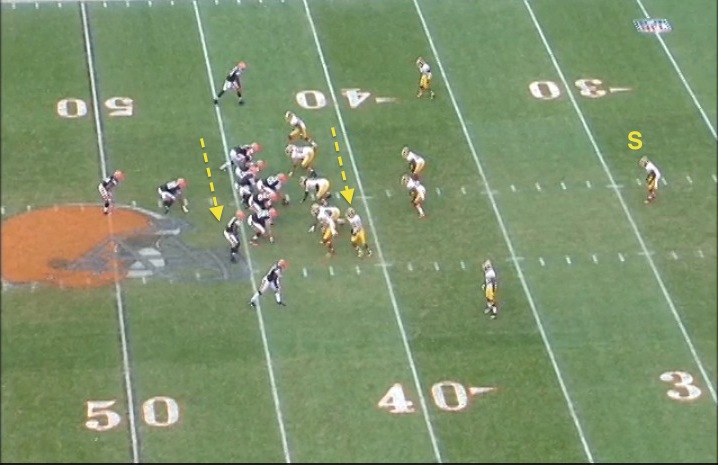 The Browns come out in 12-personnel (1 RB, 2 TE, 2WR). They are in an I-formation with one Smith playing fullback. The Redskins counter with base 3-4 personnel.
Washington has one safety deep. This is called "MOFC" or "Middle Of the Field Closed" as opposed to "MOFO" or "Middle Of the Field Open" where there's no safety in the middle of the field. The former suggests "Odd" deep shells (e.g., Cover-1 or Cover-3) and the latter suggests "Even" shells (e.g., Cover-2 or Cover-4). One deep safety and four rushers leaves six men in coverage, suggesting Man-free or Cover-3 zone, and that the open areas will be to the outside of the field.
The second TE, Watson, shifts off the line and motions left to right (see hashed arrow) to an H-back position off of RT Schwartz's hip. The safety that's down near the line (Doughty) has motioned across with him suggesting man-to-man coverage.
PLAY ACTION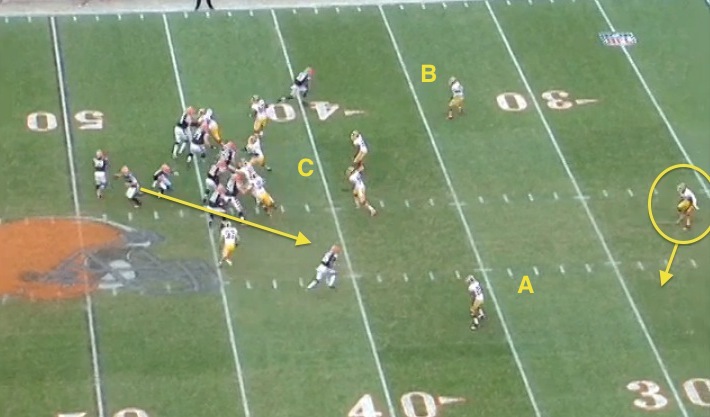 Here we see Weeden quickly turning his head around after faking to Richardson. The line is moving left as if in a zone-blocking scheme. That leaves Doughty unblocked on the right end. Alex Smith is coming across to block him.
The Redskins are in zone coverage. It looks like a pattern-matched zone, though it could also be cover-2 trap or a half-quarter deep concept. Downfield, we notice a couple things right away:
1) The safety (circled) is cheating over to his left and he and the corner underneath him are playing a "high-low" bracket on Little. That means the corner will try to stay underneath the receiver and the safety will not let him get past him deep. It's only a two-receiver pattern so the corner isn't pressured to play the flat. There's also such a thing as an "inside-out" bracket that doubles the receiver horizontally. Little is essentially doubled.
2) The corner on the other side of the field (B) is straight-up man-to-man with Gordon playing soft coverage which is probably because he doesn't have any help deep. He's the only one who's turned his back to the QB and that's a man coverage look. The issue is that he probably has no underneath threat either and is instructed to carry his man deep.
3) The linebackers have all flowed with the play action but since the Browns are keeping three eligible receivers (Richardson, Smith and Watson) in to block or carry out the fake, they get depth and start to play shallow zones on the play-side of the fake.
It's hard to make too many determinations about coverage responsibilities when the offense keeps so many eligible receivers out of the pattern. .
OPEN!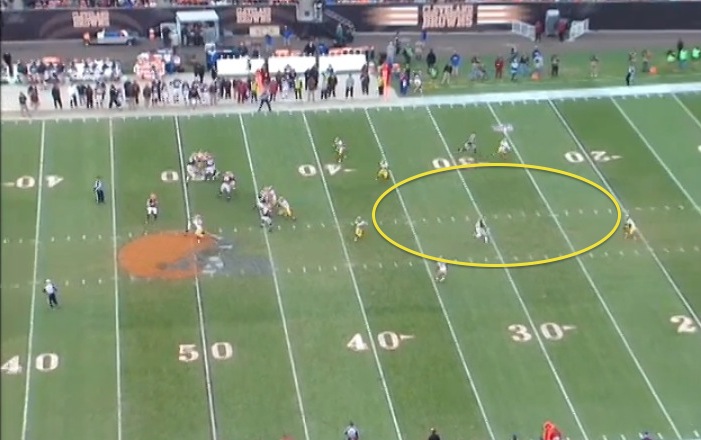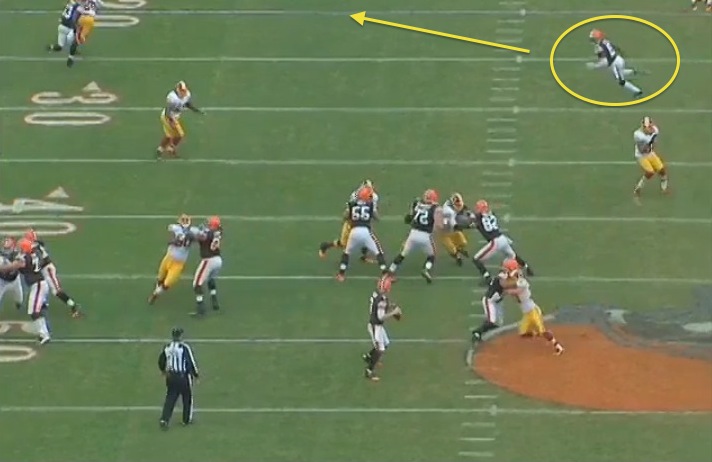 Here we see something interesting develop. Little is running an inside breaking route across the middle. This is a variation on the in-cutting "4" route called an "Over" route. which drags deep to the opposite corner. The linebackers, sucked in by play-action, aren't deep enough and Little breaks wide open with room to run.
From the end zone, we see that Weeden is under no pressure at all. There's no reason at all that the ball shouldn't be out by now. Weeden also continues to stare Little down but with the receiver so open that's beside the point.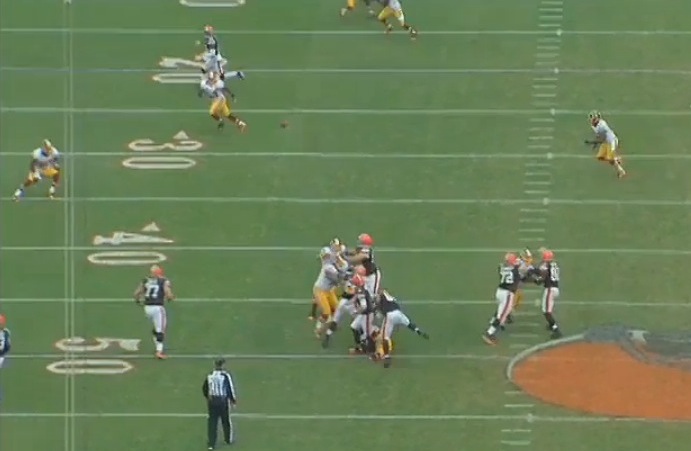 By the time Weeden finally gets around to throwing the  football, Little is nearly on the numbers.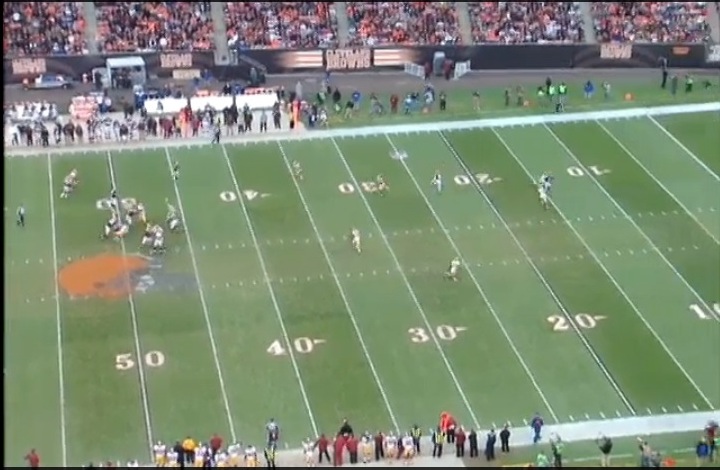 As we can see above, three things have occurred as a result of the delay:
1) Even if Weeden completes the pass, Little — who is still technically open — now is up against the sideline. A properly timed throw would have given him lots of room to run.
2) LB London Fletcher has been allowed to recover and get depth.
3) Doughty has pushed Smith back toward Weeden. This results in Weeden falling off to the side as he throws and bringing his arm through well after rotating his hips resulting in a horrible throw.
INTERCEPTION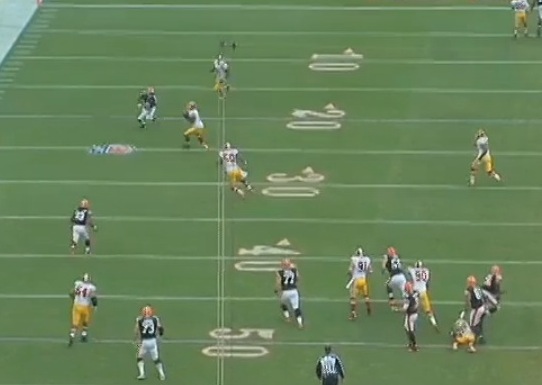 Here we see that the pass is at least five yards short, and picked off by London Fletcher. Weeden is facing the sideline because he's rotated his hips so far ahead of his upper body. It doesn't work in baseball and doesn't work here.
DISCUSSION
As we've gotten to know Brandon Weeden here since draft day, certain characteristics have consistently stood out:
"He understands coverages and progressions but goes through periods of staring down his primary receiver and can get sloppy with his footwork."
And, "at this point of the season he's showing an alarming lack of consistency in his ability to see the field, deliver the ball on time, and keep consistent mechanics, especially given the excellent pass protection he's been getting."
Indecisiveness and questionable mechanics tend to go hand-in-hand, and the above play — as broken down by the folks at Dawgs By Nature as well — is another microcosm of how this works. Thrown on time, this goes at least 25 yards downfield — likely more if Little can make a play. And the only possible excuse for the bad timing in this instance is indecision. Weeden either isn't trusting himself, isn't seeing the play develop fast enough, or both, and all the arm talent in the world won't overcome these problems.
Which have also contributed to Weeden becoming — like so many Ghosts of Browns Quarterbacks Past — a checkdown machine. Mike Martz was all over this Sunday calling the game for Fox, and made reference several times to the fact that receivers won't always be as open as the quarterback might like them to be, the obvious implication being that Weeden — as we've observed all season — was leaving plays all over the field again on Sunday; plays that an NFL quarterback is supposed to make.
Of course, on this day Weeden's issues appeared even more starkly behind the backdrop of the opponent's rookie fourth-round backup's performance, making his first career NFL start and rolling up 329 yards and two touchdowns against the Browns defense. How many times did Kirk Cousins turn his back to the defense on a play fake and come up firing to the correct receiver every time? How many times did he step into the pressure and deliver a completion?
While Pat Shurmur's future in Cleveland is all but a foregone conclusion now, we also heard reports this week that Joe Banner would hold Tom Heckert to account for failing to land that other Redskins rookie quarterback in last April's draft. It's a quarterback's league, it's week 14, and a 29-year-old anointed rookie starting quarterback has made no discernible progress in addressing the same weaknesses that bloggers identified on draft day.
—————
The complete "Xs and Os with the Bros" archive is available here.