One nice thing about how Randy Lerner never really cared much for being the owner of the Cleveland Browns was that Lerner never did anything like make a show of camping out in the desert for a week to make his "top choice" to fill a head coaching vacancy an "an offer he couldn't refuse," then letting it be reported by every major outlet under the sun that he had "a done deal" with this top choice, and that his lawyers were in the desert to finalize as soon as the top choice finished a polite lunch with a lesser suitor, only to have it come out a day later that it wasn't a "done deal" at all but in fact a deal that was never going to happen, before finally leaking a pathetic statement that he didn't want the guy after all "because [he wasn't] certain [the candidate's] heart was 100 percent into leaving" his job as a college coach.
Once again, no one could have ever made this up. So what percent into leaving Oregon was Chip Kelly's heart? 99? Six? Or was it just that Kelly didn't want to work for Jimmy Haslam and Joe Banner, nor Banner's ex in Philly, Jeffrey Lurie?
Who knows, but Mary Kay Cabot, journalist, and her editors at the Plain Dealer, want to assure you that whatever the problem it was, it wasn't with Haslam, Banner, or "the best opportunity in the league." The problem, according to Cabot, is that Chip Kelly isn't a committed enough NFL winner-type for the Browns job.
Really.
"The Browns walked away from Oregon coach Chip Kelly on Sunday afternoon because they weren't certain his heart was 100 percent into leaving the Ducks," Cabot reports, per "a league source." And more importantly, "with Browns owner Jimmy Haslam and CEO Joe Banner committed to bringing a championship team to Cleveland, they weren't about to settle for anything less than a 100 percent commitment, the source said."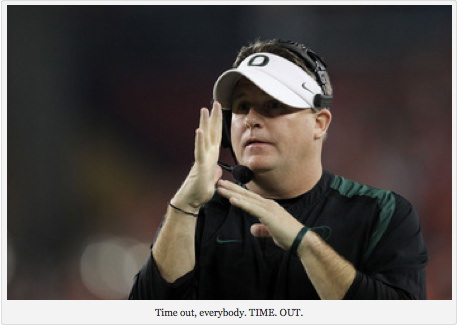 Please let this sink in for a moment.
The top Browns beat writer at the only newspaper in town (god save it!) is quoting an anonymous "league source" to tell you the news that Jimmy Haslam and Joe Banner are so committed to bringing a championship to Cleveland, that they decided they didn't want to hire their top choice after all, despite every single outlet under the sun reporting to the contrary, and also reporting that Haslam and Banner were just waiting for Kelly to finish lunch with the Eagles so the lawyers could tie up the details. It's not at all that Kelly decided over the course of a seven-hour meeting with Haslam and Banner that, for any of a billion good reasons, they weren't folks for whom he wanted to devote a significant portion of his career. It's that Haslam and Banner are so committed to bringing a championship to Cleveland that they couldn't suffer any waffling on behalf of this guy, this guy — formerly their top choice for whom they camped out in the desert for a week — who's unquestionably one of the most successful innovators in the game, and one of maybe three football coaches in the world from whom Bill Belichick takes notes.
So as long as everyone's clear that only a PR flack for the Browns would ever say anything like this, we can all move on understanding that the thunderingly reckless disregard for the intelligence of Browns fans and Plain Dealer readers here is unprecedented.
Which is the real story in all of this, along with the point of fact that Haslam and Banner come out of the whole thing looking like buffoons, and in their first remotely challenging move in running the Browns have succeeded in making Cleveland, again, a national punchline. Huzzah. Go Browns. Of course, if they bring this town a winner this will all be forgotten quickly.
LOL.
So did anyone listen to WKNR this weekend? Cleveland's ESPN affiliate and radio home of the Browns' own house-journalist Vic Carucci was all over it on Friday night when the news that Kelly was "a done deal" first broke, pulling their scheduled Cotton Bowl broadcast to cover the Kelly deal like it was the Kennedy assassination. Because once national outlets broke the Kelly news, that's when we got to find out how much the folks at KNR knew about other details.
Like for starters, Mike Lombardi.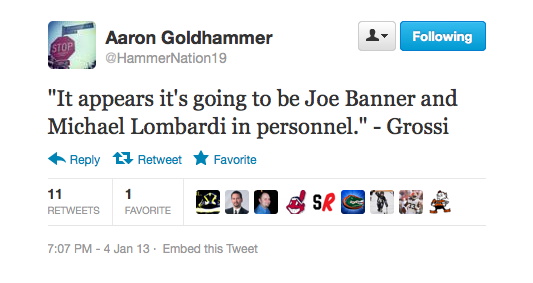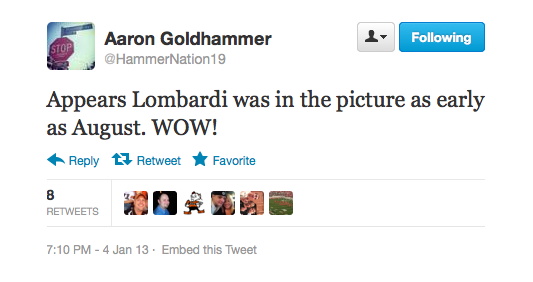 We have appearances, and what they are is Lombardi having been in the lurk as future Browns GM since August, which is only five months after he was telling America that Brian Hoyer, since cut by the Patriots, was a "prime target" for QB-needy teams. Apparently, Lombardi will continue to lurk until the Browns finally do hire a head coach, at which point he'll emerge after six years of not having worked in the NFL (but instead having done other things like issue nonsensical criticisms of no-brainer draft picks like Joe Haden and sending condescending half-witted emails to bloggers who are better at making football picks than he is).
And with the Kelly/Lombardi regime having been such an inevitability in Cleveland, how could Banner have resisted a wink and a nod to Colt McCoy about Colt's bright future in Cleveland?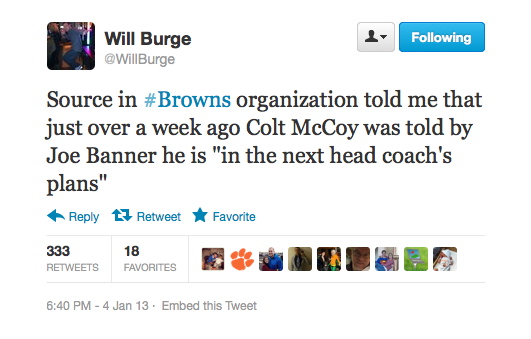 Of course, the truer this last bit about McCoy, the greater reflection of some remarkable confidence on Banner's part, which would make last weekend's Kelly whiff all the more miserable. And either way at this point, if Lombardi doesn't end up as part of the new Browns regime after all that KNR has reported on him, there has to be an FCC reg somewhere that would require the plug be pulled on the station for good.
Oh and there's this.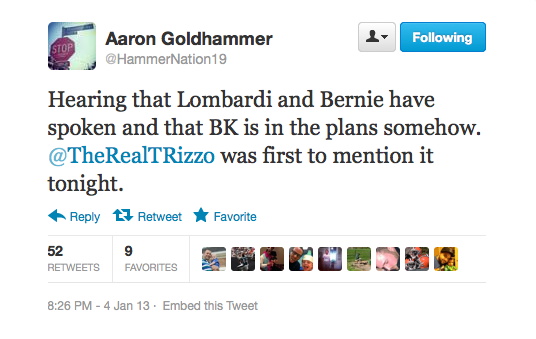 Because the real reason that Bernie Kosar hasn't had his jock sniffed on the KNR airwaves for the last month isn't because he's a boiling cauldron of drunkenness or otherwise steaming mental illness, it's because he's been busy angling for a position with the new Browns regime. There's not a more specific tweet for this, but it's what KNR's Aaron Goldhammer reported on the air on Saturday.
And maybe the two things aren't mutually exclusive, because, of course, god bless Bernie if he's in a 28-plus-day program somewhere nice, getting himself in good enough shape to at least be able to hold down a PR job for the new regime. Nobody doesn't want to see that, and god knows the Browns could use some fresh flacks.
Of course it's hard to put too much blame on folks whose paychecks go up and down with the town's level of excitement for the Browns for being too excitable about these things themselves (note that Cabot's "report" on Haslam and Banner's "championship commitment" was posted right next to a big ad for Browns season tickets (see below)), but it does send another clear message about how horrifying it really was what Mitt Romney wanted to do to Big Bird. Some people are naturally in a better position to admit it than others: Football is stupid. And nowhere is it stupider than it is in Cleveland. Again.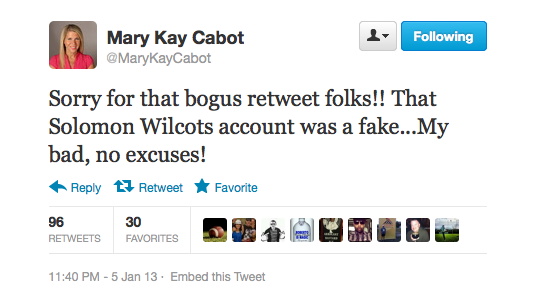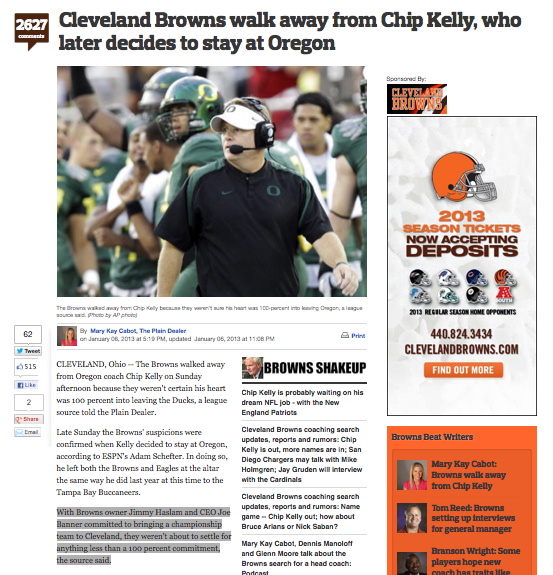 TICKETS! Who needs tickets!!??