UPDATE: Hotter Chip. Kelly's Ducks crush K-State in the Fiesta Bowl, and Bill O'Brien, after interviewing with the Browns, announces that he'll remain as head coach at Penn State.
"I'm not a one-and-done guy," O'Brien said. "I made a commitment to these players at Penn State and that's what I am going to do. I'm not gonna cut and run after one year. That's for sure."
Why that wasn't "for sure" before O'Brien interviewed with the Browns remains unclear.
—————
All eyes on Chip Kelly in the desert tonight and through the weekend, as the University of Oregon head coach and reported top choice of both the Cleveland Browns and Philadelphia Eagles for their respective head coaching vacancies will lead his Ducks into a Fiesta Bowl matchup with Kansas State tonight, then himself into an interview with Jimmy Haslam and Joe Banner tomorrow, followed by one with the Eagles at some point over the weekend.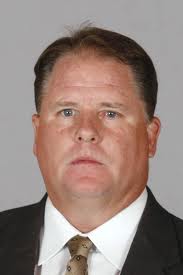 "If the Browns' interview with Kelly goes well," says Mary Kay Cabot, "they'll be prepared to make him an offer he can't refuse." Which is perfect, because if Kelly does end up refusing a Browns offer, folks can just think the interview didn't go so well and nobody else will ever know either way.
Anyway, the Browns seem to have at least one significant advantage over the Eagles here in that Banner knows Philly's owner Jeffrey Lurie well, having been childhood friends with him in Boston before working for him for 14 years in the NFL. Banner should have more to say (or at least suggest) about the negative aspects of working for Lurie in Philly than anyone in Philly would have to say about the day-to-day of the Browns' job under Haslam.
Here's a good read from last November by Chris Brown of Smart Football at Grantland about how folks who want to label Kelly's offense a gimmick, "misunderstand [his] attack," which "ultimately wins with old-fashioned, fundamental, run-it-up-the-gut football."
And in non-Chip news, here's a report from Cabot stating that Haslam "might be leaning toward" a 3-4 defense, or a coach who will run one;
Here's Terry Pluto making some good points about Ken Whisenhunt and David Shaw;
Here's Pat McManamon with an analysis suggesting that the Browns approach to hiring a head coach before a GM, as well as Banner's insistence that the new GM won't have final say over the roster, keeps a candidate like Mike Lombardi "in the mix." This corroborates Tony Grossi's idea that "Banner effectively has created a position that only Lombardi would accept."
And here's Mike Pesca at NPR with a good read on media coverage of Ray Lewis's impending retirement vis a vis his role in a 2000 double murder case in Atlanta.
Alright, unless something crazy happens this will probably be it here until we post NFL playoff picks on Saturday morning, along with the picks and essays from the c/f/k/a Cheddar Bay playoff field, which has been finalized as the biggest and brightest in the contest's history. Hope everyone has decent go of it in the meantime.