The following is a guest post by the excellent Dave Kolonich of Cleveland Reboot and the Orange and Brown Report.
—————
For those of you not familiar with my site, Cleveland Reboot is something of a niche blog that goes unnoticed by many Browns fans. Although a goal of this creative endeavor is to engage an audience, I've learned over the years that with a larger readership comes the probability of finding comments like the following:
"Hiring Lombardi is not positive move from Heckert.  It's not even a lateral move. Haslam has been bamboozled by Banner. The Cleveland browns have been hijacked by a little troll with an epic ego!"
Lucky for me, the above comment wasn't found on the pages of Reboot or the OBR, but rather on the pages of Cleveland.com, which in case you haven't checked lately has become even more of a festering swamp of civic shame and illogical rage as it's ever been. Despite the Browns literally cutting all ties from the ownership and management that's responsible for a decade-plus in which mediocrity was only a fever dream, the level of fan vitriol is at a, um, Hall of Fame level.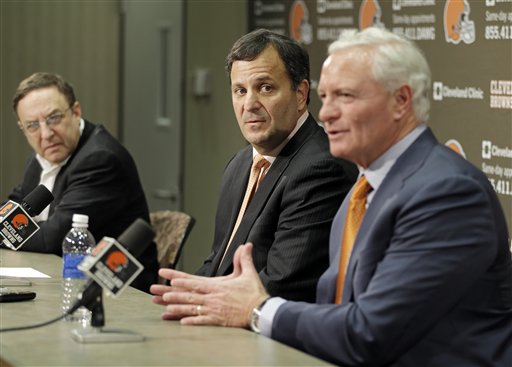 To clarify, the frame of reference I'm working with here is one in which the Browns boasted a .033 winning percentage.
You remember, the one where a disengaged Randy Lerner allowing his father's franchise to be subjugated to the greed and/or inertia of Mike Holmgren and Bob LaMonte, the resulting cronyism and incompetence that begat two seasons worth of Pat Shurmur, a roster shredded by a decade of front office subterfuge and a stadium that curiously grew as ancient as the stale echoes of tradition that Browns' fans grip like a tattered safety blanket.
Oh, the memories.
Was it only yesterday that Browns' fans were nestled securely in breathless Brady Quinn versus Derek Anderson debates? Or was it Colt McCoy versus Brandon Weeden?
As if ever mattered – which was probably the point all along.
What's been revealed over the last few eventful weeks in Cleveland is the following:
Browns' fans are the worst.
Of course, I don't mean ALL Browns' fans. Just the ones who have somehow decided that the team's new ownership group and front office are somehow savaging the proud tradition of a franchise that has been reduced to irrelevance in a league where parity is the rule. And to ask who can really blame them doesn't mean some perspective isn't in order.
Those familiar with my site probably realize that I am the last person to blindly endorse the new principles of Browns' change.  Certainly, the worst case scenario is Jimmy Haslam as an opportunistic capitalist embodying the worst possible alternative ending of Tommy Boy, who knows that even the worst of NFL franchises double in value, with Joe Banner playing the numbers guy with a football complex, Mike Lombardi the charlatan of Cleveland fan's worst nightmare, and Rob Chudzinski looking up at Chip Kelly.
Yet the backlash that followed Haslam's decision to cash in on corporate sponsorship, Banner's anticipated and actual moves and both Lombardi and Chudzinski's basic existence suggests that either the Browns' new regime is astoundingly incompetent or perhaps Browns' fans are afraid to grasp even the most basic tenets of change.
The most apparent of which in Berea coming in the form of Banner, who has been hired to perform executive services previously unseen in Berea during the expansion era. There's little doubt that Banner is assuming an all-encompassing role and with it, has received criticism for everything from his apparent fumbling of the team's search for a head coach to his manner of speaking, dental hygiene and lumpy posture.
Of course, Banner is an easy target – possibly because he is an actual football executive.
Following a decade that glimpsed Pete Garcia and Butch Davis butchering the Browns' roster, John Collins and Phil Savage engaging in board room duels, George Kokinis hiding under his desk and Mike Holmgren enjoying a second retirement, Banner has by default already emerged as the most credible front office leader of the Browns' expansion era.
Evidently, the scariest aspect for angry Browns' fans regarding Banner is that he is not Garcia, Davis, Collins, Savage, Kokinis and Holmgren – or some composite of all the familiar failed college recruiters, coaches, marketing executives, scouts and millionaires that continually conned their way into Lerner-endorsed paychecks.
Of course, the irony here is that Banner's role is designed to prevent the kind of franchise-killing power struggles that Browns' fans have sadly grown accustomed to.  Yet, when the Browns finally gain what appears to be both a logical front office system and a semblance of vision for a badly damaged franchise – the exact things that were non-existent during Lerner's indifferent ownership tenure – fans recoil.
Be careful what you wish for.
Naturally, a sizable chunk of this venom has been channeled through the hiring of Mike Lombardi – a pseudo-personnel executive who has masqueraded as an NFL Network analyst. (Or maybe it's the other way around.) Lombardi is vilified by the veteran guard of Browns' reporters – those who remember the Browns' new Vice President of Personnel Something or Other as the disingenuous career climber who railroaded the kind of front office access reporters enjoyed during the 1980's.
And unless you're that most rare breed of young Browns' fans who care enough to have read this far, you'll no doubt associate Lombardi with the ill-timed decision to dump Bernie Kosar in favor of Todd Philcox during the middle of a promising 1993 season.
Certainly, the hiring of Lombardi is curious in that no other team seemed to be interested in his services – either now or really ever. There's little doubt that Lombardi's past relationship with Banner secured this new arrangement. However, the dubious nature of the move will likely be negated by the Browns' eventual successes or failures. Clearly, Banner hiring Lombardi – while unsettling on many fronts – is far different than Holmgren giving an unqualified family friend a Head Coaching gig or stocking the press box with ancient West Coast castoffs.
As Banner suggested last week, he's investing both his reputation and perhaps his continued employment in Lombardi. Unlike Holmgren, whose entire Browns' existence was a lavish and temporal holiday, Banner doesn't appear to have the same luxury. Ideally, the days of the Browns' owner paying for multiple ex-coaches and general managers have ended – which must be a sad realization for those fans who take comfort in such futility.
Or maybe it's familiarity. After all, change can be hard to accept.