Matt Borcas is a second-year journalism student at Ohio State, a Mentor, Ohio native who recently emerged from a field of 4,000 competitors to land a part-time job writing about the NFL for ESPN's Grantland. Matt's weekly Browns-centric column on the NFL Draft will run here all the way up to draft weekend and through its immediate aftermath. Today, he explores the weeds in which the Browns incredibly remain with respect to the most important position on the football field.

—————
Forgive me if I sound like I've popped a molly or two, for the great Walter Football has Ziggy Ansah slotted to the Browns in his latest mock draft. Life has been a whirlwind ever since. "Why not Ansah?," coos Walter, officially raising my hopes to pie-in-the-sky levels for the Browns to land the 6-6, 274 lb. edge rusher. Playing the role of Debbie Downer is National Football Post mock drafter Russ Lande, who, perversely, had the nerve to give Ansah to the Jaguars in his 2/11 update. Whatever – sticks and stones may break my bones, but mock drafts will never hurt me, at least ones published before the Combine.
And as much as I'd like to drone on extolling the virtues of Ziggy, there are bigger fish to fry today. Case in point: When we last checked in with the Browns' interminable search for a franchise quarterback, I hypothesized, based on hours upon hours of analyzing Mike Lombardi's journal entries and interviews from 2008-2012, that Ryan Mallet was in line to steal Brandon Weeden's job.
On Sunday, The Notorious M.K.C. dismissed my theory ("The Browns aren't expected to pursue New England backup Ryan Mallett," she wrote, without further elaboration), which prompted Kanicki to dismiss her dismissal in painstaking detail. Still, let's say Mallet is off the table. Where to now?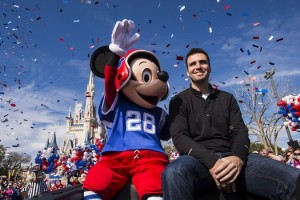 Disney World, according to Peter King, where Super Bowl MVP Joe Flacco is living it up with Cinderella, Snow White, Ariel, et al.
Was it only me listening to Baltimore owner Steve Bisciotti and trusted GM Ozzie Newsome the other day, thinking they're going to throw the first big changeup into this offseason? Was it only me taking their words and reading resolve in them, and thinking it's actually possible that Joe Flacco could be stolen by a quarterback-needy and starved-for-relevance team like Cleveland?
These are the words King is "reading resolve" in:
Bisciotti:
"We've proven it two years in a row that we can kind of shock the world and disappoint our fans at the same time, by letting some of these guys go, but letting young guys fill in and then going out and getting good values on the free-agent market."
Newsome:
"We will not repeat what we did in 2001 [after winning the Super Bowl, when Baltimore restructured and overspent to make one more run at a title]. We're trying to build where we can win Super Bowls more than just one more time. I think our team is structured differently this time also. We do have some veterans that will probably be retiring but we have a great nucleus of young players and players that are just heading into their prime that we're going to build this team around."
From this, King surmises that the Ravens will franchise-tag Flacco, yet refuse to match subsequent offer sheets from the Browns (led by "uber-aggressive president Joe Banner," as King calls him) or anyone else. Personally, I find this scenario more far-fetched than Banner being named People Magazine's Sexiest Man Alive – if Newsome is "trying to build where [the Ravens] can win Super Bowls more than just one more time," wouldn't he want to keep the 28 year-old quarterback whose unprecedented playoff run won them this Super Bowl? Considering Newsome's excellent track record (and the theme of Bisciotti's football brain trust sleepover scheduled for this weekend), I'd be shocked if Flacco didn't have a new Ravens contract by March 4.
Hypothetically, though, if Flacco did become available, signing him would be a no-brainer. (Sorry, Ziggy – the Ravens would then get the Browns' 2013 and 2014 first round picks.) This is worth mentioning because it reflects so poorly on Weeden. Obviously, the Colts, Redskins, and Seahawks – other teams that started a rookie QB last season – wouldn't dare surrender a single first round pick for Flacco, let alone two. (I don't think the Dolphins would either, but that's a murkier situation.) Moreover, it's exceptionally rare for a team to give up on a first round QB after just one year – even the Raiders let JaMarcus Russell stick around for three! But due to Weeden's inability to scramble, inability to audible, nonexistent pocket presence, and especially troubling inability to locate and deliver to wide open receivers (as reflected, of course, in his 35th-ranked Total QBR) there's a strong case to be made for abandoning him, whether it's for Flacco (not happening), Mallett, or someone in the draft, making the local lionization of Tom Heckert all the more confusing.
In Michael Holley's tidbit-laden book War Room, we discover that Bill Belichick warned Falcons GM Thomas Dimitroff against trading up to No. 6 overall, the Browns' pick, for Julio Jones in 2011. "Thomas, I'm just telling you as a friend, I wouldn't do it," advised Belichick mere hours before the draft. This isn't surprising – The Hoodie's drafting philosophy has always been predicated on value, and dealing two firsts, a second, and two fourths for the draft's second-best receiver is the exact opposite of recouping bang for your buck. Dimitroff's rationale, per Holley, was that the Falcons were one "impact player" away from championship contention, and that Jones would fill this need. Alternatively, the Browns were about 10-50 impact players short of hoisting a Lombardi Trophy in 2011, so while the Falcons added the game-breaker Jones to their array, the Browns would stockpile talent to a roster largely devoid of it. A win-win, right?
Perhaps in theory only, to the extent we have to judge trades on their results, and not the thought processes that went into making them. Here is what the Browns got in return for Julio Jones:
2011 Round 1, Pick 21: Phil Taylor
2011 Round 2, Pick 59: Greg Little
2011 Round 4, Pick 124: Owen Marecic
2012 Round 1, Pick 22: Brandon Weeden
2012 Round 4, Pick 120: James-Michael Johnson
In essence: an above-average defensive tackle; a decent, physical wideout; a butterfingered fullback; a bust-y looking quarterback; a promising linebacker. Because the 2012 first rounder was the deal's centerpiece, hitting on it was crucial to "winning" the trade. Instead, all we got was this elderly, elephantine quarterback. Advantage: Dimitroff.
Yes, Heckert did draft well in other places, particularly along the defensive line. He is, undeniably, the best GM this incarnation of the Browns has ever had, but that's like calling Slider our city's best mascot. More than anything, his reputation benefits from the failures of his predecessors, and he'll ultimately be remembered for not bringing RG3 to Cleveland and settling on Weeden as an adequate replacement.
Prospect of the Week
After extensive research, I've come to the conclusion that the stars are aligned in such a way that ensures my favorite college players will end up on professional teams I hate. (Exception to the rule: Brady Quinn.) As such, I expect the Ravens to select Manti Te'o, who'll seamlessly transition into the defensive beast/spiritual leader void left by Ray Lewis. Would it stun anyone if Newsome planted the Lennay Keukua story so that Te'o would fall to Baltimore? Just saying. Anyway, read my brilliant endorsement of Te'o for the Heisman Trophy, and conveniently ignore the reference to his dead girlfriend. He isn't the best option for the Browns at 6, but he'd make a great one.