Matt Borcas is a journalism student at Ohio State and a Mentor, Ohio native who recently emerged from a field of 4,000 competitors to land a part-time job writing about the NFL for ESPN's Grantland. Matt will be writing a weekly column on the NFL Draft here all the way up to the 2013 edition and through its immediate aftermath. Today, he starts with a comprehensive look back at new Browns VP of Player Personnel Mike Lombardi's career in search of clues as to what we should expect this April. Enjoy! — Ed.

—————
In 20 years, will anything on television – save for the inevitable Rex/Rob Ryan Cialis commercial – offer more entertainment value than political attack ads? As much as it might be comforting to think that things couldn't get any worse along these lines, the answer is, irrefutably, no, for one simple reason: social media. Future candidates will face the grim reality of rival Super PACs unearthing skeletons in their digital closet – status updates, tweets, Instagrams, and DISQUS comments, containing all manner of entreaties to "Turn the f*** up!", death threats directed at former Browns cornerback Eric Wright, and graphic metaphors likening T.O. to a woman's delicate parts. (IT'S TRU!)
For instance, assume (and why wouldn't you?) that Browns linebacker Craig Robertson decides to run for executive office after his playing days were over. Is there any way that what seems like an innocuous tweet today, wouldn't end up igniting a firestorm across the heartland and derail his campaign?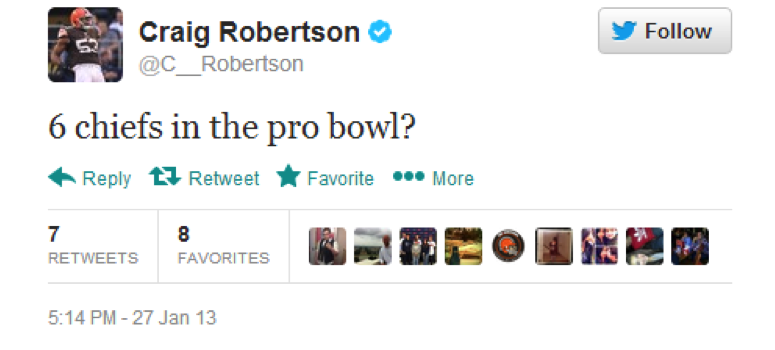 It would certainly cost him Kansas and Missouri's combined 16 electoral votes, anyway, as much as Incarcerated Bob, Stephen Hawking, and fake Solomon Wilcots all agree there was an excessive number of Chiefs in the Pro Bowl — enough to warrant a full-on Carl Monday investigation.
Please know that I am not overstating this BOLD PREDICTION a bit. Anthony Weiner-type scandals like the one outlined above are the wave of the attack ad future, and this is an eventuality we must embrace. Still, with the generation that comprises the current political establishment having made exponentially less extensive use of social media than those who came of age in "the facebook generation," years will pass before said wave crashes fully into the shore. Welp. Patience is a virtue, I guess.
And thankfully, as we wait for the next Weiner, new Browns VP of Player Personnel Mike Lombardi can serve as a microcosm of what's to come in this new paradigm. As many know here, after leaving the Raiders in 2007, Lombardi spent five years blogging, podcasting, and tweeting up a storm, providing fans a rare glimpse into what Jim Nantz wants you and Tony Grossi to believe is America's second-brightest football mind. Consequently, we have a general idea of the draft day decisions Lombardi would have made had he been running a team. Let's judge him for it!
As Frowns consigliere @jimkanicki has pointed out, that many of Lombardi's drafts with the Browns, Eagles, and Raiders fell on the wrong end of Mel Kiper, Jr.'s grading curve. Even Lombardi admits that he and Bill Belichick commiserate over their lackluster selections from time to time – I picture the two of them aboard a sailboat off the Nantucket coast, huddled over a bottle of Ciroc, cursing Tommy Vardell, Eric Zeier, and Craig Powell. However, in his introductory press conference, Lombardi also claimed that working in the media improved his talent evaluating talents (mostly via an office at NFL Films) and broadened his perspective of the league. Was he telling the truth? We remember Lombardi's facepalm-inducing opinions of Joe Haden and Josh Gordon, but surely he got something right, right?
Well that's what your intrepid correspondent set out to discover. For three days I did nothing but eat, sleep, drink, read, and listen to Michael Lombardi, the man, the myth, the legend, circa 2008-2012, going where the mainstream media refuses to go. What I uncovered was equal parts mesmerizing, gut-wrenching, and flabbergasting, and I encourage all of you to read on to see for yourself – it's basically your civic duty:
Artifact: The B.S. Report, 4/18/08 (Lombardi's segment starts at 26:50).
Quotes of Note:
First, a disclaimer: I've only included quotes that stuck out as a) especially interesting or b) contrary to conventional wisdom. Lombardi doesn't deserve props for exalting Andrew Luck when anyone with semi-functioning retinas could see his greatness; conversely, we shouldn't knock him too hard for calling Glenn Dorsey "the best player in the [2008] draft" when such a belief was prevalent at the time. OK, on to the quotes.
"[A quarterback's] accuracy is very difficult to improve, and if he can't improve it, the player won't ever make it [in the NFL]."

"[Al Davis] ran every draft…That's his baby."

"[My least favorite draft] was 1995 in Cleveland, and we had the tenth pick, I believe. There were ten really good players in the draft, and we got some information on Warren Sapp that wasn't favorable – it wasn't accurate, but we believed it – and when the Jets picked Kyle Brady in front of us, everyone thought we were going berserk [because Sapp was still available]…However, we would've picked Sapp, but had some wrong intelligence…So we move to the bottom of the first round; we were gonna pick Curtis Martin there, but thought, 'Nah, we'll sign Lorenzo White in free agency and pick a defensive player.'…When I got home that night, I burnt all the clothes on my body." [Worth a link here: Jon Gruden Is Gonna Get Two Hotel Rooms For All His Bitches, Bill Belichick's D*ck Is Hard, And Other Things We Learned From Warren Sapp's New Book.]

"People talk about taking Darren McFadden [with a high draft pick] like he'll make a difference, but the Minnesota Vikings had the number one ranked run offense and defense [in the 2007 season], and they watched the playoffs."

"Vernon Gholston, I think, [is missing something] in the sense that he doesn't do it all the time. A lot of the sacks that he gets in college are against running backs, and he won't have that luxury in the NFL."
Verdict: Not the worst showing for Lombardi, for having to man up on landing Craig Powell/Lorenzo White instead of two first ballot Hall of Famers in '95 (can we really blame him for pulling a Ray Lewis with his draft day gear?) The remark about a quarterback's accuracy bodes poorly for Brandon Weeden, and while the Al Davis quip may come across as self-serving, I tend to believe him. Finally, kudos to him for doubting non-difference makers Darren McFadden and Vernon Gholston. (If only Gholston had dropped his gym membership and joined a yoga studio…)
Artifact: The B.S. Report, 4/19/2010.
Quotes of Note:
[When asked for sleepers in the top 40]: "I like Maurkice Pouncey from Florida…I think he's a guy that's gonna go to the Pro Bowl for a long time; if somebody takes him in the first round, that's a smart pick…Dan Williams, the nose tackle from Tennessee will be a really good player, and I like Jason Pierre-Paul – he's got unique skills. If he gets with the right coach and the right team, he can become a great pass rusher."
Verdict: Put Lombardi on a Wheaties box for this effort. Pouncey is a three-time Pro Bowler, Williams if not at the top of Frownie's wish list next to things like "free corndogs" and "unicorns," is nevertheless a solid anchor to one of the best defensive lines in football, and after J.J. Watt (and maybe Aldon Smith), there isn't a defensive end I'd rather have than Pierre-Paul.
Documents: Diner morning news: Fins make the right move, 4/26/2010; Diner morning news: A new draft philosophy, 4/27/2010.
Quotes of Notes:
"I really think wide receiver Arrelious Benn of Illinois is going to struggle to play the game fast. He moves better in a workout than when he's playing the game, and he might struggle to get on the field quickly for the Bucs. He's a workout player, not a natural player."

"The Dolphins were not going to fall in love with combine players or anyone who had a great workout. They wanted to focus on football players and not let a 40 time or individual workout alter their thought process. They made it a point to have their draft board completely graded before they went to the Indy combine. They weren't going to be swayed by workout warriors, and they were going to make sure they stayed true to their philosophical beliefs. Those beliefs are centered on size and speed football players — but the speed is functional football speed."
Verdict: In these articles (especially the second one), Lombardi expresses a vehement disdain for "workout warriors." If a player's stock skyrockets at the combine because of extraordinary measurable (like Dontari Poe's did last year), I wouldn't expect the Browns to draft him at 6.
Document/Artifact: Uncertainty about Tebow leaves Broncos with draft dilemma, 2/21/2011; Lombardi on Mike and Mike in the Morning, 4/26/2012.
Quotes of Note:
"I think if I was still in the league and needed a quarterback, instead of chasing [Kevin] Kolb, I would chase Brian Hoyer of the Patriots. If teams evaluate New England's Week 17 game against Miami, they'd see that Hoyer demonstrates the skills needed to be a starter."

[When asked about Brandon Weeden possibly sneaking into the first round]: "Brandon Weeden's got a great arm; everybody talks about his maturity, his age…There's gonna be some uncertainty with Weeden. I think there's a long separation [between Andrew Luck/RG3 and Weeden]. Look, I'm a Brian Hoyer fan…I would've rather given up a second round pick for Brian Hoyer than select one of these quarterbacks after [Luck and RG3] get drafted."
Verdict: I respect Lombardi for using his national soapbox to pimp a Cleveland native (St. Ignatius stand up!), but since these comments were made:
The Patriots cut Hoyer on August 31, 2012.
The Steelers added Hoyer on November 20, 2012 after Ben Roethlisberger and Byron Leftwich went down with injuries.
The Steelers started a decrepit, 38 year-old Charlie Batch over Hoyer in Cleveland, where he was intercepted thrice and finished the game with a QBR of 20.8.
The very next week, the Steelers started a decrepit, 38 year-old Charlie Batch again over Hoyer in Baltimore.
The Steelers cut Hoyer on December 8, 2012.
If Lombardi was our GM VP of Player Personnel a year ago, there is a very good chance that Hoyer would have affixed his name to this storied list by now: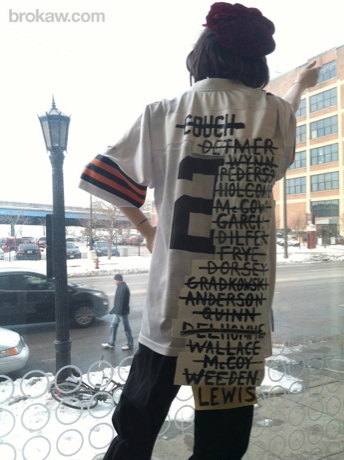 Document: Feeling prepared to rewrite 'one of my least-favorite' drafts, 4/12/2011.
Quotes of Note:
To fully exorcise the sizzurp-sipping demons of JaMarcus Russell and his astronomical contract with the Raiders as the top overall pick, Lombardi took it upon himself to redo the 2007 draft. Understandable. Here is his revised top 10:
Raiders: Darrelle Revis
Lions: Calvin Johnson
Browns: Adrian Peterson
Bucs: Patrick Willis
Cardinals: Joe Thomas
Redskins: LaRon Landry
Vikings: Jon Beason
Falcons: LaMarr Woodley
Dolphins: Joe Staley
Texans: Leon Hall
Verdict: This was published in April 2011, at the height of the Revis Island phenomenon, but I'm still surprised that Lombardi would (re)draft Revis over Johnson and Peterson. First, in 2007, the Raiders already had the NFL's best cornerback in Nnamdi Asomugha, yet their offensive skill positions were atrocious – like, 2009 Browns-level atrocious. Second, I believe Johnson and Peterson help their teams win more than Revis does. (I.e., I don't think the 2011 Lions/2012 Vikings would make the playoffs if they lacked Johnson/Peterson but had Revis.) Perhaps this lends credence to the idea that the Browns will eschew a pass rusher at 6 in favor of Alabama cornerback Dee Milliner. Though a Haden/Milliner tandem is enticing, Ziggy Ansah, Jarvis Jones, and Barkevious Mingo are better options in the eyes of this amateur draftnik.
Documents: Owens has only himself to blame for his struggles finding a team, 7/18/2010; Josh Gordon's emergence is solidifying GM Tom Heckert's young receiving corps, 12/7/2012; New Browns VP Mike Lombardi backs off Brandon Weeden comments, 1/19/2013.
Quotes of Note:
"According to coaches around the league, Browns first-round pick Joe Haden has not been very impressive in camps and might not have enough speed to play corner. Maybe all that talk about some in the organization wanted to take Kyle Wilson over Haden was true."

[On the Browns selecting Josh Gordon in the second round of the 2012 supplemental draft]: "A wasted pick."

[On the Browns selecting Brandon Weeden with the 22nd pick in the 2012 draft]: "A panicked disaster."
Verdict: Oddly enough, two of Lombardi's worst evaluations during his stint in the media involve current Browns. We can probably chalk up the Joe Haden hate to Lombardi's unabashed loathing of Eric Mangini, but the Josh Gordon hate is a bit harder to quantify. Tony Grossi theorizes that, "Lombardi could not find a scouting report on Gordon to commit to his encyclopedic memory; thus, his uninformed opinion on Gordon," so I'll go with that, unless anyone else has a better explanation. On the other hand, the Brandon Weeden selection, like this pass, might in fact go down as a panicked disaster.
Document: Saints, Raiders, others find good value with late draft picks, 4/29/2012.
Quotes of Note:
"[Billy] Winn was a medical concern coming out of Boise State, which is why he slipped to the sixth round. But if his health checks out, he is capable of being a good rotational inside defensive lineman."

"[Tank] Carder, of TCU, is an instinctive three-down player who can become a starter for the Bills, giving them a linebacker with much-needed speed and athletic skills."

"[Vick] Ballard is a productive back with burst acceleration and the ability to play on all three downs. The ex-Mississippi State star might not be the fastest back on the Colts' roster, but he will be the best very soon."
Verdict: Lombardi didn't hate every Tom Heckert draft pick, see. Here he lists Billy Winn among the twelve best value picks of last year's draft, along with current Brown Tank Carder and Vick Ballard, who had a nice season in Indianapolis.
Artifact: The B.S. Report, 4/27/2011.
Quote of Note:
"The guy I think who's the sleeper in this draft, the guy who's gonna be the DeMarcus Cousins of this draft, is Ryan Mallett. He's gonna turn out really good for somebody, or it's gonna be a disaster…Mallett's got unbelievable ability…I was told this by somebody in the league: Mallett is a better Drew Bledsoe. Nobody wants to admit this because everybody has Bledsoe up on this pedestal, but Mallett throws the ball more accurately, he's got more toughness than Bledsoe had, he's a better leader than Bledsoe [was], and he can do everything Bledsoe can do."
Verdict: Ryan Mallett is the future!
Other documents/artifacts a Mike Lombardi enthusiast should consume:
If you want to hear Lombardi praise Trent Richardson and lambaste Mike Holmgren for botching the RG3 situation: 4/23/2012 edition of The B.S. Report.
If you want more insight into Lombardi's draft philosophies: Six lessons from the master, 4/16/2012.
If you want to see Lombardi go Jon Gruden on Brandon Weeden: Brandon Weeden chalk talk, 4/20/2012.
—————
YouTube of the Week
"This is a day that's probably gonna go down as the day the fortunes of the Browns turn[ed]," prophesied a supremely confident Phil Savage on April 28, 2007. The rest, of course, is history. A rocket-armed, horse-balled quarterback named Derek Anderson (along with a schematic savant named CHUD) led the Browns to a 10-6 record and the brink of the playoffs. For the first time since 2002, things were looking up. In the offseason, Savage concluded that Anderson's season was an anomaly and shrewdly moved him for a first round pick in the 2008 draft. While Anderson had developed a cult following among Browns fans, making the trade was an easy call, especially with Brady Quinn, star of the above video, waiting in the wings. Or at least that's what should have happened.
/profanities re: rooting for Buffalo
—————
Prospect of the Week
Our first prospect of the week is someone whose name you'll become very familiar with if you end up reading this column regularly: BYU defensive end Ezekiel "Ziggy" Ansah. I'll spend the next three months pounding the table for the Browns to draft Ziggy at #6 overall, and I hope you join me. Ziggy is fast, rangy, raw – rawer than the carrots in my refrigerator – and, being a big man that can both run and hit, a better than perfect fit for Ray Horton's defense, who's drawn comparisons to Jason Pierre-Paul and Clay Matthews, Jr. Read Jeff Benedict's tremendous profile of Ansah, watch this highlight video, and tell me your mouth isn't watering. Which is where I'll leave you for this week.
Just 78 days until the draft. The most wonderful time of the year!