Matt Borcas is a Mentor, Ohio native who recently emerged from a field of 4,000 competitors to land a part-time job writing about the NFL for ESPN's Grantland. Matt's weekly Browns-centric column on the NFL Draft will run here all the way up to draft weekend and through its immediate aftermath.

—————
My last column generated an outpouring of tweets, none more ominous than this pledge from legendary Cleveland sports radio caller Hiram Boyd: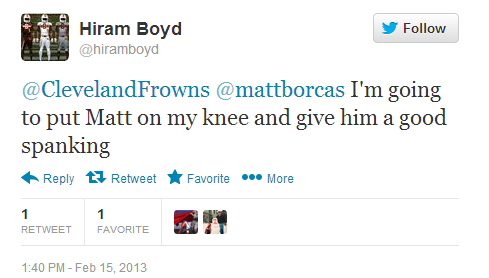 Surprisingly, what initially promised to shape up as a bloody Battle Royale ended up devolving into an email exchange between Hiram and me where it became as clear as ever that Hiram is a man of ideas, and especially ones about the NFL draft. It's also clear that Hiram is a man who watched a lot of college football last season. So I figured that if it's good enough for the folks at the Plain Dealer to get three columns a week out of three different opinions from Mel Kiper Jr., Mike Mayock or Todd McShay about who might be a good fit for the Browns with the sixth overall pick, then I should make out with a Pulitzer for posting my entire conversation with Hiram, which spans from difference makers, to big boards, to spinal stenosis. And unlike Kiper's, Mayock's and McShay's opinions, which seem to disappear into the mist with every passing season, Hiram's will always be right here to check back on. If things break as I expect, Hiram's face will shortly be up on the draftnik's Mount Rushmore with Mel, Mike and Todd. See for yourself below, and enjoy!
—————
Matt:
I came across a Cleveland.com article Tuesday in which draft guru Mike Mayock declared that he "wouldn't want a top-10 pick this year." He also lamented the class's lack of "difference-makers" and said that the 5th pick and 25th pick are "very similar."
However, I believe this class is teeming with difference-makers. If picks 5 and 25 are similar, it's because the crop of players available is so talented, not mediocre. Sure, the offensive skill positions are relatively weak – although I do love me some Eddie Lacy – but the list of high-level linemen prospects is seemingly endless. This is the strongest DE/OLB class I've ever seen (Imagine if Jadeveon Clowney was draft-eligible!).
Here is what the Browns' big board would look like if I was running the show in Berea:
Ziggy Ansah
Jarvis Jones
Barkevious Mingo
Dion Jordan
Dee Milliner
I'm still not sure what to make of Jordan – to me, he's almost an Ansah-lite. Where do you stand on these guys?
Hiram:
Ansah reminds of a more powerful version of Michael Johnson – extremely versatile and quick. While he's relatively new to the sport, he improves with each game and has all the makings of a very dominant player. I think this is the guy the Browns are leaning toward taking because of his awesome upside and versatility.
Jones reminds me of a less powerful, more fluid version of Lamar Woodley. He's very instinctive and smart, and seems to know how to find the QB, but I was disappointed in him as a pass rusher at times because he got engulfed by the bigger offensive linemen that he played against, and didn't have a way at countering it. Jones is best in a 3-4; in a 4-3, he'd have to stand up on the first two downs and then rush on passing downs.
Mingo's upside reminds me of DeMarcus Ware, but he has some refining to do. He possesses the speed to run sideline-to-sideline, never gives up on a play, and is surprisingly good against the run. Downside: He doesn't display the versatility in moves like I was hoping to see. Outside of the speed rush and swim move, he's not as advanced as you'd hope. However, if he gets with the right coach, WATCH OUT! I would sit this guy down and have him to watch a ton of Ware and Simeon Rice, because he can be that good.
People need to keep in mind that Mingo was misused at LSU because they played him on the left side of the line, yet his skill set dictates to play right side. This is the guy who is boom-or-bust. He has a chance to make you look really good or put you on the unemployment line.
Jordan reminds me so much of Aldon Smith, but he'll take time to develop. He has a very nice game and shows tremendous versatility. I was pleased with his quickness and array of moves; on the other hand, I wanted to see a bull rush and never saw it. If the Browns drafted him, I would make it known that he won't be big time right away, but down the road, after his shoulder heals and he adds some weight, you will have a complete monster!
Milliner's upside reminds me of bit of Joe Haden. He is fluid and steady, a true playmaker who seems to be around the ball all the time. Nonetheless, I don't see him becoming a shut-down CB, as he struggles with bigger receivers. All in all, he's not worth the No. 6 pick; I would never take a Dee Milliner over a pass rusher if they had similar grades.
Matt:
In the event that Browns take Jordan, I respect your willingness to "make it known" to the ill-informed masses that he won't be an instant stud. Such dedication is why I consider you the Batman of Cleveland – not the hero we need, but the hero we deserve.
Moving along, the Browns appear to be in a fortunate spot where one of their greatest needs (DE) is also the draft's deepest position. Of Ansah, Jones, Mingo, and Jordan, who would you select at No. 6? I guess we could include Damontre Moore and Bjoern Werner too, but I loathe Moore* and don't believe Werner meshes well with Horton's defense.
Why do you think Mingo was misused at LSU? Was Les Miles too busy eating grass/diagramming fake field goals to take notice or something?
Who is the safest DE? Everyone seems like a major risk/reward prospect except Jones, who still has the whole spinal stenosis thing hanging over him. Personally, I think Ansah has the greatest upside simply because he's only been playing football for three years! Most of his fellow prospects have been playing for more than a decade, yet Ziggy is already at (or has eclipsed) their level. One would expect his upward trend to continue.
*He's inconsistent, considerably less explosive than the other top DEs, and strikes me as a player who maxed out in college.
Hiram:
If I were drafting, I'd take Ansah with the pick at 6. You can put him on the line with Sheard, Taylor, and Rubin, drop back seven guys, and get more turnovers.
I am a big Werner fan; he uses his hands as well as any pass rusher I've seen in a long time, and plays great vs. the run. I do agree that he doesn't fit Horton's defense because he is strictly a DE. Also, he tends to loaf when a play doesn't come his way.
I like Moore a bit more than you do. He kind of reminds me of Terrell Suggs in that he isn't the most athletic guy, but he seems to know how to get to the passer. He has a variety of moves and never takes plays off. I don't see a superstar, but I do see a 10-12 sack per year guy, making him the safe pick.
I have no idea what made LSU so dumb, but they took Sam Montgomery and put him on the right side even though he should have been on the left (vice versa for Mingo). Montgomery is bigger and stronger than Mingo, but lacks Mingo's explosiveness. By the way, Montgomery is this year's most overrated prospect. He's fat, and relies too heavily on overpowering OTs, which won't work in the NFL. The guy has bust written all over him!
Matt:
My advice to Werner would be to hire someone off of Craigslist to rummage through NFL team facilities and delete footage from the Orange Bowl. That performance left a sour taste in everybody's mouth.
If you were Mike Lombardi (for the record, sometimes I actually wish you were) (but most times I don't), who would you target in the middle rounds? Personally, I'd love to get Georgia safety Bacarri Rambo in the third, drug tests be damned.
Also, I know you bleed Weeden ginger, but would you consider drafting a QB anywhere? I'm intrigued by Syracuse's Ryan Nassib, though he's not worth it unless he falls to the sixth round. Better to wait for next year and grab Teddy Bridge Over Troubled Water or Johnny Football!
Finally, any other draft- or biscuit-related thoughts you need to get off your chest for the Frowns community?
Hiram:
LOL re Werner's Orange Bowl showing. I do agree that he didn't have a strong game, but he was a very steady performer throughout the season, so he was entitled to have a bad game. It was just at a bad time.
I am a big Bacarri Rambo fan and think he would be a fabulous choice later in the third round. For the sake of variety, I'll give you another safety prospect that should be available in rounds 4-6: DJ Swearinger from South Carolina. Every time I see this guy he's making plays. He can be inconsistent in taking routes, but he's an excellent tackler, makes big plays, and is versatile enough to play both safety positions.
I wouldn't take a QB for a variety of reasons. Most importantly, I'm a big Weeden fan and think he needs to be given time to adjust to the NFL. He had a typical rookie QB season; don't buy the garbage that Shurmur's scheme didn't fit his strengths!
Also, I don't think the Browns can afford to take a player who will likely be riding the bench for another year or two and forgo a player that can contribute immediately. It's not healthy for the team because of the prospect of Weeden looking over his shoulder, which would divide the team and cause unnecessary controversy.
Last but not least, I think this regime doesn't like Weeden because they didn't draft him and are looking for any excuse to replace him, just as they replaced numerous team executives. Their next target is Weeden. This shows a lack of maturity of the behalf of this front office. Can you honestly say you feel more comfortable with Joe Banner and Mike Lombardi than with Tom Heckert?
I'm going to sit back and watch what they do in the draft. I expect them to nail the No. 6 pick, but I predict that this regime will come up short in the middle to late rounds, where Heckert excelled. The background/competence of the current administration just doesn't lead me to believe that they will draft well.
—————
NEXT WEEK: We tackle the enigma that is Ray-Ray Armstrong and review the combine.