"We'll take whatever time necessary in Cleveland to do two things, one to bring a winner back here and number two, to become part of the Cleveland community." — Jimmy Haslam, 08/03/12
"We're not doing this for a hobby. We're all in." — Dee Haslam, 10/2012
"Anything we do, we're all in." — J.W. Johnson, Jimmy and Dee Haslam's son-in-law, 10/2012
"Less than six months after hiring a top-ranking cola executive to run Pilot Flying J, Jimmy Haslam is moving back into the corner office." — Josh Flory, Knoxville News Sentinel, 2/11/13
"This is about me realizing my first love is running Pilot Flying J and wanting to return to that job." — Jimmy Haslam, 2/11/13
"I talked with him earlier today* and nothing has changed. He's going to be as involved and as committed and as passionate as ever. … Rest easy. He loves football. He loves the Browns. This does not change that in any way whatsoever." — Neal Gulkis, Vice President, Media Relations, Cleveland Browns, 2/11/13
—————
Rest easy, Browns fans, because the idea that Jimmy Haslam, Tennessee royalty, could be "all in" in Cleveland, Ohio in any kind of good way isn't too much more risible today than it was last summer, even despite yesterday's news that Haslam will return to the helm of the nation's sixth most lucrative corporation less than six months after surrendering the position to the former president of PepsiCo.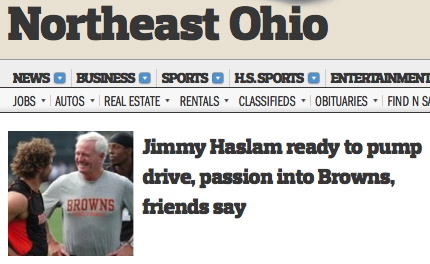 Haslam's announcement might not be surprising to folks who were skeptical of pinning too much hope on the notion that a billionaire who was more enthusiastic than Randy Lerner about his ten-figure-playthings was just what this town needed. But the real sight to behold here is Haslam's half-way candor in publicly justifying the move.
You're Tennessee royalty who gets the chance to buy the Cleveland Browns for more than a billion dollars, so you do it. Then you make vigorous pronouncements of your commitment to Cleveland and the franchise, cash in on so much goodwill for being different than the "absentee" Randy Lerner, then step down from your position as CEO of the family business to generate even more fanfare; Hire John Compton, one of the fanciest executive-types in the country, to take your place, a man who was in line to become CEO of PepsiCo himself, only to pull the rug out from under the whole arrangement just six months later. And why?
Because you finally figured out what your first love is.
"[The change at Pilot Flying J]," Haslam said, was "not about [Compton]. This is about me realizing my first love is running Pilot Flying J and wanting to return to that job."
Which works fine as an explanation as long as we're clear that Haslam could only be expressing his preference for nine-figure annuities over the eight-figure variety. Not that the eight-figure annuities are anything to turn down, of course, especially when they're almost fully guaranteed by way of a legal monopoly and heavy government subsidies. But compared to the near $20 billion in annual revenues and $350 million in reported annual profits, the matter of owning the Cleveland Browns (and buying a weekender in Bratenahl, breaking off a few crumbs for some Cleveland charities, etc.) really is childs' play.
So how is this different from when Lerner owned the franchise and threw the keys and piles of cash at out-of-town executive types to run things for him? For starters, Lerner's first loves, portraiture and body art, seem a lot less distracting than Haslam's first love, which should probably most safely be called, "endless aggregation and consolidation of personal wealth" (because it just can't be selling Take 5 bars and pork rinds at truck stops).
And strangely enough, here comes more of the same fracking machines that in one short year gave Mahoning County its first eleven earthquakes of magnitude 2.0 or higher since 1776. Per Robert L. Smith, in a writeup on Haslam's move back to Pilot/Flying J in yesterday's Plain Dealer, "the company completed its purchase of Maxum Petroleum, a major supplier of diesel fuel to drilling and fracking operations in the nation's emerging shale gas fields."
"It's a big business. Think of the 1,000-plus drilling rigs out there," an oilfield contractor told the PD in a September 2012 piece on Haslam's "excitement" over fracking. "Almost all of them run on diesel. It's a very important part of keeping our drilling rigs running."
Running on Pilot-brand diesel, of course. Because when you're all in on everything you do, you're all in on everything you do.
Rest easy, Cleveland. Jimmy Haslam has more passion than you can shake a stick at. It's a hell of a thing that he owns Northeast Ohio's most beloved brand and the government-guaranteed eight-figure annuity that comes with it. When the fracking issue hits the ballot for the newest most expensive election campaign in Ohio history, he's going to need it.
—————
*"I talked with him earlier today and nothing has changed," said Neal Gulkis, the Browns VP of Media Relations. "He's going to be as involved and as committed and as passionate as ever."
On the short list of things that are more depressing than imagining how this conversation between Gulkis and Haslam actually went down ("Passion, Neal. Just say 'passion.'"), 2011 being the year of the first eleven 2.0+ earthquakes in Mahoning County since 1776 is decidedly one of them.