The more that theoretically legitimate journalistic outlets like Cleveland.com and ESPN Cleveland WKNR continue to treat the Browns' in-house "reporter" Vic Carucci as anything other than a PR flack, the harder it is to ignore when Carucci says something especially ridiculous. So about the latest from Brownstown's own Baghdad Bob:
The man who was hired by Mike Holmgren in 2011, to "provide insights [to Browns fans] on a regular basis" after having written two biographies and much more for Bob LaMonte clients like Holmgren himself, has unsurprisingly survived the latest NFL regime change in Cleveland. The same man who once wrote a whole column about Pat Shurmur's "remarkable knack" for "doing everything possible to help a young team get better;" the one who told us after a 13-12 home loss to a bullet-riddled two-win Rams corpse in 2011 that Shurmur "clearly took advantage" of his special knowledge of the Rams (lucky for Browns fan, the loss wouldn't have been so close if not for Shurmur's insight into his former employer); who also knew that there was absolutely "nothing the Browns would have been able to do from a schematic or play-calling standpoint to change things" in a 30-12 stampede by the Texans that same season. Now wants to assure us that owner Jimmy Haslam's recent decision to return to the helm of Pilot Flying J, the sixth largest business in the U.S., won't impact the Cleveland Browns in any negative way at all. And anyone who suggests otherwise is just a silly willy.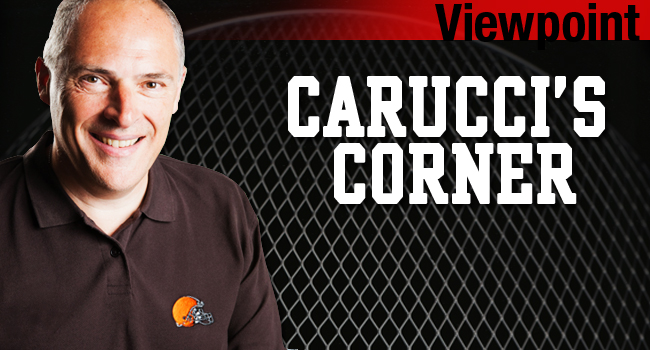 Literally. Carucci's headline at the Browns' official website says, "Silly to assume Haslam will be less involved with Browns," and the column begins with flair:
So Jimmy Haslam is returning to his role as chief executive officer of Pilot Flying J.

So what?
So what that a Tennessee truck stop prince would vigorously proclaim his commitment to Cleveland, Ohio and the Browns upon purchasing the franchise from Randy Lerner, cash in on so much goodwill for being so much more "passionate" than the "absentee" Lerner, and even more for stepping down from his position as CEO of the billion dollar family business and hiring one of the fanciest corporate execs in the country to take his place, only to go back on the whole arrangement a few months later because he realized that his "first love" was world domination, or at least just fracking the living daylights out of every tectonic plate in America that has a few pennies under it. This will not affect Browns fans in the slightest. Other than in good ways, of course. Because Vic Carucci says so, in a column that's mainly noteworthy for the fact that anyone in the Browns front office thought it had to be written at all.
Though in his attempt to support the impossible conclusion that, "Haslam [will] remain every bit as involved and as engaged with the Browns as he vowed to be when he talked about being 'all in' last summer," Carucci does squeeze out a few extra special gems worth admiring here.
Foremost about Joe Banner, who, according to Carucci, "understands the business of football as well as anyone who has ever worked in the NFL."
Anyone. There is not a single person who has ever worked in the National Football League who understands the business of football better than Joe Banner, and anyone who wants to suggest otherwise is just whacked out on goofballs.
One reason we know this, according to Carucci, is that, "under Banner's watch," the Browns have undertaken the strategy of "hav[ing] assembled a business operation with people with extensive and varied backgrounds of considerable success in the NFL and other major-league sports."
Extensive. Varied. Considerable. Nobody in football history has ever thought of putting these things together.
And if you needed any more proof of Banner's preeminence among history's football minds, "[t]hey have a naming rights deal for Cleveland Browns Stadium, and continue to work toward other enhancements to build the world-class organization Haslam and Banner promised the Browns would be."
Stadium naming rights and "other enhancements." The ghosts of Da Vinci and Edison are flush with embarrassment. And Carucci, his employers, and their enablers decidedly are not.
"Haslam needs to continue to take good care of [Pilot Flying J] because it has taken good care of him and his family," Carucci says. Because god knows a billion dollars and a hundred thousand pounding land drills could never be enough. What would the Cleveland Browns be without these people? Where would humanity be without Vic Carucci around to explain it all?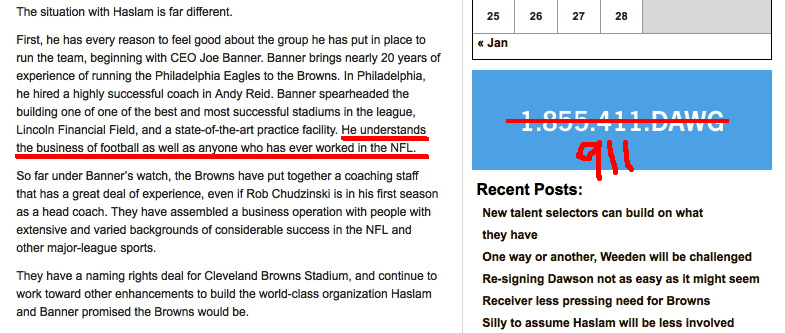 RELATED: "I don't imagine anyone else can have more — maybe somebody could tie — have a sense of the appreciation of the history of the fans of this city." — Joe Banner