Paul Lukas of ESPN and Uni Watch posted a column yesterday on Native-American-mascot related events in Washington D.C., where, as Lukas notes, "there's a growing movement to change the local NFL team's name from a racial slur [Redskins] to something more palatable." More specifically:
Several Washington Post columnists have called for a name change; the Washington Redskins blog Hogs Haven also supports the name change; the weekly Washington City Paper has already begun calling the team by a different name; and just last week, Washington mayor Vincent Gray pointedly avoided using the team's name in his State of the District address.
And the main thrust of Lukas's column was to cover a symposium held at the Smithsonian's National Museum of the American Indian on "Racist Stereotypes and Cultural Appropriation in American Sports," where, "most of the panelists were American Indians, as were many of the audience members who spoke during discussion segments."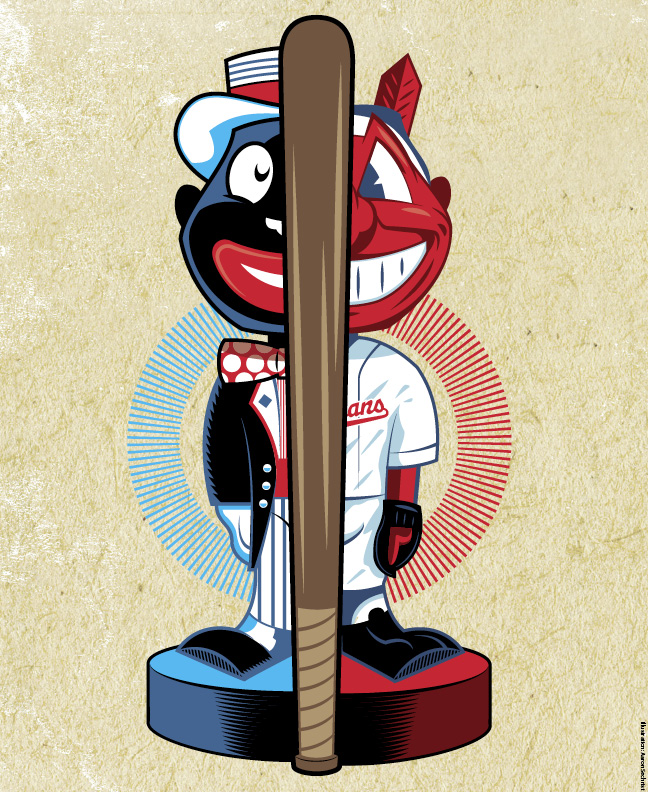 We'll get to what some of what was said at this symposium, but first a note to wonder about why there's not a growing movement in Cleveland regarding Cleveland Indians logo Chief Wahoo that's comparable to the one in Washington with respect to the Redskins name.
Because unfortunately, the fact that there is no such comparable movement in Cleveland relating to Wahoo is nothing if it's not significant evidence that that the average Clevelander is a worse person than the average Washingtonian, who supports worse newspapers than the folks in Washington do, and elects worse politicians than the ones in Washington who speak out against the Redskins name. The Plain Dealer hasn't printed a word against Wahoo in about a decade (can't rock the boat with the full page ads that the ballclub takes out), and Cleveland Mayor Frank Jackson's chief of staff Ken Silliman, when reached for comment on the issue last spring, could only opaquely refer to an "indirect role" in a "community dialogue" on the issue, the existence of which was flatly denied by the most prominent anti-Wahoo activists upon being informed of Silliman's comments.
All the more depressing because it's simply undeniable that Chief Wahoo is a direct descendant of Jim Crow-era imagery, a form that itself came to the U.S. straight out of Hitler's own cartoon shop at Der Stürmer.
Of course, nobody makes caricatures of other races like Wahoo unless they want to dehumanize that race, and nobody acts to dehumanize a race of people unless they want to treat a race of people as something less than human.
Case in point, per N. Bruce Duthu, a member of the United Houma Nation of Louisiana and chair of the Native American Studies program at Dartmouth, who explained at the Smithsonian symposium, that:
[L]imiting American Indian depictions to warlike caricatures has had ramifications that go beyond cultural stereotypes. "Indian savagery has long been used as an excuse to take away Indian property," he said. "Actual court cases have stated that Indians couldn't retain certain lands because they were too uncivilized, too savage, to be entrusted with those lands." In other words, the whole "battlefield warrior" caricature does more harm than good.
Duthu also explained that:
"It's part of viewing Indians as a dead culture, as a plaything that's essentially become part of the public domain. Because if something is dead, you can use it however you want."
And Kevin Gover, the museum's director and a Pawnee Indian, notes and asks:
"It's just like the way Indians have always been depicted in the movies — stupid and violent, although oddly noble in their savagery. Why is it that Native peoples aren't chosen to represent qualities like intelligence, piety, generosity, and love of family?"
Of course, the fact that Chief Wahoo was created at a time when the majority culture in the U.S. was perfectly comfortable treating an entire race of people as something less than human was just icing on the cake. Ki Yi Waugh Woop!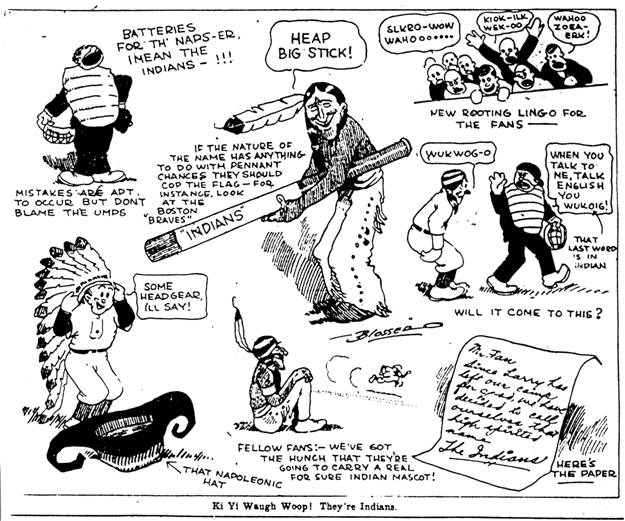 So a note to folks who, for whatever reasons — including perfectly relatable ones relating to childhood attachments to a symbol that represents the magic of those first trips to the ballpark — obviously haven't thought this all the way through: White people making an exaggerated caricature of a Native American like Chief Wahoo is actually absolutely nothing like Irish people making a cartoon of a leprechaun, and you just come off like an idiot, a racist, or at best a dim bulb when you try to suggest otherwise.
That Cleveland, Ohio still wears this thing on its baseball uniforms; That you can count on parade of drunk white boys spitting and hollering at (as well as greatly outnumbering) the opening day anti-Wahoo protesters every year like you can count on the earth going around the sun, is as good a modern example as there is of what people are talking about when they talk about the banality of evil.
Please read Lukas's column because there's a lot more there, and a lovely Valentine's Day to everyone. We'll be back tomorrow with Matt Borcas on the NFL Draft.
—————
The Smithsonian used the excellent cover artwork created by Aaron Sechrist (@okpants) for last April's Scene story on The Curse of Chief Wahoo in its promotional materials for the event (artwork that would never have been created had Scene's editor at the time, Erich Burnett, not provided the platform).