A bunch of sports-and-music-industry-types descended on Houston, Texas last weekend for the NBA All-Star game, and Cavaliers owner Dan Gilbert, Cleveland's favorite oligarch, used his twitter account to let his people know that they were well represented at the festivities. Specifically, Gilbert retweeted a link to a photo of himself sitting courtside along with his son Nick, and world-famous Cleveland-based rapper Machine Gun Kelly, aka MGK, fka Richard Colson Baker from Shaker Heights.
The link Gilbert tweeted goes to MGK's instagram account, where the rapper goes by the handle @cockpunch, and explains an important distinction on his profile page:
"My blackberry takes pictures of me and naked girls so i can jack off in airplane bathrooms," MGK says. "My iPhone takes pictures of me and things for instagram."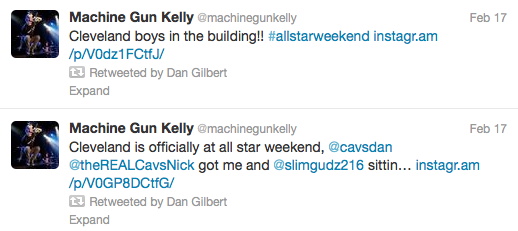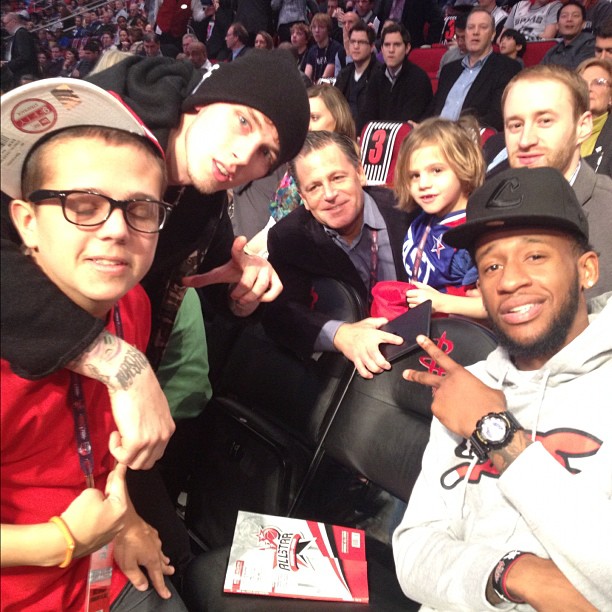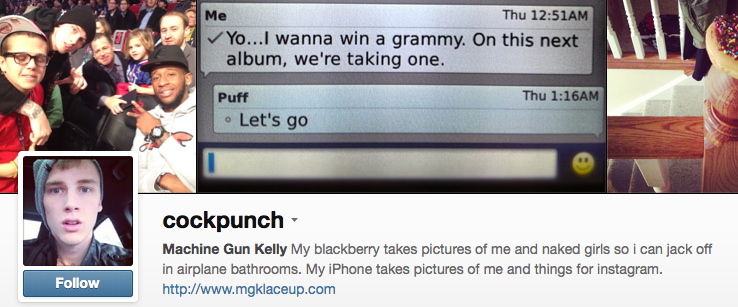 Since Gilbert tweeted MGK's photo, there's been no word from him or the rapper about whether the courtside crew also posed for one of the blackberry shots, but those who want to read anything into what Gilbert's MGK endorsement says about his views on gender roles, the importance of sanitary public restrooms or whatever should just relax. Because the truth is that there's three kinds of people in this world: The people who've "made it," like MGK and Gilbert; the people who accept that there's a different set of rules for the Gilberts and MGKs of the world; and then the rest, who are naturally all just "bitter."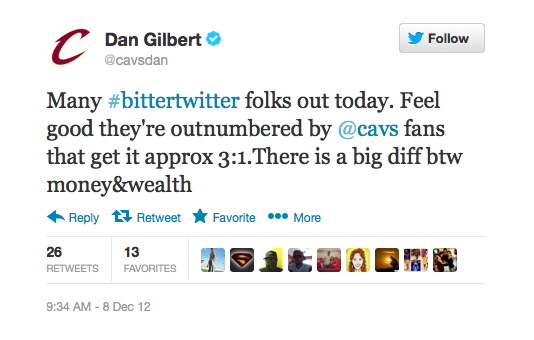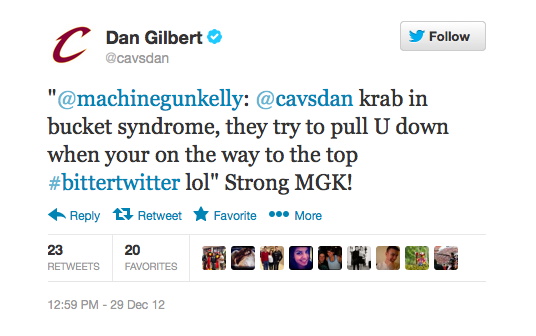 So don't worry. If Dan Gilbert or MGK wants to do whatever in a public bathroom that's one thing, and actually pretty awesome (#Clevelandinthebuilding #LaceUp), but rest assured that no bus-riding-types will be getting away with the same thing at any of Gilbert's casinos. At least not if they're bold enough to brag about it on Instagram.
—————
In other Gilbert-related news, here's an op-ed in the New York Times discussing Detroit-area controversy about what to do with Belle Isle, a public island property near downtown (h/t crossword wizard @datageneral). Of special note here is the reference to a group of "weathy libertarians" led by real estate developer and aspiring author Rodney Lockwood Jr., who have:
[S]uggested that private investors buy the island from the city for the nice, round, Dr. Evil-ish sum of $1 billion and transform it into an independent, self-governing territory. With the price for citizenship set at $300,000, the Commonwealth of Belle Isle would exist as a sort of free-market paradise; within 30 years, the group's Web site predicted, the island would be known as the " 'Midwest Tiger,' rivaling Singapore as an economic miracle." One can order from that Web site a novella about this future Belle Isle, which describes the commonwealth's low taxes, minimal government, even its own currency (called — seriously — "the Rand").
Go to Lockwood's "Commonwealth of Belle Isle" website to see for yourself.
And also note that Gilbert has a new development idea of his own, for a "world-class Epcot-like car attraction" in downtown Detroit, despite that the $80 million "Auto World" amusement park was an historic flop in nearby Flint back in the 1980′s when automobiles played a much more prominent role in humanity's collection of ideas about a sustainable planet. In a projection of his justified confidence in his ability to keep people distracted, Gilbert has swiftly rejected the Auto World analogy by way of a comparison to a fast food chain, so stay tuned.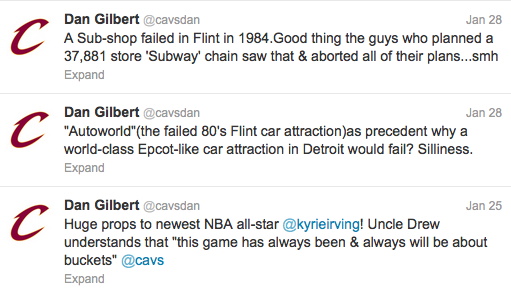 And Go Cavs. Go Kyrie. #getbuckets