Matt Borcas is a Mentor, Ohio native who recently emerged from a field of 4,000 competitors to land a job writing about the NFL for ESPN's Grantland. Matt's weekly Browns-centric column on the NFL Draft will run here all the way up to draft weekend and through its immediate aftermath. Enjoy!
—————
My first four Frowns columns were mostly thinly-veiled excuses to laugh at my own jokes or glean life lessons from Cleveland legends, but today's offering, is purely altruistic. Today, in a few scant paragraphs, I will put your kids through college, cover the mortgage for that Colinwood property you've been ogling, and back a Brinks truck up the driveway for good measure. In other words, we'll be examining Sportsbook.com's NFL Draft prop bets, where there's serious cash to be made.
Renowned biscuitologist Jimmy the Greek is credited with popularizing the Latin phrase "Carpe diem," which will be our official motto with these props. We must pounce now, before bookmakers arise from their hibernation and counterstrike. Of course, I am obliged to tell you that getting rich involves some risk of death, but in this case said risk is very low.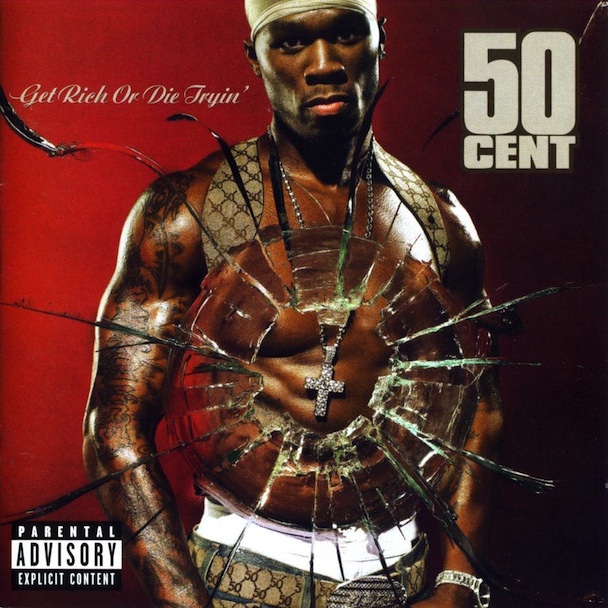 (Note: One unit is one percent of your Draft-prop bankroll.)
Matt Barkley draft position UNDER 32.5 (-200; 50 units)
If you believe in things like history, journalism, or data, betting (half) the house on Barkley to be picked in the first round is your surest path to lifelong prosperity.
HISTORY: We have to go all the way back to Y2K to find a draft that didn't feature at least two quarterbacks taken in the Top 32, and Barkley is universally regarded as the first or second best QB available. What's more, since the Homo sapiens left Africa, there have been no recorded instances of 32 NFL GMs consecutively passing on a highly-touted USC QB. And let's not pretend that the first round is solely reserved for the elite-est tier of elite QBs, lest we forget recent former first-rounders Tim Tebow, J.P. Losman, Rex Grossman, Patrick Ramsey, and of course, Brandon Weeden.
JOURNALISM: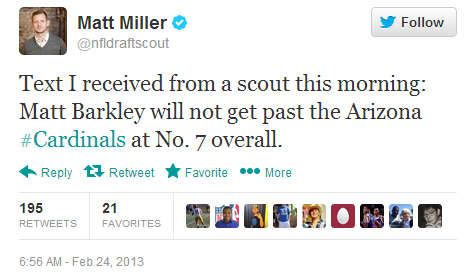 Additionally, in his clash with Daniel Jeremiah over Barkley's potential first round status, NFL.com analyst Bucky Brooks evokes Mark Twain and Joe Namath: "The reports of Matt Barkley's draft-day demise have been greatly exaggerated…There is no way Barkley falls out of the first round. I guarantee it." It's an argument that's based on there being "several teams in desperate need of a franchise quarterback and few options available on the open market," while arguments against Barkley's potential first round status generally hinge on criticisms of his game – i.e., whether or not he deserves to go in the first round, of course, immaterial to whether or not he will.
DATA: Walter Football has compiled every mock draft known and unknown to man into a convenient database, so send the man a fruit basket or something. I spent the last hour clicking on these links indiscriminately and found that most mocks slot Barkley in the first round – pencil me in for a 2014 Sloan panel already!
Geno Smith draft position UNDER 10.5 (-180; 25 units)
This is mostly a play on my belief that the Raiders will take Geno at No. 3, which seems self-evident once one considers that their alternative is Terrelle Pryor (o worse, Carson Palmer). If they shock the world and take a defensive tackle, Geno will still likely go in the Top 10, to the Browns, Cardinals, Bills, or a mystery team trading up. Also, don't discount the possibility of Geno-to-the-Jaguars at No. 2. Michael Silver reports of former first-round QB Blaine Gabbert acquiring an unflattering nickname in Jacksonville – "Blame" – as well as "internal knocks on Gabbert's intangibles and…concerns that he gets 'scared' under pressure." New Jags GM David Caldwell knows firsthand the benefits of starting fresh QB-wise – when he was Thomas Dimitroff's right-hand-man in Atlanta, their first draft pick was Matt Ryan.
Manti Te'o to be drafted between picks 11-20 in the first round (+400; 15 units)
In last week's Sports Illustrated (sorry, no link available), Peter King wrote that "the Ravens would love to take [Te'o], but he'll be off the board before the 32nd pick. Possible landing spots: the Buccaneers at No. 13 or the Giants at No. 19." Say what you will about PK, but he's as plugged-in to the NFL as I am to Cleveland sports radio legends. At +400, this is a steal.
Bjoern Werner to be drafted BEFORE Jarvis Jones (-200; 10 units)
Anyone who has bookmarked Cleveland Frowns for hot weekly takes on the NFL Draft is familiar with Jarvis Jones's frightening case of spinal stenosis, and as much as we admire him for overcoming the diagnosis so far, it's worrisome enough to have prompted "multiple teams to shy away from considering him, especially in round one." Meanwhile, a glance at Walter Football's aforementioned database suggests that literally every team in the Top 10 is considering Werner.
STAYAWAYS: "What round will Tyrann Mathieu be picked in?"; Cordarrelle Patterson draft position over/under 14.5
The sharpest bettors know when to avoid a prop, as enticing as it may be. Depending on which report you read, Mathieu will go in the second, third, or fourth round, and the odds (+200, +150, +220, respectively) aren't favorable enough to risk any units there. Similarly, I could see Patterson going to the Jets at No. 10, or falling out of first round altogether.
—————
Prospect of the Week
Between Ziggy Ansah, Werner, and our latest prospect of the week, SMU's Margus Hunt, the 2013 draft is brimming with exotic defensive ends. Hunt hails from Estonia, stands at 6-foot-8, 275 lbs., "is the former world junior record holder in discus throw," and possesses an entire Wikipedia section dedicated to his athleticism. He took up football in 2009 when SMU dropped track and field, and has since developed a freakish knack for blocking kicks. Hunt's awe-inspiring Combine performance solidified his status as a probable late first-rounder/early second-rounder, so chances are that he won't end up a Brown – sorry, Kanicki — but his highlight video remains a transfixing/terrifying watch.
—————
NEXT WEEK: We present the comprehensive Kevin Costner analysis Browns fans have been waiting for.