Matt Borcas is a Mentor, Ohio native who recently emerged from a field of 4,000 competitors to land a job writing about the NFL for ESPN's Grantland. Matt's Browns-centric column on the NFL Draft will run regularly here all the way up to draft weekend and through its immediate aftermath. Enjoy!
—————
In these days of pre-Draft angst, it's comforting to know that a perfect, if fictional, Cleveland Browns Draft lies on the horizon of 2014 theatrical releases. For the uninitiated, the movie is called Draft Day, starring Kevin Costner as the Browns GM, Dennis Leary as the head coach, and Jennifer Garner as the GM's love interest.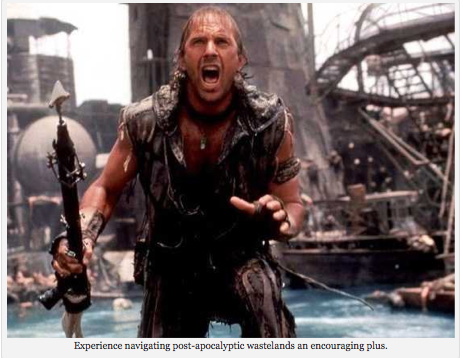 Co-screenwriter Rajiv Joseph described it thusly to Plain Dealer film critic Clint O'Connor:
It's a movie that takes place in one day. It's about the general manager of the Cleveland Browns. His professional and personal lives collide on the day of the NFL draft. He has these draft picks and he's trying to save his team, which is going down the drain. Not a big stretch for many Browns fans.
This is a noble project in theory, and not just because it'll presumably feature Garner strutting her stuff in a Women's Pro Line Trent Richardson jersey. For Browns fans, the Draft is at once an acknowledgement of the failures of previous years, an annual reprieve from feeling irrelevant, and most importantly, a wellspring of hope. That this wellspring hasn't run dry yet in Cleveland since '99 is just one obvious reason why this warrants big screen dramatization as much as anything in this cold world. The Draft (not drafting, mind you) is what Cleveland does best.
Yet despite all this, its impossible to tune out the skeptics, such as this website's proprietor, who reduced the concept of the Draft Day film to mere "ridiculousness" in a terse email in response to my proposal for this column. The problem being, of course, that this is also big budget Hollywood sports fiction, so we know how it'll end: happily ever after, with a middle finger shamelessly extended towards reality. And worse, a reality that's inflicted such unimaginable pain on so many. Could fiction possibly have anything to add to the truth here? Could this film possibly attempt to mirror the front office ineptitude that's plagued Berea since 1999? Well, if it doesn't, it's surely doomed, so here's a semi-comprehensive list of indispensable plot points to help save Costner from another Waterworld-type debacle:
Costner feuds with the team President – and wins. This conflict will comprise the first quarter of Draft Day. Costner and the President will be diametrically opposed on first round strategy, to the point where the Pres. finds it necessary to fire him. Team Owner sides with Costner, and history moves on.
Costner sends profane email to a fan. Perhaps unseating the President was too much of a confidence booster for our antihero. Fans have every right to question a GM's decisions, especially a Browns GM, but that's not how the nose-thumbing Costner sees it. So when he receives an innocuous email urging him to trade up for the Draft's top QB prospect, his innards boil with rage. My inbox isn't a damn suggestion box, he'll seethe, and promptly fire off an ill-advised reply imploring the fan to, among other things, "go root for Buffalo!" (Note that there was only one other team in the running as the subject for this film.) Fortunately, Deadspin won't get ahold of the email until Day 2, so we can save the fallout for Draft Day II: The Second Round.
Costner has a substance abuse problem. What good character doesn't? For obvious logistical reasons, this can't result in a mysterious mid-movie dismissal, but it can at least be something that local shock jocks pay cloying reference to on a far too regular basis. Moreover, this will cause Costner's romantic strife with Garner. (Remember, co-screenwriter Joseph ominously referred to his "professional and personal lives [colliding].") The payoff here won't just be dramatic, but also history's first Oscar for an inanimate object.
Costner is hated by the local beat writer, shielded from the public eye by top men, glorified by a prominent WASP, and possess a suspect track record. Just to keep the plot current and interesting.
Costner botches the trade. This is how IMDb sums up Draft Day: "The manager of an American football franchise struggles to acquire the number one draft pick for his team." There's only one way for this thing to end.
_ _ _ _ _
FRIDAY: With the Draft just two weeks away (!), we shift back to nonfiction.