"I think twice about the big bow tie. You wearin' one? I wanna know why." — Kool Keith
—————
Dan Gilbert's private jet: Where dignity and diversity go to die.
Here's the entourage that the Cavs owner shuffled to New York City to represent Cleveland at his third annual NBA draft lottery party on Tuesday. If you're counting, that's at least two morning drive-time sports talk radio hosts, one celebrity chef/burger chain owner who sells a lot of sandwiches at Quicken Loans Arena (and advertises heavily with one of those radio hosts), and one locally based rapper who sold the Cavs an intro song and headlines his Instagram page with an ode to masturbating in airplane bathrooms.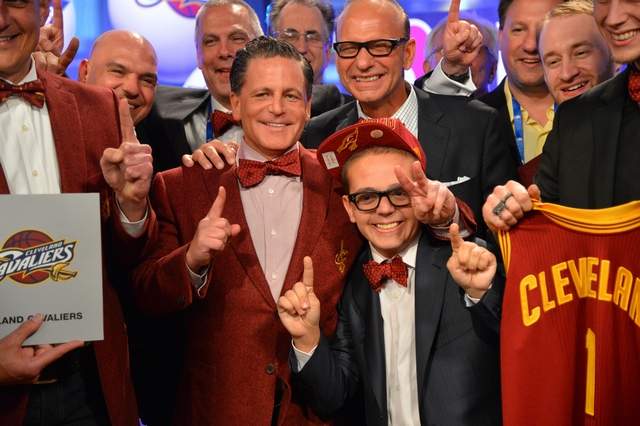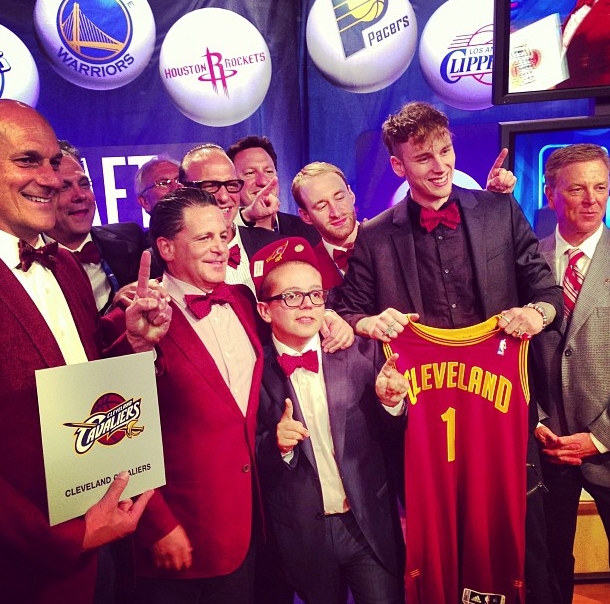 And here's Grantland's Zach Lowe with an incisive and charitable first-hand account of how, "it has been a little off-putting over the last three seasons to watch Cleveland turn a loser's event into a ritualized frat party."
Of the Gilbert contingent's explosive lottery room celebration that erupted when it was announced that the Cavs had won the first pick, Lowe explains:
You'd normally reserve that expression to praise someone who had completed a difficult task — for a job well done, or the culmination of hard work, practice, and the honing of skills.

The Cavaliers were going bananas over their ability to lose an incredible number of NBA games and then perform well in a contest that involves sitting in a chair while watching officials suck Ping-Pong balls out of an air pressure machine.

It was all in good fun, I realize, and winning the no. 1 pick is a thing worth celebrating. But it has been a little off-putting over the last three seasons to watch Cleveland turn a loser's event into a ritualized frat party. There just aren't many teams who would react this way, for a variety of reasons. Some are more buttoned-up and business-oriented. Some are legitimately ashamed to be there, or at least sad about it. And some have handed control of things to analytics-oriented people who understand and internalize the idea that the lottery is really a very silly random drawing based on set probabilities. It's just math.
Of course it's better to win the NBA lottery than not to, but in a world where energy is limited, why release any more than the absolute minimum of yours celebrating a win like this that you did absolutely nothing good and only anything bad to "deserve"? It's like celebrating receiving a welfare payment, but much worse, because the NBA is exponentially more fair than real life. Why not keep the fire burning at full steam, and save the party for a day when you have something legitimate to celebrate? Of course it's easy to understand why "there just aren't many teams who would react" to the NBA lottery like Gilbert's Cavs do.
But naturally, Lowe's column provoked an avalanche of response from offended Cleveland fans. "We've been through so much. We never win anything. Can't you just let us enjoy this one? Anyway, this only shows how much Gilbert loves Cleveland, and how passionate he is about bringing us a winner."
Which is fine on the surface, if only from the fan's perspective. It's important to have hope. But the more important issue here is with respect to where that hope should be invested. And the deeper questions, ones that a writer in Lowe's position is only permitted to hint at, are about an owner who so aggressively and enthusiastically courts such an emotional release from his fanbase over an event as ignominious as the draft lottery.
What could it possibly say about how much Gilbert "loves" Cleveland, or how "passionate" he is about bringing Cleveland a winner, when he's only ever done anything that any vain billionaire could do? Any vain billionaire could have written a nasty letter to flame up hatred for LeBron. Any vain billionaire who owns an NBA franchise could "earn" a high lottery pick for three years in a row. Any vain billionaire who owns an NBA franchise could make a scene by flying a bunch of pocket celebrities to the draft lottery.
And when Dan Gilbert does these things, it only strengthens the worst inferences about a budding casino magnate who rose to riches selling mortgage loans before the housing bubble popped. Inferences about people who think it's more important to "win" and have things than it is to say or do the right things. Inferences about people who crave power over anything else, and inferences about a leader's deepest priorities, and how those priorities affect his management of limited resources. Inferences that explain why some people are more hard-wired than others are to "turn a loser's event into a ritualized frat party."
And that also explain why NBA stars Kevin Love (a widely rumored trade target of the Cavs) and Damian Lillard, representing their teams in the lottery room, strained to repress their laughter at the Cleveland contingent.
—————
Go read all of Lowe's piece, especially on Love and Lillard. And you won't want to miss Tony Rizzo's candid explanation of how there's hardly such a thing as paid local sports journalism in Cleveland. Only "partners"/fans/game show hosts.