Yes, the Indians have won 9 of their last 10 games, they lead Major League Baseball in home runs, they're second in OPS, and with a recharged roster and a manager that's as good as a ballclub could ask for, sit three games above .500 after a slow start, legitimately the hottest team in the game. But that doesn't mean CBS's Jon Heyman or anyone should be so mystified about the fact that the club has been the worst draw in the league by far, more than 20% behind the second-worst drawing team in Kansas City.
"What's the deal with the Indians?," Heyman asks. "Their inability to bring in crowds is quite perplexing, really."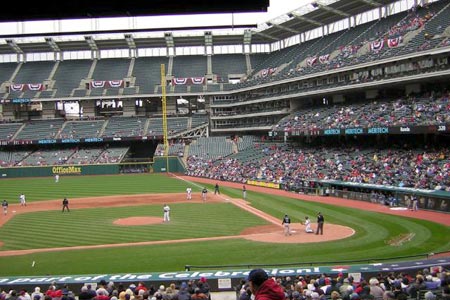 Heyman isn't the only one, of course. Log into your favorite social network, and you're sure to find expressions from Tribe fans — even ones who don't live within driving distance of the ballpark — running the gamut from concerned, to "perplexed," to angry about the club's attendance numbers.
The icecaps are melting, the social safety net is disappearing, child poverty and infant mortality rates in the world's "richest" country are climbing, news media has been choked to within an inch of its life by advertisers, and the government has effectively completed its abdication to lobbyists for all the worst things. The only people making any real money at all (aside from the ballplayers) are the ones who are melting the icecaps, and damn it, why won't the rust belters at ground zero of the home mortgage crisis spend more of theirs on baseball tickets and expensive beer and junk food?
Tribe Town, everybody. Don't you see how much fun Nick Swisher is having out there?
While there must be some causal connection between the general state of things and these not-at-all perplexing attendance numbers of which Cleveland should be legitimately proud, there's also the old gratingly obvious baseball related explanations that help prove that we're not all quite brain dead yet here on the banks of the Cuyahoga.
Of course, the absurdly tilted economic playing field of Major League Baseball is still the absurdly tilted economic playing field of Major League Baseball, no matter what the Indians manage to accomplish against odds this season, and no matter how many folks like Heyman act on their incentives to convince you to ignore that. We're still talking about a league where the richest teams have the support to routinely outspend their small market competitors by multiples; one where the last 21 World Series since the Cincinnati Reds title in 1990 have been won by a team from a media market (with a TV contract/revenue base) bigger than Cleveland's. And we're still talking about a city that has lost every single home grown baseball star it's ever had (including Albert Belle, Jim Thome, Manny Ramirez, C.C. Sabathia, Cliff Lee, and Victor Martinez), with little to no hope of keeping any of them.
The likelihood that this season represents a peak in the ballclub's small market "contention window" certainly can't be lost on Clevelanders, who know that Mark Reynolds, Ryan Raburn and even Scott Kazmir won't be coming back next year if they maintain anything close to their current production. Joe Smith will be a goner, too. And by the end of next season, the club will have also lost its staff ace (Masterson), its closer (Perez), and its All Star shortstop (Cabrera), among who knows what else.
It's going to take a lot more than an early season run, or even a late season run to get over all of this, and under the circumstances, the Indians' attendance figures are actually among the least perplexing things in the world. For folks like Heyman and others in the media to suggest otherwise is thoroughly ignorant at best, and dishonest at worst (if you're paying more attention to baseball, you're paying more attention to baseball media, too, of course), a failure any way it's cut.