Exactly one year ago tomorrow, two different Plain Dealer reporters went on two different 92.3 WFAN programs to talk about how Pat Shurmur was a new man with a new attitude. And they made two different Cleveland.com posts about it.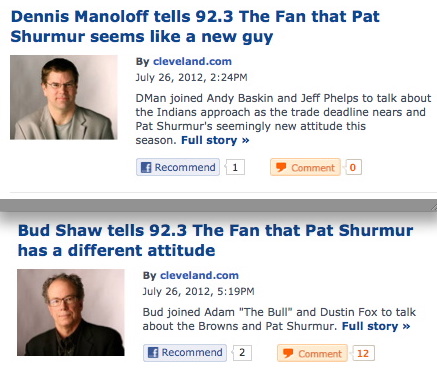 Of course, last summer we were also told by the Plain Dealer that Mike Holmgren had the Browns "at the verge of winning." And we heard reports about a "bright new era" to be ushered in by a 29-year-old rookie quarterback who'd go on to play his position as poorly as anyone in the league last season, with "an arm strength not seen around these parts since Derek Anderson, but the smooth touch on short passes that Anderson didn't possess," a ball that "came out quickly, effortlessly, with a spin so fast it was barely perceptible."
Which was all less than a year after we heard that Colt McCoy was going to excel in Shurmur's system and lead the Browns to a Super Bowl within 5 years.
Which is just a pre-training-camp reminder that the primary jobs of the Plain Dealer sports page and the local sports talk radio stations are to sell Browns tickets and bee pollen pills, and of course to keep us all as stupid as possible.
This message has been brought to you by Joebees: Can't live without 'em, don't even try. Hope everyone continues to have a great summer.