So far this season the Cleveland Indians are undefeated playing in uniforms on which Chief Wahoo is not displayed. On Saturday, Cleveland's Major League Baseball team wore 1902 Cleveland Bluebirds (or Bronchos) replica jerseys, and beat the Kansas City Royals 5-3.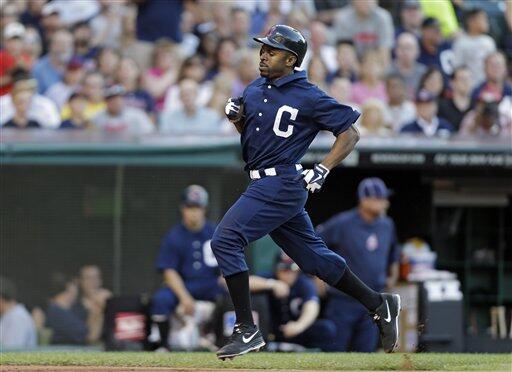 The team was named Indians in 1915, in the wake of the Indian Wars, as a nod to the notion of Natives as anachronistic savages by sportswriters who were nostalgic for the sensationally brutal racism to which Louis Sockalexis was subject when he played 96 games for the Cleveland Spiders between 1897 and 1899. Sockalexis was the first Native American to play Major League baseball, and an alcoholic who is said to have ruined his career by jumping from a second-story window of a whorehouse. The Chief Wahoo logo was added to the uniforms in 1946, at the height of the Jim Crow era, after Hitler had figured out that if you showed folks enough pictures of a race of people looking like something less than human, it would be easier to get away with treating other races as less than human.
Major League Baseball is at least embarrassed enough about the Chief Wahoo logo that it wouldn't sell Wahoo caps at this year's All-Star Game. And they won't print Wahoo stars and stripes caps either, which is a lot like saying that murder is OK as long as you don't rape the dead bodies on a parade float afterwards. But in any event, Indians team President Mark Shapiro confirmed last April that "Chief Wahoo isn't going anywhere," because what the Indians franchise "choos[es] to do is celebrate, you know, Louis Sockalexis and and his history and tradition with the Indians and, and not to focus on uh anything that we would view, that, you know, anything that we don't view and certainly don't want to put, uh, be offensive to anyone." Really, that is exactly what Shapiro said.
And thanks to the most righteous curse in the history of sports, the Curse of Chief Wahoo, it's been forty-eight Major League Baseball seasons, forty-three NBA seasons, and forty-five NFL seasons since 1964, the year the Civil Rights Act became law, and the last time a Cleveland team has won a championship in any of these leagues.
Saturday's was the only game this season in which the Indians have played in uniforms on which Chief Wahoo is not displayed. In their other games this season, the Indians have played just well enough that they won't trade inevitably departing stars for prospects at the trading deadline. The trade opportunities that they will forgo at the trading deadline will be the precise trade opportunities that will cause the maximum possible amount of hindsight-based fan grief as far into the future as the Curse of Wahoo's reign will stretch.
This has been your midseason update on Major League Baseball and your Cleveland Indians. An article about how Jimmy Haslam causes earthquakes is here. Hope everyone continues to have a great summer.