"The local press seems to think that we'd save everyone the time and trouble if we just went out and shot ourselves. Me, I'm for wasting sportswriters' time. So I figured we ought to hang around for a while and see if we can give 'em all a nice big sh*tburger to eat." – Champion Cleveland Indians Manager Lou Brown
—————
If you need to get something done in this town, you can do worse than by calling in an Ignatius man. An impossible nineteen starting quarterbacks for the Cleveland Browns since 1999, and Brian Hoyer ('04) is only the second one to win in his first game taking the snaps.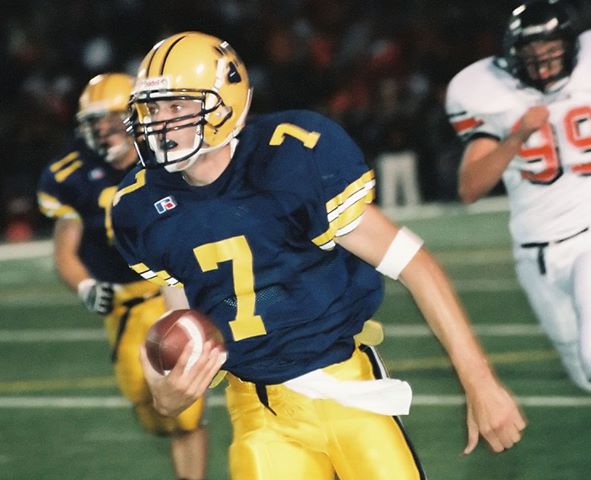 Yes, he made a pair of especially terrible throws, but after his first half Joe Montana act, a thinking man's Charlie Frye was good enough for a 31-27 win in Minnesota that marked the best Browns gameday by far since 2010. Sound the trumpets. Today is Victory Monday.
More on Hoyer below, but how about the whole damn team? The players and coaching staff pulling together for a road win with a career third-string quarterback making just his second NFL start, seven-point underdogs and a roaring national punchline after a week as tumultuous as an NFL locker room will have apart from suffering the loss of a human life.
Some folks pointed out last week, in the wake of the historic Trent Richardson trade and the decision to start Hoyer over presumptive second-stringer Jason Campbell, that the physical nature of the game of football makes it impossible to really "tank" a season for a top draft pick in the way that, say, a basketball team can. And beyond the physical, what kind of toll would it take on an NFL organization's culture if the coaching staff and players weren't always fully engaged in an effort to win games, no matter what the perceptions of the front office's objectives. Yesterday's game made it especially easy to see that there's a big difference between quitting and punting. Sometimes, plenty of times, punting is exactly the right thing to do.
Like with the front office's decision to punt on the Holmgren regime's idea that Brandon Weeden could be a starting quarterback for an NFL contender. Brian Hoyer didn't just lead the Browns to a win yesterday with a game winning two-minute 55-yard touchdown drive on his team's last possession. He also helped show how replaceable Weeden is, and how refreshing it can be when a quarterback consistently manages to get the ball out of his hands on time. At this point, there's no reason to view the front office's master plan as anything but good, if not perfect, sense, per what Joe Banner said himself after the draft last April:
(On if the plan all along was to improve the defense in free agency and the draft)- "Yeah, to a degree. We were trying to focus on making sure we got players that we thought made us better. I think the difference is on offense we think we have a lot of young guys who are not quite sure what they are going to be over time. So we were inclined to give them some time and see how they develop and then we'll be able to identify where we're at. On defense, we felt it was clear to identify what talent was out there, what talent we had, match it up with the philosophy we've been talking about and make some moves that will make the team better. It was a little bit of both."
So, sure. As wholly illegitimate and perfectly loathsome as the Holmgren regime was, it wouldn't have made any sense for Banner and Co. to just burn the whole thing down once they got here. Save some cap space and roster flexibility, and give your staff a chance to take the kids through a training camp, see what they look like on game day first.
And all the better if at the same time you can take decisive action to create a legitimate strength. Again, it's been more than a full decade that the Browns have played without more than two players at the same time who would even get snaps in the Ravens or Steelers front seven. Now the defensive front is legitimately dominant. Jabaal Sheard and John Hughes blowing up the Vikings backfield all day like Pro Bowlers. Mingo eating all of the babies. A first ballot Hall of Fame running back in his prime was kept fully in check (just 88 yards on 25 carries for Adrian Peterson, who didn't have a run longer than 9 yards).
So my daughter is laying here under me and just out the blue she says… I can't believe you lost to the Browns Daddy! Smh

— Adrian Peterson (@AdrianPeterson) September 23, 2013
Maybe the Browns don't win another game this season, but after yesterday that seems doubtful (thanks in no small part to the return of the electrifying Josh Gordon, as well). And it might even be safe to say that they'll play watchable football with some measure of consistency through December. As in 2010, a sensible long-term plan that's at least somewhat discernible only enhances the watchability here, and this — by any measure dating back to 2011, at least — is progress. It's getting harder not to see a 2014 surge on the horizon, and the roster should be comparable to if not much more complete than the one that Andrew Luck joined in 2012.
Stock your pantries, hang on to your gasmasks, and check the fine print on your rebate plans because Cleveland Browns football is on the up.