Detroit's bankruptcy trial got underway in federal court last week, with lawyers for the city's various thousands of pensioners challenging the city's right to vaporize some $3.5 billion in fully earned and unpaid retiree benefits. The pensioners argue that Michigan state law prohibits cutting public pensions, and that the pension obligations should be prioritized in clearing Detroit's historic mess.  They also claim that Detroit's appointed "emergency manager," Kevyn Orr, failed to negotiate in good faith with creditors — that "bankruptcy was a forgone conclusion" to Orr, whose intent from the start, they say, was to slash the retirement accounts.
While there might still be at least a sliver of hope that Detroit's retirees and municipal workers come out in tact here, it's hard to think that things will unfold as anything but another chapter in the developed world's 50-some-year run of prioritizing the interests of billionaires and bondholders' returns over the well-being of citizens in times of crisis. Naturally, Detroit's business leaders "overwhelmingly" support the discharge of the city's debts in bankruptcy, including Cleveland's favorite naked emperor, Dan Gilbert, owner of the NBA's Cleveland Cavaliers and billionaire housing-bubble profiteer cum international casino gaming magnate, who also happens to be the second largest landowner in Detroit behind General Motors.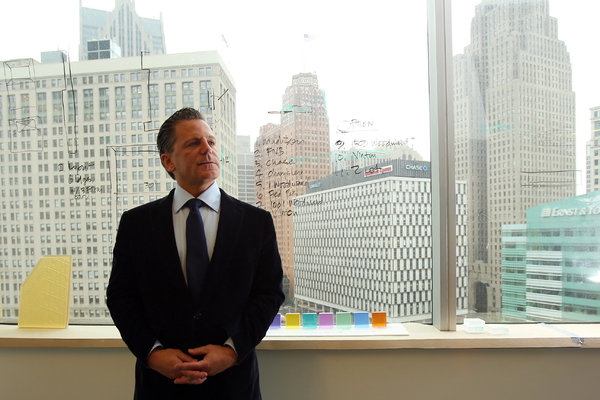 "As hard as that is to sort of suspend democracy, for a short period of time if you will, my view is, let's get it over with," Gilbert told NPR's Morning Edition. "Let's get it done. Let's stop talking about it [and] go through the pain and then move forward, and I think it will fade into the background."
A jaw-dropping statement, even for Gilbert, given that exactly none of all this pain that he's urging Detroit to get on with will be suffered by Gilbert himself.  While the vast majority of the country continues to feel the pain of the worst economic conditions since the Great Depression, Gilbert's wealth has exploded to $3.9 billion from $1 billion since 2008, while he's continued to buy up land on the cheap in Detroit and elsewhere like a real life Uncle Pennybags. NPR's Quinn Klinefelter explains that, "Gilbert is betting that [bankruptcy] protection will allow Detroit to get out from under its crushing debt load and pour money back into city services, which would help make his investments pay off."
So imagine how Gilbert must have racked his brain to arrive at his "thought" that the pain of $3.5 billion gone missing from working class pensions "will fade into the background" if Detroit just "gets it over with." Notably, this statement came just a week after Gilbert explained that a 60 Minutes piece on Detroit missed the real story behind the largest municipal bankruptcy in US history, which, according to Gilbert, is "a city's soul that will not die."
Expected more of @60minutes. Is a 'me too' story of mostly 'ruin porn' news? A city's soul that will not die was the story & they missed it

— Dan Gilbert (@cavsdan) October 14, 2013
Which might sound rather vague unless one considers what it would have sounded like had Gilbert been any more clear. "Detroit's soul," Gilbert would have us believe, is not the working class folks whose retirement accounts are about to vanish. It's not the municipal workers who provide or have provided the city with essential services, and it's not the 99% of the town that's been bombed out by globalized industry. The "city's soul," according to Gilbert, is the emerald lane that he's carved out downtown, where he employs a couple/few thousand people almost entirely in the business of collecting rents or otherwise transferring wealth upward while creating no discernible sustainable benefit at all to humanity-at-large.
That's the part of Detroit that Gilbert wanted 60 Minutes to focus on, and that's what he wants the bankruptcy court to focus on. These are the people in town who are getting paid. The better they do at their jobs, the fewer of them will continue to get paid, of course, but at least they're not the rest of Detroit, which might as well just die so that we can get enough cops and firemen back on the job to protect the city's real soul – i.e., the part of the city that Gilbert owns.
"As hard as it is to sort of suspend democracy," it's an outrageous laugh to think that any real democracy would have ever landed us here in the first place.
Another season of Cleveland Cavaliers basketball tips off in just two days. Grantland ranks this year's team as the eighth most watchable in the league so you better pay attention.