"It didn't feel like the playoffs." – Brian McCann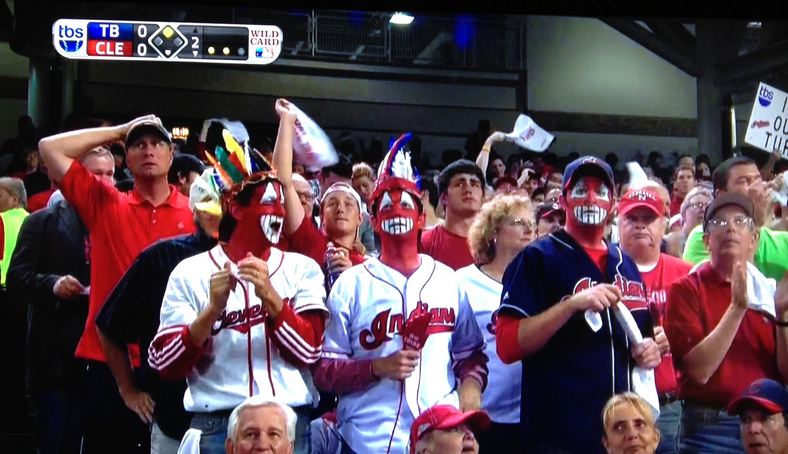 With the Cleveland Indians' inevitable playoff collapse complete (could have been worse!), we may now soberly appreciate just what a cynical cash grab the MLB's one-game Wild Card "Coin Flip Game" is. Of course, 150+ years of baseball history has taught us nothing if not that "a single game between two playoff-caliber teams is essentially meaningless in determining the relative quality of those teams." But two more "playoff" teams each season means that a few more ballparks like Progressive Field can be filled to 30% capacity instead of 10% capacity in any given September, and a couple more of Bud Selig's clients can sell their fan bases on the deep meaning of October baseball. At least for a few extra days.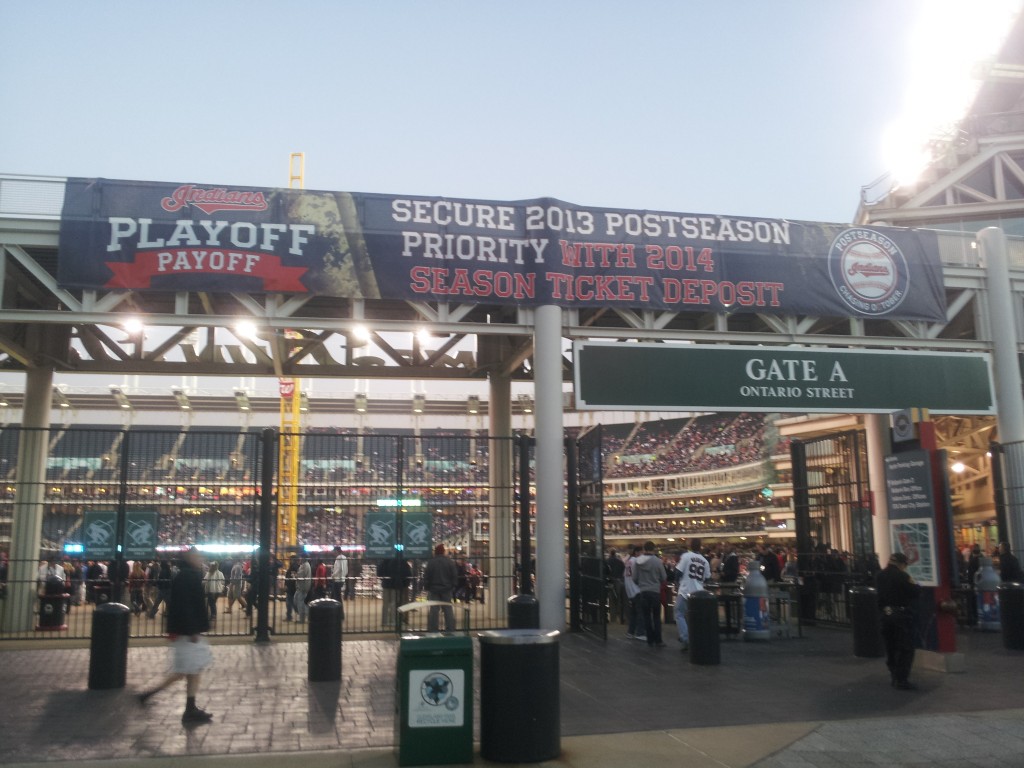 Get your tickets while you can. You wouldn't want to miss anything really great.
Gotta love the new sign going up in Gateway Plaza now. #TribeTown pic.twitter.com/ApBAMkb2zy

— Mark Shapiro (@MarkShapiro) October 1, 2013
Imagine if there was a Tribetown that really did live for October? What a depressing hellhole that place would be. Imagine if the local MLB franchise's marketing department could do better than flag-waving declarations about how everyone in town is supposed to be living for something that the franchise can hardly deliver. Baseball season is over in Cleveland. What exactly is Tribetown supposed to be living for now?
Next year, of course! There will always be that. Here's hoping the Indians get to play one-third of their schedule every year against three teams as godawfully horrendous as the 2013 White Sox (99 losses, 18 of them to the Indians), Twins (96 losses, 13 to Cleve), and Astros (111 and 6). This season the Tribe was 55-62 against everyone else, so we might at least find some solace in the probability that the right team won last night's coin flip.
But even if next year's schedule is just as weak, the front office still has plenty of work to do to maintain Cleveland's status as a coin flip contender. Two-fifths of the starting rotation will be lost to free agency, the bullpen will have to be completely reconstructed, the lineup lacks a legitimate All-Star bat as ever, Nick Swisher and Michael Bourn – overbought free agents who capped respective underwhelming seasons with respective 0-for-4's last night — won't be getting any younger or cheaper, and MLB's tilted economic playing field will still let teams like this year's top World Series contender, the Dodgers, spend more than three times what the Indians do on baseball players. When signings like Swisher and Bourn don't work out, it will still hurt the Indians three times as much. Even the very best front office and coaching staff could only do so much under these circumstances, even apart from Wahoo's Curse.
No red shirt, No problem. #RockYourRed #BeatTampa pic.twitter.com/Pp2e7dQlrO

— Cleveland Indians (@Indians) October 2, 2013
On the bright side of all this, though, at least Hitler's favorite baseball team won't be mucking up any more of this year's playoffs with things like grown-ass men wearing redface in public and the most popular badge of obliviousness to illegitimate privilege known to man. Tribetown lives to mock the genocide of America's indigenous people while the planet burns. And the most righteous curse in the history of sport lives on and on and on. 49 years and counting. They're still shitty.
And it's still October in Tribetown, for 28 more days. Browns v. Bills tonight, and the puck drops on a new season of Lake Erie Monsters hockey tomorrow.