The Cleveland Indians made national news a couple of weeks ago by jamming a question about their trademark Jim Crow/Third Reich relic Chief Wahoo into the middle of an otherwise run-of-the-mill marketing survey posed to fans.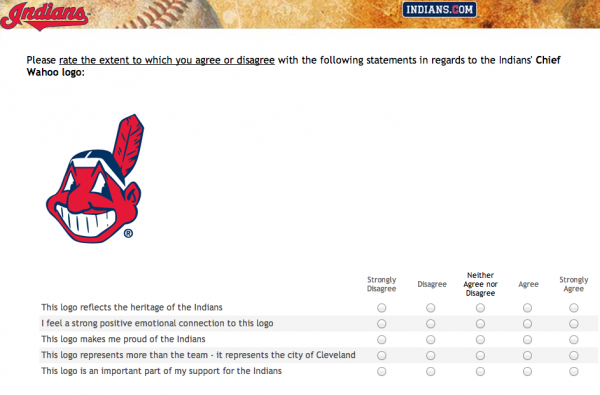 "Please rate the extent to which you agree or disagree with the following statements in regards to the Indians' Chief Wahoo logo," the survey asks, presenting its subjects with the following five propositions of varying absurdity and thorough irrelevancy to the question of whether Chief Wahoo has a place as a symbol of anything decent in 2013:
This logo reflects the heritage of the Indians
I feel a strong positive emotional connection to this logo
This logo makes me proud of the Indians
This logo represents more than the team – it represents the city of Cleveland
This logo is an important part of my support for the Indians
The decision to poll fans about the logo is apparently in response to an unprecedented wave of negative public opinion against the use of Native American imagery in sports that reached a new apex when President Obama recently spoke out against the NFL's Washington Redskins name. But in a nation that will shut itself down before abiding duly enacted laws proposed by a black President, it can be hard to muster excitement about what might happen in response to that President's opinions on sports logos. And as much as folks might want to believe otherwise, it's hard to see the Indians' survey on Wahoo as anything but a cynical excuse grab right out of Redskins owner Daniel Snyder's playbook.
"An overwhelming majority [i.e., 'majority'] of Washington fans still support the [Redskins] name," Travis Waldron points out at Think Progress, "and whenever the debate escalates, Snyder runs to them for protection and affirmation, whether through polls or focus groups or long, fact-free letters to season ticket holders." Of course, Snyder has stated in no uncertain terms that the Washington football team will "NEVER" change its name on his watch, and as recently as last April, Indians President Mark Shapiro affirmed the last public statement of club owner Larry Dolan on the issue when he explained that "Chief Wahoo isn't going anywhere." So while the Indians' recent survey might appear to represent incremental progress on this issue, it remains quite clear, as Waldron notes, that "until Cleveland quits listening only to people whose opinions they already know (and maybe prefer) and starts acknowledging the people who have good reasons to have real problems with the Wahoo logo, they're never going to truly change."
Craig Robinson of Flip Flop Fly Ball made a graphic showing that Chief Wahoo appeared on the Indians' caps in 100 of 163 games last season (Note that it remained on the uniform's sleeve for 162 of them.). And while one might want to be encouraged by the club's apparent decision to drop Wahoo from spring training uniforms, Curtis Danberg, its VP of Communications, recently confirmed that "spring training [in Arizona] is a different animal," because, unlike Cleveland, there's actual Native Americans there, evoking a criminal who's proudly smart enough to keep from committing any crimes while anyone is watching.
Finally, if it's not already hard enough to believe that the organization is interested in effecting any meaningful change on this issue, here's a letter from Indians VP of Public Affairs, Bob Dibiasio, sent on October 21, just two days before the fan survey was published, in response to a letter from lifelong Indians fan Stephen Rose (Rose's first letter can be viewed here at Cleveland.com, and his reply is posted just after Dibiasio's below):
"We believe once the historical significance as to how and why the Cleveland baseball team became the 'Indians' in 1915 is understood," Dibiasio writes (again!), "we feel you will agree the name honors our connection to Louis Francis Sockalexis, the first Native American to play professional baseball."
"The Chief Wahoo logo, meanwhile," Dibiasio adds, "has enjoyed many decades of fan appeal for Cleveland baseball fans and because of its longevity, our fans view it as an integral part of team history and part of their emotional connection with the team."
So not only do the Indians really not care about your opinion on Chief Wahoo, they're already perfectly comfortable assuming your conclusions. There's no reason at all to think that a marketing survey will help an organization that continues to insist on pushing a thoroughly risible lie about a Native American ballplayer who was famous mostly for the sensationally brutal racism he endured while logging 367 at-bats with the Cleveland team in the 1890's before he shortly drank himself to death. And Cleveland's Major League Baseball logo remains firmly established, along with slavery, patriarchy, and the divine right of kings, on history's list of things most fervently justified by appeals to tradition, longevity, and emotional connection.
Notably, the organization's survey did not include any questions about its name, itself the direct and inextricable legacy of Christopher Columbus, a mass murderer who employed torture for sport and sold ten-year-old girls into sex slavery without compunction. Cowardly "phase-out" of Chief Wahoo or not, a Major League Baseball club called the "Cleveland Indians" will remain an inexcusable embarrassment.