Last Friday evening, popular morning show host Tony Rizzo of WKNR-AM 850 ESPN Cleveland radio's "The Really Big Show" was arrested by Medina Police on charges of domestic violence after his wife, Katherine Rizzo, called 911 to report as follows:
"My husband is hurting me, and he's very irate and I'm really scared," said Mrs. Rizzo to the 911 dispatcher.
The dispatcher asked, "Hurting you how?"
Mrs. Rizzo replied, "Choking me, hitting my face. I'm locked in the bathroom right now."
Mrs. Rizzo went on to explain that the couple had been drinking, that there was a gun in the house, and that Mr. Rizzo "was beating on the [bathroom] door, but he left when he heard that [Mrs. Rizzo] was calling [911]."
From there, Mr. Rizzo was shortly arrested and the below mug shot was taken. A full transcript and audio of the 911 call are available here.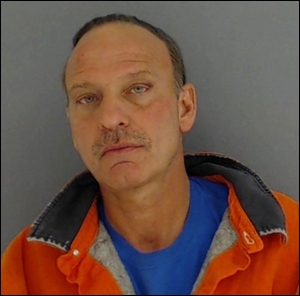 On the following Sunday morning, Rizzo, who reportedly informed his employers of his arrest "right away," appeared on the radio for his Browns pregame duties as if the incident never happened. He did the same on Monday morning for about two hours on "The Really Big Show" until television station Fox 8 Cleveland (WJW) — Rizzo's former employer and current host of his weekly sports-themed variety show — reported on the charges at approximately 11 AM. This led to what Kevin Kleps of Crain's Cleveland Business called "an odd final two hours of [Monday's program]."
At the time the story broke, Rizzo happened to be on the air with hugely popular ex-Browns quarterback Bernie Kosar, who over the last year has been the subject of a number of reports about his struggles with an apparent substance abuse problem, including an arrest for DUI. So Rizzo conveniently alluded to Kosar's experience with having his own personal problems come under public scrutiny, before going on to make a joke about a local law firm that sponsors "The Really Big Show," then explaining to his listeners that he "didn't do anything wrong," and that he would be back on the air the following morning.
Later that day, WKNR's owner, Good Karma Broadcasting, issued the following statement to various press outlets by email, that has since been repeated several times on the air by WKNR personnel, including by Rizzo's co-host, Aaron Goldhammer:
"We don't believe it is appropriate to comment on Tony's personal life. Tony is an exemplary teammate and member of the community, and his status with us is unaffected."
In claiming that it can't "comment on Tony's personal life," the station mainly insults its listeners. Rizzo, for better or worse, is one of Cleveland's most high profile public figures. He's been arraigned on allegations that are public record and that would, if true, reflect significantly on his credibility as well as that of his employer and sponsors.
But worse, Good Karma's statement of support for Rizzo is necessarily an accusation against Rizzo's wife. Of course, if Mrs. Rizzo's allegations are true, then Tony absolutely is not "an exemplary member of the community," and almost certainly isn't "an exemplary teammate" either, at least to the extent that this "team" wants to maintain credibility on basic principles related to whether a decent man is one who beats up on women. While it's true that Tony is innocent until proven guilty, that absolutely does not mean that his wife should be presumed a liar, as convenient as it might be for Rizzo's employers, sponsors, and some of his listeners to believe otherwise. By making such an unequivocal statement of support for Mr. Rizzo, his employers/partners at Good Karma are saying either that they don't care whether his wife's allegations are true, or that they somehow know for a fact that the allegations are not true, and that Mrs. Rizzo was lying when she called 911. So we're talking about a statement against an alleged victim of spousal abuse that's somewhere between thoroughly repugnant and almost completely incredible, which explains why a few local media-types have reacted with skepticism to Good Karma's response to the charges.
Maybe there's a chance that WKNR management could be in a position to know for sure that Rizzo's wife was lying when she called 911 on Friday night, but it's hard to imagine what secret facts could give rise to such certainty on the part of anyone who wasn't in the house with the Rizzos on Friday night. So at this point it has to be considered at least as likely if not considerably more so that Good Karma and ESPN Cleveland are just rolling the dice here in hopes that Rizzo's wife will refuse to testify against him (as commonly happens in domestic violence cases), or that Rizzo is otherwise acquitted or able to reach a deal with the Medina County Prosecutor to plead to lesser charges, or just that enough of Rizzo's sponsors and listeners will soon forget about the whole thing however it plays out.
As for why else Good Karma/ESPN Cleveland would default to victim blaming instead of simply issuing a neutral statement that mentioned the seriousness of the charges and the sanctity of the legal process (let alone a suspension with pay until the legal issue clears up), it's easy enough to follow the money. It's an open secret that Rizzo's "Really Big Show" is the most profitable sports radio programming in town, as confirmed by the prodigious amount of advertising that gets packed into the show's daily four hours. Rizzo has reportedly been granted an equity stake in the radio station and when three longtime WKNR personalities were recently terminated, folks wondered whether there was enough cash to go around at ESPN Cleveland. As noted by Ohio Media Watch this week: "Rizzo is very clearly the MVP at [WKNR], and very much the Glue That Holds ESPN Cleveland Together. In a battle for sports talk supremacy with CBS Radio sports WKRK/92.3 'The Fan,' it appears Good Karma can't do without Rizzo for any lengthy period of time."
It's certainly true that nobody in town shills like Rizzo does. As hard as it might be for WKNR to replace his abilities as a tuning fork for Cleveland sports fan's lowest common denominator, it would be impossible for them to find someone else with Rizzo's preternatural enthusiasm for selling aspiring Medina Country Club members on bee pollen pills as the secret to everlasting health and wellness. Journalism-slash-entertainment is one thing. An advertiser-driven cult of personality is another.
So, sorry Mrs. Rizzo. Your husband might have beaten you up but the show must go on, and it must go on with your husband as "an exemplary member of the community." Which means that we have to presume you to be a liar from the start.
On the air yesterday, Tony proudly announced the continuing support of his sponsor Joebees — purveyor of "'Total Nutrition' necessary for living a long and healthy life" in the form of "100% pure and natural bee pollen" — and explained to his listeners that Joebees pills were what was going to get him through his ordeal with the domestic violence charges.
There's no telling yet as to exactly how many of Rizzo's other sponsors will stay part of this wagon circle. And no word as to whether the Cleveland Browns, who can presumably afford to do without Rizzo for at least a few weeks, will continue to permit him to be a part of their game day programming before the domestic violence charges are resolved.
—————
UPDATE, 12/15/13, 10:30 AM: Sources confirm that Rizzo has been pulled from Browns game day coverage, at least for this week.