In real life, Jimmy Haslam can get away with pretty much whatever he wants and tends to benefit a great deal from the fact that shit rolls downhill. But in the NFL, when Jimmy has a temper tantrum he ends up with the biggest joke of a coaching search in pro football history and Mike Pettine as the new head coach of the Cleveland Browns.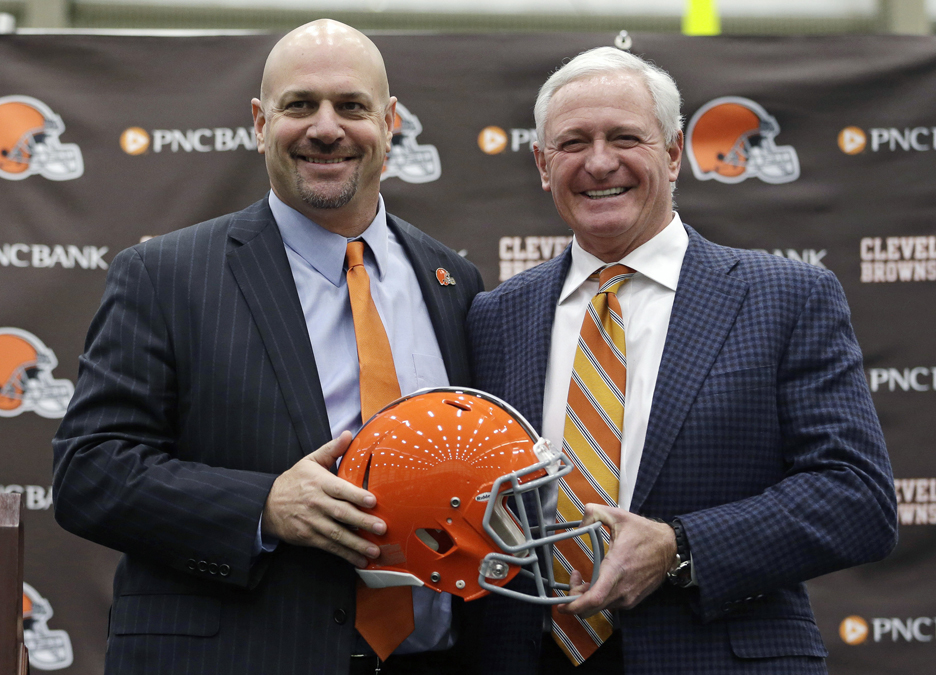 There are certainly some nice things to say about Pettine, as with most past Browns coaching hires. For example, his nickname is "BFT," which stands for "Blunt Force Trauma," something to which nobody can better relate than Browns fan.
But before the Browns interviewed Pettine for the position, he had never been considered as a head coaching candidate by any other team in the league. And he wasn't considered as such by the Browns either, until no fewer than seven of their reported top choices withdrew from consideration, either by taking other head coaching jobs or by expressly declining the opportunity for a promotion in Cleveland. Household names Adam Gase, Todd Bowles, and Ben McAdoo each decided they'd rather be coordinators somewhere else than head coach of the Browns, as did the front office's first reported top choice, Canton native Josh McDaniels. By the time Pettine's name even surfaced as a possibility, the league's five other head-coaching vacancies had been filled, prompting Haslam to issue an apologetic letter to fans. By this point the Browns' search had turned the franchise into an even bigger national punchline than it was earlier in the month for having fired its last head coach, Rob Chudzinski, after just one season on the job.
Hilarious: New Cleveland Browns Coaching Search Shirt pic.twitter.com/KBDpuVhRHg (H/T @turkdup)

— darren rovell (@darrenrovell) January 23, 2014
Things got so bad that the Browns even interviewed Greg Schiano fresh off one of the bloodiest locker room mutinies in recent league history down in Tampa. The NFL Network's Albert Breer reported that the Browns job was viewed around the league as "radioactive." Leaks from "league sources" in Cleveland reached new levels of desperation.
This is right post: #patriots mcdaniels bows out when told not #browns frontrunner, league source says http://t.co/ljiRjb7YF4

— Mary Kay Cabot (@MaryKayCabot) January 9, 2014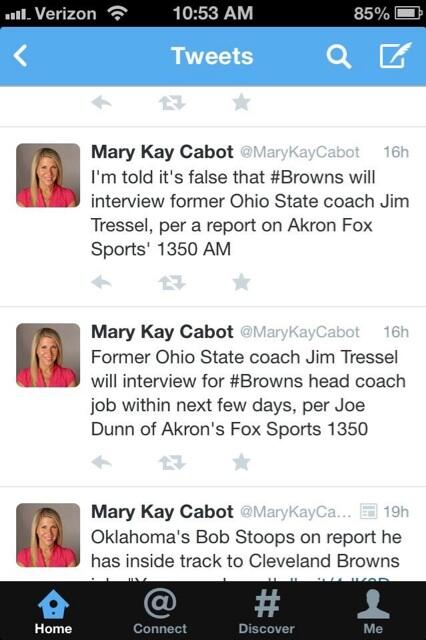 I might have a sandwich. RT @MaryKayCabot: Cleveland Browns might conduct 2nd interviews with Mike Pettine, Dan Quinn http://t.co/uxV6DpRjpy

— Cleveland Frowns (@ClevelandFrowns) January 19, 2014
But none of that stopped Haslam and Joe Banner from standing up at Pettine's introductory press conference to congratulate themselves for how thorough they were in conducting the search that landed the new head coach in Cleveland.
"I know we were exhaustive to the point that we caused people to question and wonder," said Banner. "We wanted to be thorough from the start, and we interviewed as many people as we could. From that group, we hired the best individual."
"This thought that the first person to finish the coaching search is the winner I think is extremely farfetched," added Haslam. "This is an important hire. To not take your time and talk to people and do the research, the background checks we've done, I think would be inexcusable."
The level of contempt for Browns fan's intelligence displayed here is hard to fathom, even despite recent experience. Anyway, Haslam and Banner still couldn't be thorough enough to wait for a second interview with another confirmed top candidate, Seahawks defensive coordinator Dan Quinn. Quinn told the Browns that they'd have to wait until after the Super Bowl for a second interview with him. The risk of waiting only to be rejected again was apparently too much for the front office to suffer.
Mike Pettine says he 'certainly would've backed out' of Browns search if they waited until after Super Bowl for… http://t.co/bzs5Spvdxa

— Mary Kay Cabot (@MaryKayCabot) January 24, 2014
So here we are in a bold new era with the gulf between the Browns and the league's legitimate franchises incredibly as wide as ever. Thirty-something no-names serially rejecting a chance at a head coaching position was never a thing in the NFL until the Haslam/Banner team started trying to hire them.
Thought Haslam's intro of Pettine sounded familiar? Cuz it was basically same intro he gave Chud last year #Browns pic.twitter.com/BiE8xAjYn3

— Matt Skrajner (@MattNewsHerald) January 24, 2014
There's at least something to be said for a man who's willing to do a job that nobody else will take on. Good for Pettine for that, hopefully. At least he'll end up with a few million in the bank.
Get a nap, League Sources. You've had a hell of a month.

— Zac Jackson (@FSOhioZJackson) January 23, 2014
The Broncos and Seahawks square off on Sunday in New Jersey and the real Super Bowl is in 96 days. Mark your calendar (Thursday, May 8) for the Fourth Annual Cleveland Frowns NFL Draft Party at Map Room sponsored by Jim Beam and Maker's Mark.