When United Airlines announced its decision to eliminate its hub at Cleveland Hopkins Airport earlier this month, Cleveland's only "daily" newspaper responded mainly by supplementing its dutiful printing of press releases from business and political leaders with empty boosterism and a generous pour of white whine to go with a slice of pie in-the-sky. There was a nod or two of acknowledgment that the hub closure might be a predictable symptom of more systemic problems, but not really a bit of digging into how those problems might have played out in the form of preventable decisions that have made the pain resulting from United's decision worse than it had to be. Notably, the words "Burke Lakefront Airport" didn't come up in any of the Plain Dealer's coverage of the hub closure until City Councilman Zack Reed raised the issue at a meeting this week.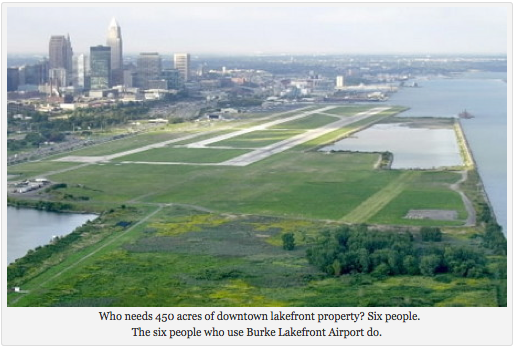 All of which makes this piece by Daniel J. McGraw that ran in Belt Magazine on February 4 that much more remarkable.
McGraw first runs down the numbers to show how justifiable and predictable United's decision was, casting recent decisions by local leaders in a new light of absurdity. These decisions include a 2011 plan by Mayor Frank Jackson "for the city to spend $1.6 billion in improvements at Hopkins because of what he termed a 'strong local market.'" This plan was supported in part by "a 2010 study by the city predict[ing] that both flight operations and number of passengers [in Cleveland] would more than double by 2035." Both the Mayor and Cleveland Director of Port Control Ricky Smith refused to comment on the issue when approached by McGraw, but in 2007 Smith referred to Burke as a budding "aerotropolis" at "a packed power-broker lunch at Cleveland law firm Jones Day."
McGraw goes on to answer questions about why, "even though Hopkins and Burke are both operating at about 54 percent of what they were in 2000, and even though Burke costs the city about $2 million a year to operate (costs that are indirectly passed on to the airlines at Hopkins), and even though one would think that downtown development and lakefront access might be important for all sorts of reasons, Cleveland officials still think Burke is needed."
Along the way, he eviscerates "the City's" three primary justifications as to why Burke can't be closed and redeveloped, supporting one "obvious conclusion" among many: That the airport mess is a prime example of Northeast Ohio's political and business leaders' tendency to fail to account for anyone's interests but their own and those of the region's financial elite (i.e., people who use private jets).
Whether or not you'd already recognized this tendency for what it is, it's a great thing to have someone asking the questions to make the case. And it's a great thing to have a veteran journalist like McGraw (formerly of the Fort Worth Star-Telegram and U.S. News, among other outlets) doing hard investigative work like this in Cleveland for an independent publication like Belt.
Which is also to point out again that Belt, founded by Oberlin Professor Anne Trubek on a Kickstarter campaign, continues to impress in only its first year of existence by consistently putting out excellent content that's hard to find anywhere else (like here and here and here and here and here and here and here to provide a few examples in addition to McGraw's airport piece).
If independent publishing like this can be sustainable then there might be some hope of actually holding leadership accountable (Does City Council even talk about Burke this week if not for McGraw's piece?). So hopefully everyone will consider doing what they can to support Belt Magazine to help it grow, like bookmarking the page, joining the e-mail list, becoming a member, and most importantly by visiting regularly to engage with the work there, and spreading the word, including about new original Cleveland Frowns content that will be posted there regularly for the foreseeable future (with headline notice and linking from here as well, of course, so please stay tuned for that). Thanks.