Joe Banner and Mike Lombardi, two of the formerly Three Stooges of the Cleveland Browns, are now goners, which might be cause for Browns fan to celebrate if not for the fact that Imperial Boss Stooge Jimmy Haslam is still in charge.
Ray Farmer will become the Browns' third GM in three years, with Alec Scheiner taking over as head of business operations, the pair replacing the GM/CEO team that Haslam hired a year ago, to fire just after letting them participate in the unprecedented mess of a search for new head coach Mike Pettine, also Jimmy's third in three years, to replace the last head coach, Rob Chudzinski, who was hired last January.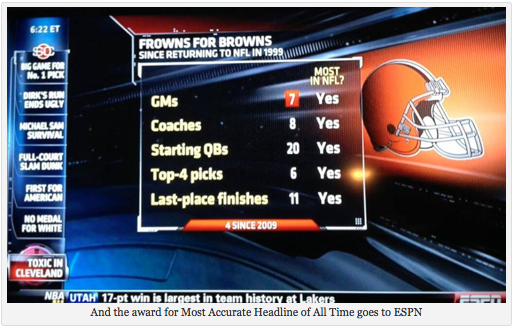 However much credit the Browns owner might be due for failing fast here, it's clear enough that Banner and Lombardi were let go mainly for their inability to clean up an impossible disaster that Haslam himself created. After the way the Browns treated Chudzinski, it would have been hard enough for Jesus, Gandhi and MLK to land a decent head coach in Cleveland. Whatever say that Lombanner had in the matter, there's no question that the universally ridiculed decision to terminate Chud after only one season was ultimately Haslam's. At the time, "league sources" were quick to leak reports about how "incensed" Jimmy was about the loss to the Jets, and how Jimmy was so "disgusted" by the Browns performance in the season finale against the Steelers that he "[stormed] out of Heinz Field" midway through the fourth quarter.
Now, amazingly, the same reporters are quoting "league sources" again to explain that actually "Chud was Haslam's guy" all along, and that Jimmy "probably would have given him another year." Which isn't even half of the tsunami of bullshit that blasted out of Berea on Tuesday.
AM repost: On #browns banner and Lombardi leaving, including a CEO job that's calling Peyton manning's name http://t.co/RWcX5ky3c0

— Mary Kay Cabot (@MaryKayCabot) February 12, 2014
Of course, it would have been especially hard for Haslam to admit that he fired Banner and Lombardi for the coaching search given that he's pretty well stuck with the product of that search, Pettine, at least for now. So instead Jimmy tried to pass Lombanner's departure off as a mere "streamlining" of the organization that had been in the works for awhile, affirming that he "would not [have done] one thing different" in the coaching search.
"Now everyone will report to me, that's what I'm used to," said the same man who claims to know nothing about the multimillion-dollar rebate scam at his billion-dollar truck-stop chain.
In addition to the facial implausibility of this "streamlining" nonsense, the reports by established professionals that specifically contradict it are numerous and unrebutted. Among them, it's come out that Haslam disagreed with Banner's preference to wait until after the Super Bowl to interview Seattle defensive coordinator Dan Quinn for the head coaching vacancy. And most alarmingly, SI's Peter King provided a detailed account of "a major rift in the organization" that resulted from a disagreement between Haslam and Banner about the merits of Greg Schiano, who's still without a job today after having been tossed out of Tampa in the ugliest locker room mutiny that the NFL has seen in years. According to King, Haslam was "intrigued" with the idea of hiring Schiano as head coach after having received an "over the top recommendation" from Bill Belichick. Banner, on the other hand, apparently understood the disaster that a Schiano hire would have been in Cleveland, and was reportedly "cold" to the candidate, "not participating much in the interview."
If anything can be said for Banner, it's that he deserves a Nobel Peace Prize to the extent that he helped keep Schiano out of Cleveland.
Anyway, Ray Farmer is the head of football operations now, who seems like a terrific guy, and infinitely more qualified than Banner and Lombardi combined. God help him. Maybe he'll have better luck grabbing the wheel the next time Haslam wants to drive the franchise over the cliff. Who wouldn't bet on it?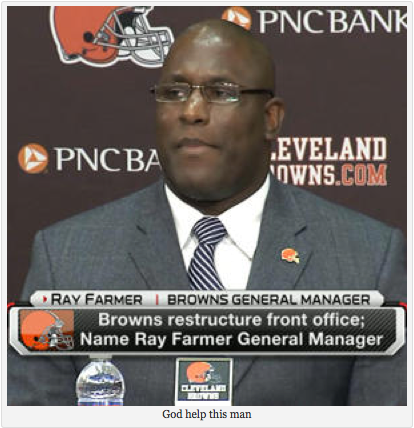 The next most important draft in in Browns history is in 83 days. Seven rounds, ten picks, zero years of experience for the GM, zero years of experience for the head coach, and the fourth annual Cleveland Frowns draft party at Map Room. Don't forget to mark your calendar.