The worst thing about the pro-sin tax (pro-Issue 7) "Keep Cleveland Strong" campaign is that it's based entirely on a threat that the billionaire owners of the Browns, Cavaliers and Indians would somehow weaken Cleveland if they didn't receive another $300 million handout to go on top of the $1 billion-plus in public subsidies that they've already received to run their hugely profitable sports franchises. More specifically, the owners are threatening that one or more of the three teams might leave town if these handouts from taxpayers stop or even slow down.
Last Sunday evening, Cavaliers and Quicken Loans Arena CEO Len Komoroski communicated this threat explicitly on Mansfield Frazier's "The Forum" program on WTAM 1100, where he dodged my questions about why Dan Gilbert can't pay his own business expenses by repeatedly referring to Art Modell as a "case study," and citing to other historical examples of pro sports teams relocating.* It's a threat that's obviously intended to prey on the weakness of Cleveland sports fans who are still scarred from Modell moving the Browns to Baltimore back in the 1990s.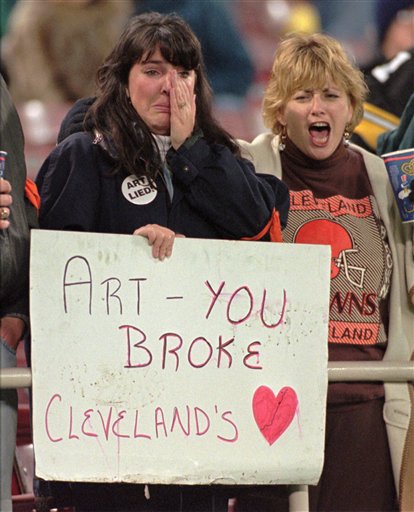 Apart from the fact that what we're talking about here is extortion, it's worth considering what little sense it makes to believe that one of Cleveland's teams would leave town if voters were to reject Issue 7.
There are only so many regions in the U.S. that have the infrastructure and fanbase (TV market) to support pro sports franchises, and Northeast Ohio is one of them. Where the market exists, the sports leagues will too. A brief review of the history of franchise relocations in the NBA, NFL and MLB shows that these leagues maintain franchises in all but two of the combined 72 U.S. regions in which they were resident 25 years ago. The only two exceptions of the last quarter century are with the NBA in Seattle, where Sonics owner Howard Schultz sold the franchise to a group that allegedly misled him into believing it intended to keep the team in town, prompting litigation to rescind the sale, and with the NFL in Los Angeles, where the Rams drew only 25,750 fans for their last game at Anaheim Stadium and the Raiders regularly struggled to keep the L.A. Coliseum half full. It's extremely rare for any of the three leagues to abandon a viable market, and when it happens, it's only under the most unique of circumstances.
As infrequently as it's happened over the last few decades, the abandonment of viable sports markets continues to become an increasingly unlikely proposition, as national public opinion continues to turn against public subsidies for these privately owned franchises. As inequality continues to worsen in the wake of the Great Recession, these subsidies have come under unprecedented public scrutiny, and are being rejected by voters across the country with unprecedented frequency. It's not the 1990's anymore, and apart from the fact that none of Cleveland's three sport-specific facilities will ever become the mess that old Municipal Stadium was, the likelihood of another city luring away a sports team with a deal anything like the one that Baltimore gave to Modell in '95 is zero. As in Cleveland, there's no reason for voters anywhere to believe that pro sports owners can't and shouldn't pay their own costs to run these hugely profitable businesses.
And when voters in one city reject this form of regressive corporate welfare, as just happened in Miami where the Dolphins owner shortly admitted that he could pay for the requested stadium improvements himself, it only makes it easier for voters everywhere else to do the same. Issue 7 represents not only an opportunity for Cuyahoga County taxpayers to obtain a better deal from Cleveland's pro sports owners, but also to participate in a sorely needed movement for a more equitable relationship between rank-and-file taxpayers and pro-sports-owner-types, nationwide. If Issue 7 is approved, that opportunity will have been squandered, and local taxpayers will be stuck as ever with the burden of the lopsided owner-friendly leases that were struck three decades ago.
Which, again, is all apart from the fact that what we're talking about here is extortion. Caving to onerous demands by pro sports owners willing to prey on the public's fear of losing a team is what got us into this mess in the first place. In a city with more than half its children living in poverty, the second-worst public school system in the nation, third-world infant mortality rates, a rapidly shrinking population, and a vanishing job market and middle class, it could hardly be a worse time to rubber stamp the same deal all over again with no questions asked.
If the owners really won't come to the table and renegotiate these lopsided agreements like any decent partner would under such circumstances, we should at least make them come out and say as much, and explain why they need the public to continue to bear their costs while they derive untold profits from these franchises. From there we could proceed with a better way to move forward that won't exert a disproportionate burden on the County's least fortunate residents.
Today is election day. Please vote No on Issue 7.
—————
RELATED: What it really means to say, "Keep Cleveland Strong"
—————
*Komoroski also tried to argue that the sin tax was not a subsidy to the sports owners. The last 40 minutes of his appearance with me on 1100 AM the other night is worth a listen.