Last night the Cleveland Browns used the 22nd pick in the first round of the 2014 NFL Draft to select quarterback Johnny Manziel, the 2013 Heisman Trophy winner from Texas A&M University who's famously known as "Johnny Football."
This morning on ESPN's SportsCenter a whole lot was said about Cleveland's new "celebrity quarterback." Hardly any of it was about actual football.
"I don't think there's been a single draft pick in the history of the NFL that has kind of galvanized a city from a financial standpoint as quickly as Johnny has," said ESPN business reporter, Darren Rovell. "I just spoke to the largest ticket broker in Cleveland, he said this is gonna be a tremendous year for us, he's already raised ticket prices, they've raised ticket prices even on preseason games which he'd typically would just just throw in a drawer. So for one year this is gonna be guaranteed to be great."
"Browns fans need a new jersey," Rovell added, referring to Trent Richardson and Tim Couch in expressing his certainty that Manziel's jersey would be a top-three seller in the NFL this year.
On the same program, Sal Paolantonio discussed his report that the Browns sold 1,200 season tickets last night after their selection of the quarterback was announced. Paolantonio told CBS Cleveland last night that the Browns "needed to reward their fans with the risk of Manziel."
Because why reward your fans by winning football games when there's so much risk out there to reward them with instead? Who would have dared to dream that being a Browns fan could become any more rewarding? Yet here we are, with a new owner in Jimmy Haslam, under federal investigation for defrauding his oil customers out of whatever last pennies he thought he could grab from them, who was bent from the start of his tenure in Cleveland on emulating the Dallas Cowboys, a franchise that might have only one playoff win in the last 17 seasons, "but is virtually without peer when it comes to making money." Now Haslam has drafted Manziel, who might not be able to play football very well in the NFL, but Browns fans need a new jersey, ticket brokers are raising prices even on preseason games, and for at least one year the cash will be rolling in.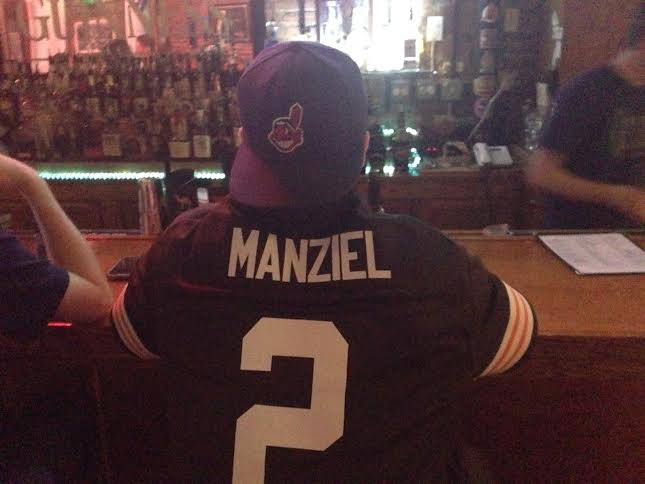 "Love it," said Browns cornerback Joe Haden, in an exclusive interview outside of last night's Cleveland Frowns Draft Party at Map Room on West 9th Street, where a whole bunch of great folks showed up for another phenomenal display of the unbreakable spirit of the Cleveland football fan.
God help Justin Gilbert, too.
The 2014 NFL Draft will resume tonight with the second and third rounds. The Browns have the 3rd pick in the second round, and the 7th and 19th picks in the third.